In a wild and crazy year for Division III college hockey, there was one certainty heading into the final game of the 2008-09 season: whoever skated away with the national championship would do so with a story for the ages.
That story will be told for years to come by Neumann as they defeated Gustavus Adolphus, 4-1. The Knights run just to get into the NCAA playoffs is spectacular enough, but it was topped by their tour de force in the NCAA tournament. Neumann's nine losses, tied for most for a championship team, tells just part of the story.
"I'm glad we showed we belonged here," Neumann coach Dominick Dawes said. "I know it was pretty close when it came down to it. These guys showed they belonged at this level, that they could play at this level, and they are the best team in the country. They played the toughest teams all year long. Beat everybody. We came together at the end of the year, and we got the job done. For half of them, 14 of them, it's a heck of a way to go out for their last game. Not many guys can say that. It's a pretty special thing."
"We definitely had our ups and downs during the year," assistant captain Ryan Heickert said. "There are 14 of us that had three coaches in four years."
"It's a big honor for me to be a freshman amongst all these seniors to be a part of this team," Neumann goalie and the tournament Most Outstanding Player Ross MacKinnon said. "We just found ways to get it done every night. I wouldn't want it any other way."
"We got beat by a good team tonight," Gustavus coach Brett Petersen said. "The better team won. There's no question about that. They had a really good run. They caused us major problems."
Neumann (21-9-2) took control of the game in the second period with three goals to take a 4-1 lead as Jesse Cole scored twice within 3:47. His two goals, both assisted by Heickert, were the only even strength goals for Neumann who went two for five on the power play.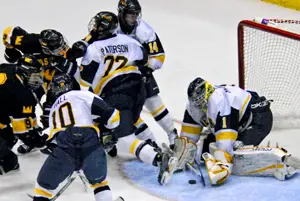 After standing on his head the night before shutting out Hobart for 60 minutes, Ross MacKinnon allowed a bad goal five minutes into the game. David Martinson from behind the net banked it off MacKinnon for the first goal of the game.
"[Brad] Wieck threw it on net causing havoc," Martinson said. "The goalie was scrambling behind the net. I just tried to throw it out front, and it banked right off his chest. I almost scored that way against Stout, but tonight it went in."
"It didn't really get by me. I put it in the net by myself," MacKinnon joked. "It went behind the net, and I went to go reach and tie it up and slipped. I went to get up, and I was facing the goal, and he put it off my chest and into the net."
Neumann didn't panic, using the nation's second best power play at 27.7% to tie the game eight minutes later. Sean Bianchini fired the puck from the right point with Heickert standing in front.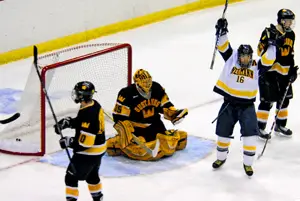 "On that power play, it was my job to stand in front of the net to make sure the goalie doesn't see the shot," Heickert said. "I felt the puck coming. I got right in front of him. It just happened to bank off my arm and into the net. It was everyone else's job more than me."
The Knights jumped out to a 3-1 lead with two goals by Cole in the first 6:53 of the second period. On the first one, Cole picked up a loose puck in front of the goal.
"I just tried to get to the net," Cole said. "I kind of dug at the rebound. Got kind of lucky at that one."
The second Cole goal was a more traditional two-on-one. The odd man rush was due to Gustavus defenseman Cody Mosbeck mishandling the bouncing puck in his zone. Heickert picked it up on the right side with Cole to his left.
"Ryan [Heickert] did a good job on the two-on-one to sucker the defenseman over and fed it to me and I had a wide open net," Cole said. "More an issue of my linemate on that one."
The Neumann power play was back at work to make it 4-1 at 10:37. Marlon Gardner's shot from the top of the left face off circle easily beat Lopes.
Neumann nearly put the final dagger into Gustavus when Lincoln Schrock missed a front door opportunity while shorthanded. Then, the Gusties missed a golden opportunity to get back into the game with less than a minute left in the period. Eric Bigham jumped over a sprawled goaltender to get to a loose puck in the crease, pushed it towards the open net, only to have it bounce back off the post.
Gustavus (19-11-0) applied some pressure in the final period, trying to get back into the game. They even pulled their goalie with 5:13 left in the game at the start of the penalty. However, they were unable to convert.
"We had a hard time penetrating [their defense]," Petersen said. "MacKinnon was good, and when rebounds were there, we couldn't get there."
Neumann's Schrock almost got an empty netter, hitting the post with a long shot.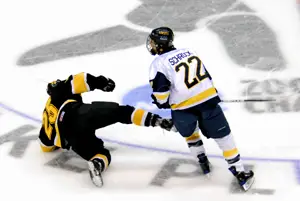 "I have mixed emotions," Petersen said. "I'm obviously very disappointed, but I'm very proud, too. We had an opportunity to end the season in this environment. It's a wonderful experience for our players, exposure for our college."
Seven years ago, Neumann started a hockey team. They went 2-23-0 that year, losing a game to RIT, 24-0. Now, they are national champions with a story Neumann players and fans will be talking about for a very long time.