Once Geneseo learned they were not eligible for postseason play due to NCAA infractions, their goal was simple — run the table. Geneseo is now 4-0-1 in their last five games after defeating Brockport, 2-1, on two first period goals.
"We're a relaxed team now," Geneseo head coach Chris Schultz said. "We're just going out there playing the game. We're not worried about anything. Everybody is paranoid about playoffs. That worry is not there right now. It's so easy to coach these guys now. They just play the game for each other and they're getting the job done. It's very enjoyable."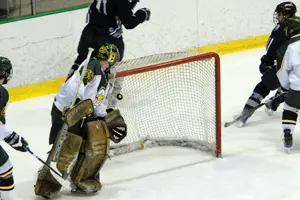 Brockport is also playing for a lot, trying to get a home playoff game for only the second time in school history. In front of a "Sea of Green" crowd, their largest of the season, the two teams put on a spirited, hard checking, action packed game.
"I told my guys that was a very good college hockey game," Brockport coach Brian Dickinson said. "The proverbial unfortunate someone had to lose. Tonight it was us. I thought we did a good job for the most part of carrying play and had some pretty good looks. We didn't score enough goals. Falling behind 2-0, I thought we showed a lot of character battling back making it 2-1 in the second."
Despite Brockport coming out extremely strong, immediately taking the body, and controlling play, Geneseo weathered the storm and scored first.
"We knew coming into this they had the crowd going," Schultz said. "They had all the energy here. We just had to hang on for the first five minutes. They came out very strong. They came out hitting and making good plays. We just had to hang on for the first wave. Once it got settled down, we got back into it a little more. They definitely took care of business the first five minutes and gave us a good scare."
"We wanted to bang," Dickinson said. "Watching their tape against Fredonia, I didn't see a whole lot of contact. There was a lot of transition in that game. We were hoping we could bang them into mistakes especially their defensemen."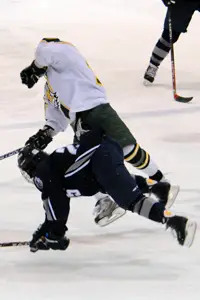 However, it was Geneseo that forced mistakes. The first came at 9:18 when a late developing 2-on-1 enabled Dan Brown, from the left side, pass it across the crease to a wide open Sebastian Panetta. Panetta easily put the puck into the unguarded net as Todd Sheridan had no chance to move over in time.
"The only way you are going to beat him [Sheridan] is moving him laterally," Schultz said. "You're not going to see too many pucks go in the net off a clean shot. He's a stud back there. He's probably the best goalie in the league. You have to make him move side to side. If he does have a weakness, that's probably where it is."
"[James] Cody had the guy in the neutral zone, took him all the way back to the hash marks and then let him go," Dickinson said. "Unfortunately, he got blocked and thought our defenseman came up with the puck and that the puck was going behind the net, so he released to go back check behind the net and get into position for that."
Geneseo scored their lone power play goal in four chances at 18:19. A shot from the middle near the blueline was stopped. However, Brockport was unable to clear it, and David Arduin in the right slot area falling to his knees, put it past an out of position Sheridan.
"we just didn't play the penalty kill as well as we've been working on all week," Dickinson said. "We had a plan in place. Unfortunately, we had a breakdown. We let the guy up top with plenty of time to shoot. He got it through and the rebound goes into the net."
Brockport got it back at 2:29 of the second period on one of their two power plays. After a couple of shots and a couple of saves and a couple of rebounds, Sean O'Malley finally put the puck past Cory Gershon up high.
Both teams continued to play hard, take the body, have good scoring chances, and made some great saves. Despite all that action and a very vocal, enthusiastic crowd, the red light never lit up again.
Brockport pulled their goalie with a minute left, but were never able to set anything up.
"What a great atmosphere to play in front of," Dickinson said. "They [Geneseo] did a nice job. They came to play hard tonight. I give Schultz and their coaching staff a lot of credit for keeping those guys focused and playing hockey in lieu of their situation. It was a great college hockey game, and unfortunately, tonight we fell one goal short."
Gershon wound up with 29 saves for the win while Sheridan stopped 27.
Both teams have the rest of the weekend off before hosting the same two teams next weekend, Oswego and Cortland.
Brockport (12-10-1 overall, 6-7-1 in SUNYAC) remains four points ahead of Potsdam for the last home-ice spot with four points remaining. Potsdam wins the tie-breaker between these two teams.
Geneseo (11-10-2, 7-6-1) is now in fourth place with nowhere to go after the regular season.