The Oswego Lakers continue to steamroll the opposition in the postseason.
After crushing Plattsburgh in the SUNYAC Championship, they systematically dismantled the Bowdoin Polar Bears in the NCAA quarterfinal round, 9-2.
"It feels good. I'm proud of them," Oswego head coach Ed Gosek said. "They're [Bowdoin] a very well coached team. But with their system being so aggressive, you're going to get chances, you're going to get odd man rushes and when you get them you have to cash in on them."
"They came as advertised," Bowdoin coach Terry Meagher said. "That is a pretty talented group. I talked to a lot of coaches who played them and just what happened tonight is what they said. I've seen a lot of good teams but I've never seen as dynamic and as gifted and as opportunistic as that one. It was a pretty special show."
Neil Musselwhite got a hat trick plus one, defenseman Hank Van Boxmeer, who scored only once all season, notched two key goals, as Oswego put the game away with five goals in the second period.
After a slow start, the intensity picked up about four minutes in as bodies started flying. Oswego took it too far, getting called for a pair of charging penalties giving Bowdoin a two man advantage for a full two minutes.
They didn't need that much time to capitalize as Mike Corbella fired a blast from the right point that went right by Gunn-Taylor 26 seconds after the power play started.
Two minutes later, while skating five aside, Neil Musselwhite showed why he was selected to the NCAA Frozen Four Skills Challenge. He blew by the entire Bowdoin contingent, racing down the right side by one player at the blue line, around another player by the faceoff circle, still had room to cut across the net, skating by goaltender Chris Rossi before finally putting the puck into the net.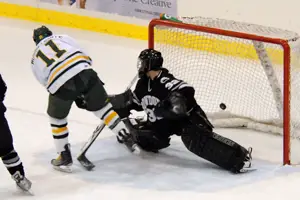 "We were down 1-0," Musselwhite said. "Getting the goal back before the period ended was big."
At 14:38, Oswego took the 2-1 lead. Eric Selleck from the right faceoff circle dropped it back to Hank Van Boxmeer at the right point. With a Bowdoin playing sliding in front of him to block the shot, Van Boxmeer lifted a slapshot just over the prone defender, through a thick screen, and past a nearly motionless Rossi.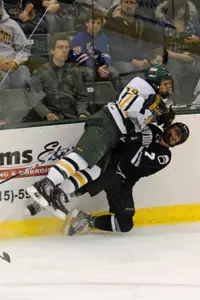 "The second goal was huge," Meagher said. "We had coverage. We were playing well."
Oswego continued to take penalties, including two too many men calls. The Lakers found themselves in the sin bin six times in the opening period, but shots were even at 11.
The Lakers turned it around in the second period, keeping people out of the penalty box and shooting pucks into the net.
"They were just cashing in on everything we gave them," Bowdoin captain Colin MacCormack said. "I thought in the first period it was pretty even play. Until then I thought it was a pretty good game. But then in the second period, they are a big physical, strong team. It was pretty impressive to watch."
Van Boxmeer got his second of the night when the puck squirted out to him in the slot, and he fired it over Rossi's right shoulder.
"Obviously, it feels great to produce big goals in a game like this," Van Boxmeer said. "It's what everyone dreams of. It's a lot of luck, a lot of being in the right place at the right time, and a lot of other guys doing their job."
Musselwhite got his second of the night with a shot that Rossi got a piece of with his glove, but it still managed to trickle in on the power play. Brad Dormiedy made it 5-1 when he blasted a shot in from the high slot.
"I thought the turning point was they were pinching, pinching, pinching and our guys stayed the course and when we got the opportunities, we capitalized," Gosek said.
At that point, Bowdoin replaced Rossi with Richard Nerland. The onslaught continued.
Musselwhite completed the hat trick, finishing off a 2-on-1 when Dormiedy passed it very late. Justin Fox finished off the second period scoring, deflecting a shot from the point by Tyler Lyon.
"They're the second best team offensively I've seen this year and the other one is going to be millionaires in 10 years — the under 18 national team," Meagher said. "That is a very skilled and talented group. Their finishing ability is special. In the game right now that's what everyone is striving for at any level. I expect them to make a lot of noise in Lake Placid."
Musselwhite got his fourth goal to make it 8-1 before Bowdoin finally got back on the scoreboard with a tally from Rob MacGregor. Tyler Leimbrock finished it off with a breakaway goal.
Kyle Gunn-Taylor made 21 saves for the win.
"I'm not going to lie. It feels great," he said.
Bowdoin finishes the year at 19-7-1.
"I'm very proud of this group," Meagher said. "It's been a great year. It's not easy to get to the national tournament and be on this side of it. But this should not take away anything from the season they've had. They'll accept it and tip their hats to the better team."
"It's been great," MacCormack said of his experience at Bowdoin. "When I came into Bowdoin as a freshman, we had a fairly strong team go to the finals at NECSAC. This year, we had a really balanced team. We had a great group. Probably the most fun I've ever had. Regardless of what happened, we were together. For the young guys coming back, it was an experience, and I hope they learn from it."
Oswego (26-2) goes on to the Division III national semifinal game at Lake Placid. They will play St. Norbert who defeated Gustavus Adolphus, 3-1.
"Awesome for our fans," Gosek said. "Feels great. Thank God they're hosting again."