Aaron Schmit had two goals and an assist to lead Ferris State to a 3-1 win over Union on Thursday in the first semifinal of the 2012 Frozen Four.
Kyle Bonis had the game-winner for the Bulldogs, who will play in the title game for the first time in school history.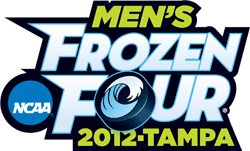 For complete Frozen Four coverage, visit USCHO's Frozen Four Central.
"The game pretty much unfolded as I guess I anticipated," said Ferris State coach Bob Daniels. "Both teams have great goaltenders, and I said earlier in the week I thought it probably be a one-goal game, overtime game, and certainly it was a one-goal game. We did get the open netter."
With the score tied 1-1 and under five minutes to play in the third period, Union's Troy Grosenick made a save on Ferris State's Brett Wysopal, but the rebound bounced out to Bonis, who was able to get a backhand past the sprawled goaltender.
"It was a great shot by 'Sops,'" said Bonis. "When it came off his pad, I was hoping it would sit down and I could get a decent piece of the puck. And Grosenick made quite an extension. He pushed off pretty hard and he was a lot closer to stopping that than I would have liked him to be. But when it went in, it was quite a feeling."
Schmit finished things with an empty-net, breakaway goal with 56 seconds to play.
Daniels said he was pleased to see the way his team played with the lead late in the game.
"I thought there have been times during the course of the year when we've had the lead late, and it seems like panic sets in," he said. "And we finally, I think, have gotten to the point now where we can embrace the moment and not wish the clock away and just play the actual game itself."
"I think we learned a lot of lessons this year about holding a lead and the guys played with confidence," said Bonis.
After a scoreless first period that saw only 13 total shots on goal, both teams picked up the pace in the second period, with Union scoring first at 7:56. Daniel Carr got a piece of Greg Coburn's shot, and the puck eluded Ferris State goaltender Taylor Nelson through a screen.
Ferris State tied the game on Schmit's first of the contest at 17:02. With the Bulldogs on the power play, Bonis was able to break in on Grosenick and stuff the puck between his pads, and Schmit poked it into the back of the net.
For Union, it was an uncharacteristic game, according to coach Rick Bennett.
"Our forecheck never caught up to their breakout, and I think that was a key tonight," he said.
"And the one other thing that we never really got in the game was finishing our hits, either. And I think if you really want to get in the game, you have to finish your hits. That's something we pride ourselves on and we didn't do it tonight."
Ferris State (26-11-5) was 1-for-4 on the power play, while Union (26-8-7) was scoreless in its only opportunity.
"We knew how good Union's power play was, and we were very, very fearful of it," said Daniels. "In practice we tried to mimic it. But as practices went on, we weren't very successful against our scout unit, and we came to the realization that this would have been a tough power play to stop with Welsh and the group. And so we thought minimizing penalties is where you had to start first. And I give our players a ton of credit."
"I think penalties caught up to us," said Bennett. "It's something we've been good at this whole year. And I really can't really explain it. It had nothing to do with the reffing, and just one of those things."
Grosenick finished with 34 saves, Nelson with 27.