What: The 1998 NCAA Division I men's ice hockey semifinals and championship.
Where: The FleetCenter, in Boston, Mass.
Who: Four teams — Boston College, Michigan, New Hampshire and Ohio State — qualified through the two NCAA regionals. Of the four, only Boston College had the benefit of a first-round bye, while New Hampshire is the lowest seed (fifth in the East) to reach the semifinals.
When: The two semifinals will be played at 2 p.m. and 8 p.m. (Eastern time) Thursday, Apr. 2, and the championship at 7:30 p.m. Saturday, Apr. 4. Thursday, Michigan takes on New Hampshire in the early game, and Boston College faces off with Ohio State in the late semi. All three games will be televised nationally, with the semifinals on ESPN2 and the championship on ESPN.
How (can I get there): The FleetCenter has been sold out for months, but a small number of tickets will be available through the competing schools, or from disgruntled fans of other squads.
---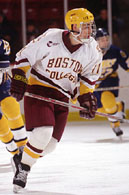 Boston College
Nickname: Eagles Head coach: Jerry York Conference: Hockey East Record: 27-8-5 How qualified for NCAAs: Hockey East tournament champion How the Eagles got here: #2 East seed earned first-round bye, beat Colorado College 6-1
Leading scorers (D-I games): Jr. F Marty Reasoner (29-37–66), Fr. F Brian Gionta (28-26–54), So. D Mike Mottau (12-34–46), So. F Blake Bellefeuille (19-18–37)
Top goaltender (D-I games): Fr. Scott Clemmensen (23-8-4, 2.67 GAA, .887 SV%)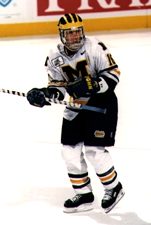 University of Michigan
Nickname: Wolverines Head coach: Red Berenson Conference: CCHA Record: 31-11-1 How qualified for NCAAs: At-large bid How the Wolverines got here: #3 West seed beat Princeton 2-1, North Dakota 4-3
Leading scorers (D-I games): Sr. F Bill Muckalt (29-31–60), Jr. F Bobby Hayes (20-22–42), Fr. F Mark Kosick (12-29–41), Sr. D Chris Fox (6-15–21)
Top goaltender (D-I games): Sr. Marty Turco (29-10-1, 2.25 GAA, .903 SV%)
Ohio State University
Nickname: Buckeyes Head coach: John Markell Conference: CCHA Record: 27-12-2 How qualified for NCAAs: At-large bid How the Buckeyes got here: #4 West seed beat Yale 4-0, Michigan State 4-3 (OT)
Leading scorers (D-I games): So. F Hugo Boisvert (23-33–56), Jr. F Chris Richards (22-30–52), So. F Eric Meloche (25-22–47), Fr. D Andre Signoretti (5-19–24)
Top goaltender: Fr. Jeff Maund (21-7-0, 2.28 GAA, .921 SV%)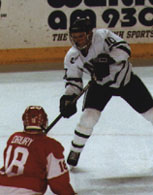 University of New Hampshire
Nickname: Wildcats Head coach: Richard Umile Conference: Hockey East Record: 25-11-1 How qualified for NCAAs: At-large bid How the Wildcats got here: #5 East seed beat Wisconsin 7-4, Boston U. 4-3 (OT)
Leading scorers: Jr. F Jason Krog (33-33–66), Jr. F Derek Bekar (32-27–59), Sr, F Tom Nolan (18-41–59), Sr. F Mark Mowers (25-31–56), So. D Jayme Filipowicz (3-27–30)
Top goaltender: Jr. Sean Matile (25-11-1, 2.19 GAA, .918 SV%)