There he was, sitting in the stands of the Kiel Center in St. Louis with his family.
Marty Reasoner, Jr., had just finished his freshman campaign at Boston College. He was the Hockey East Rookie of the Year, joining the likes of Brian Leetch, Ken Hodge and Ian Moran as the only Eagles to do so. He was also named the New England Hockey Writers Association Rookie of the Year, and in addition, he was a four-time Hockey East Rookie of the Month, and a nine-time Hockey East Rookie of the Week.
He had just scored 45 points — 16 goals and 29 assists — in 34 games, becoming the first freshman to lead the Eagles in scoring since Richie Smith in 1972-73 and the highest-scoring freshman since Steve Heinze (49 points) in 1988-89.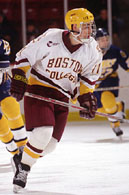 And there he sat, about to become a first-round selection in the NHL Entry Draft.
The pick was the 14th, owned by the team that played in the city and arena in which they were sitting: the St. Louis Blues. Up at the podium, then-St. Louis GM and head coach Mike Keenan bore a card with the name of Marty Reasoner, Jr., of Boston College. Keenan announced his selection to the raving-mad Kiel Center.
The pairing of Marty Reasoner and the St. Louis Blues had just begun.
A little over two years later the Blues and Marty Reasoner took the next step. Reasoner inked a three-year contract with the Blues on Saturday, July 25, giving up his final year of college eligibility at Boston College. In three seasons Reasoner amassed 69-93–162 in 110 games, was twice an All-Hockey East selection and was also named first-team All-America.
As the captain of the Eagles, he led them to the Hockey East championship, from whence the Eagles reached the NCAA title game, falling 3-2 to Michigan in overtime at the FleetCenter in Boston this past April. So the choice to leave a team that arguably could have been the favorites to win the NCAA championship in 1998-99 was not easy.
"It was a tough decision; I've had three great years at BC and I've seen things come from so low to the point where we were one bounce away from winning the national championship," said Reasoner. "Obviously it's a little tough leaving there, but I'm looking forward to the future with the St. Louis organization.
"[An NCAA title] was something that had been on my mind all summer. It's definitely tough to leave something that's successful, especially when you're having a good time doing it. It's easy to leave a team that's [not] doing well, but when you have a team that's going to be successful that's tough. Winning the Hockey East tournament was a big moment and playing in the Final Four in Boston was a pretty exciting time."
Reasoner was also one of the frontrunners to win the prestigious Hobey Baker Award.
"It was a thought, but just a little bit — I've never been too big on individual awards for players. It wasn't that big of a factor in relation to the fact that we have a chance to win the national championship. That didn't weigh as much in my mind as it did the chance to win it all."
Reasoner has been credited with helping head coach Jerry York shore up Boston College's recruiting efforts, as the Eagles went from the bottom of Hockey East to the elite of the nation in Reasoner's three years.
"I don't think it's me; it was my entire class. We were a benchmark for all the players at BC to come in. Our class was the start…It's something that not only myself, but the other members of my class can be proud of.
"We went from the lowest of lows in Hockey East to the top of the nation. It's something you can look back on and be proud of."
York was consulted in the decision-making process for Reasoner.
"He's always supportive and I talked to him a few times and he wanted what was best for me. He felt the same way that he was when I came in — he was supportive and always looks after his guys. He was great about it."
There is concern in the Heights over Reasoner's departure, but Marty doesn't see it that way.
"I think they have so many great players now, and their team is going to be so strong for a long time. There is going to be a lot of success there, with guys like Brian Gionta and Jeff Farkas. Boston College will be successful for a long time to come."
Reasoner signed a three-year contract worth $875,000 per year, the NHL cap for rookies, and an $800,000 signing bonus. The Reasoners and their agent, Steve Bartlett, used the recent contracts of Tom Poti and Erik Rasmussen (the only college player drafted ahead of Reasoner in 1996) as leverage in negotiating their deal.
"It was matter of coming up with numbers that our side felt comfortable with and the Blues felt comfortable with. I don't feel that we were shortchanged in any way. I don't think the Blues thought there was anything that floated past their eyes either."
Marty will head to St. Louis on Wednesday to take part in their rookie camp, to begin the process of making the St. Louis team. While Reasoner would love to play in St. Louis from day one, he and current St. Louis GM Larry Pleau both know that he might start the season in Worcester, with the Blues' AHL affiliate.
"It's just like anybody else that has come in that hasn't been there before. You go into training camp and hope to win a job just like everybody else. I'm going to go in and work hard and whatever happens happens. I'd be crazy to say that I didn't want to play in St. Louis right away but I understand that things take time. I'm just going to go in there and work hard.
"There's been a lot of [NHL] players that came from the minors; there's a transition from the college game to the pros and it takes a little time, but like anyone else, you want that time to be as short as possible. Everybody wants to play in the best league in the world. That's what everybody's focused on.
"It's all just a thrill to get the opportunity to throw on the St. Louis Blues' jersey."
And so the Honeoye Falls, N.Y., native will bring his talents to the pros and to St. Louis in the not-so-distant future. For the Reasoners, and for the city of St. Louis there is no reason to be blue — but every reason to be Blue.