When you look behind the Western Michigan bench during a game, you begin to notice a pattern.
Jim Culhane, Scott Garrow, Chris Brooks, Brendan Kenny.
Four young coaches. All four played for, and graduated from, Western Michigan University. What does it mean?
"Personally, I think it helps," said Culhane, a four-year defenseman for the Broncos from 1983 to 1987 who is in just his second full year as head coach. "We can speak with tears in our eyes, very passionately, about what we're doing."
What they're doing is trying to turn around a program that had hit rock bottom just two short years ago.
Western Michigan was an NCAA tournament team in 1996. But things started to go sour shortly thereafter. By 1997-98, the Broncos finished with a CCHA-record 18-game losing streak. The next season wasn't much better.
Before the 1998-99 season, a series of minor violations were uncovered, involving-then coach Bill Wilkinson and the players. That came just after a party, with allegations of hazing, at a house being occupied by Mark Wilkinson, a member of the team and the coach's son. The entire team, including coach Wilkinson, were suspended to varying degrees. By February, with the team's record at 3-16-6, Wilkinson was let go.
All of which is the backstory to Culhane's procession to head coach. As an assistant at the time, he was initially named interim coach. In the summer, he was picked as the full-time replacement.
It was an odd time for Culhane, taking over for his mentor and friend; someone he played for.
"Obviously I owe a lot to Bill," said Culhane. "He gave me my opportunity to play here at Western. I had a fantastic time playing here for Wilkie. We won a CCHA title my junior year. I have a lot of loyalties to Bill. He also gave me the opportunity to get into coaching. I have a lot of respect for him for taking a chance on a kid from Northern Ontario, and taking a chance on me as a member of the [coaching] staff.
"Yes it was difficult. Yet, knowing the relationship, there was a lot of guidance there. He's like a father figure."
"We're still trying to build a winning atmosphere and environment. And with winning, you gain respect. That's what drives you, trying to gain respect."
— WMU coach Jim Culhane
Culhane has actually had a lot of coaching role models. After WMU, Culhane had a five-year pro career, mostly in the AHL (plus six games in the NHL with the Hartford Whalers). He got to play for people like Larry Pleau, Jack Evans, Doug Jarvis — all respected coaches.
"Between those three guys and [current New York Islanders coach] Butch Goring in Capital District, I take a little bit from all those guys," said Culhane. "And, here [at Western], as a young assistant, the No. 1 assistant was [Cornell head coach] Mike Schafer. Between all those guys, you pick up different things.
"And the similarities are, they're all extremely competitive people."
That is a trait Culhane never lacked, and it's something he has been able to instill and reinforce in his players.
Now, less than two years after taking over, Culhane has Western Michigan riding a tremendous roll, that has them at 16-3-2 overall and ranked No. 5 nationally. The turnaround could cause whiplash, if Culhane, his staff, and the seniors he relies upon weren't so grounded.
"When I took over, we didn't have a timeline or a blueprint of when we could be back on the national scene," said Culhane. "You're just looking at trying to build your program. Obviously we're very pleased about our start, but there's still half a schedule left. We're trying to, as a program, get better. That happens in practice."
Culhane is getting results out of some key contributors, players he recruited as an assistant, who are now blossoming.
Steve Rymsha, who, along with Mark Wilkinson, took the brunt of the penalties in the aftermath of those violations two years ago, has 17 goals in 21 games, including five game winners. Fellow senior David Gove centers the top line, and also has 17 goals to go with 25 assists. His three shorthanded goals are tied for first in the nation with four other players.
Then there's junior Mike Bishai, the team leader in points with 45, which ranks him No. 2 nationally behind North Dakota's Jeff Panzer. In Bishai, you're talking about a true catalyst.
"Mike reminds me of the point guard on a basketball team," Culhane said. "He has the ability to move the puck around, and also the ability to shoot that 3-point shot. He has a good shot."
None of this includes another 17-goal scorer, freshman Jeff Campbell, the frontrunner for CCHA Rookie of the Year honors. Campbell has 10 power-play goals as part of a five-man unit that includes the aforementioned three upperclassmen, plus defenseman Mike Jarmuth. Campbell and Gove are 1-2 in the nation in power-play goals.
Watching these five players perform during their time on the ice has really been something special for those lucky enough to see it this year.
"We get our five most skilled players and put them on the ice and let them figure it out," Culhane said about his power play. "Their natural instincts take over from there. We give them some things to think about, and let them go from there."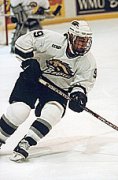 The Broncos are No. 1 in the nation in scoring offense. Gove-Bishai-Rymsha are 1-2-3 in scoring in the CCHA. And the list goes on.
These numbers jump out at you, and are hard to ignore. Mind you, Gove and Bishai had just 18 goals all of last year, and Gove led the team with 46 points.
"They developed in our program, they made improvements every year," Culhane said. "Gove has doubled his point total every year. Rymsha is similar. They have dedicated themselves to be stronger, quicker. … They have bought into the senior leadership and what we're trying to do with our program. They've taken ownership of the program."
However, according to Culhane, despite all those lofty totals, none of it is the key to the Broncos' resurgence.
"The thing that excites me," said Culhane, "is reducing our goals against from last year, and also improving on penalty killing. Last year, we were last in penalty killing. As coaches, we looked at it in the spring, and we thought, if we could improve in those two areas, we can win a lot of hockey games."
Right now, Western Michigan is fourth in the CCHA with an 83.7 percent penalty kill. The team has allowed 60 goals, which is nothing like Michigan State's obscenely low 28, but is nothing to sneeze at either for a team that gave up 137 last year.
The defense is clearly the flip side to the Broncos' offense, and it's the part of the game molded more in the image of their head coach than the high-finesse, creative forwards.
Culhane was a big, bruising defenseman. During most of his four years, he played alongside Wayne Gagne, a Hobey Baker Award runner-up during his senior year, and the one with the finesse in that defense pairing. Culhane scored nine goals his senior year, but coach Wilkinson didn't waste much time making sure Culhane knew his real role.
"Wilkie told me, my job was to get the puck to Wayne," Culhane said. "Wilkie recruited me just to protect this kid."
The game was different then. Borderline brawls weren't uncommon.
With Culhane in charge of the Broncos, no one doubts his team has taken on the image of its coach. But, some have said that includes more than his competitive philosophy, and crossed the line at times into chippiness. A post-game brawl with Alabama-Huntsville earlier this season didn't help matters.
So, for all the finesse up front, is this really a "dirty" team?
"I hope not. I don't want to be known like that," said Culhane. "I want to be known as a team who puts forechecking pressure on your defense. We're not dirty in nature. There's no checking from behind or hitting after the whistle.
"There was the unfortunate incident against UAH. There was a celebration on our net in an overtime against us, and it ended in both benches being cleared. But nothing more."
Of course, then there's Brian Pasko, the freshman defenseman who has racked up over 120 penalty minutes already this season, including 30 on one play in a game against Merrimack. He has been, shall we say, an aggressive player.
"Too much so. … It's only his fourth year of competitive hockey. His passion for the game, his willingness to compete, is what excited us," said Culhane. "It's an education process. In junior hockey, you can drop the gloves. He's learning what the college game is all about. There's going to be some bumps along the way."
To be fair, every up-and-coming team, especially those that don't have the resources to recruit the blue-chippers of say, Michigan and Michigan State, find themselves digging for those character players — the types that are willing to go through a wall to win, even if they don't always have the most raw ability. Inevitably, as they get some success, many of those teams also get an unfair label.
"We look for a kid that can get up and down the ice," Culhane said. "We want a willingness to compete, whether that's hockey or playing cards. We look for young men with good hockey sense. If you can get those three attributes, you are doing well.
"We like to try to turn the puck over, whether that's by stick positioning or getting in there quickly, having to play the body, we'll do that. It's similiar to full-court press in basketball. People have called us up-tempo, but we're not sitting back."
And, perhaps, Western Michigan is gaining in the recruiting wars because of it.
"Maybe because of our start this year, maybe we're getting more attention than before. But to say we're landing that top blue-chip recruit that BU or Michigan has been landing, we're not to that level. Obviously we compete against those schools, but they have a lot of resources that we don't have. We're trying to build something like that."
Part of building that is making improvements to their facility. When looking at other smaller programs that have been able to compete nationally, Culhane points to the buildings that Lake Superior State, Northern Michigan and Nebraska-Omaha have.
"Lake Superior, look what they've done with their facility," Culhane said. "Nebraska-Omaha, Northern Michigan. We look to what other programs do and try some legalized plagiarism. You have your own niche.
"We're addressing [facility] enhancements, improvements. I've talked with the president and AD. Eventually we'll see some."
There are a number of reasons for the Broncos to hold out from making reservations in Albany. Or even in Detroit in March, for that matter. Teams not used to winning so regularly can have their inexperience exposed suddenly in the postseason. And critics point to Western's schedule, which has yet to see Michigan, and includes a tie in the only meeting so far with Michigan State.
Culhane understands that. He knows his team still has a lot to prove. But, he also sees the schedule building to a crescendo, which may be following along perfectly with how his team is reacting, too. When it needed to get confidence early, it was playing lesser teams. As the team grew in confidence, it has kept on pace with the increasing difficulty of the schedule.
It would seem to bode well for the Broncos.
"By winning, you continue with that," said Culhane. "We're still trying to build a winning atmosphere and environment. And with winning, you gain respect. That's what drives you, trying to gain respect."