The weather forecasts Monday called for over a foot of snow; a healthy layer was already underfoot an hour before the first semifinal game. Cars heading north on Route 93 stood at a standstill; traffic on Storrow Drive backed up all the way to Boston University.
Would this be a reprise of the legendary 1978 Beanpot? That year, the semifinal games coincided with the arrival of the Blizzard of '78, a storm that prompted a state of emergency and shut down Massachusetts for four days.
As it turned out, there would be no mid-game announcement this time that the mass transit system — known as the MBTA — was curtailing service for the evening and that fans had 15 minutes to board the last train. Nor would there be hundreds of abandoned cars clogging every lane of Route 128.
Even so, the arrival of a significant storm on the first Monday in February prompted flashbacks to 1978. After 23 years, most of the memories remain vivid.
Boston Globe sportswriter Bob Ryan — a prospective fan that evening — ran up the white flag before even getting to the Boston Garden.
"I turned around at the Burger King on Route 3A in Weymouth and said, 'This is nonsense!'" he recalls.
"The bus stopped at Marsh Chapel, a chapel on campus. Jack Parker said, 'We'll leave it up to you guys if anybody wants to get off here and pray for the snow to end.' … Well, everybody got off and walked across the street to the Dugout. So much for Marsh Chapel."
— BU SID Ed Carpenter on his first Beanpot experience
Jack Grinold, Associate Athletics Director at Northeastern, remembers with all too much clarity that year's Beanpot, even though he was comfortably at home by the BU-BC nightcap.
"Ten days before that date, Northeastern went to Watson Rink and pummeled Harvard, 12-5," he says. "After the score got to about eight, I said to myself, 'Please, please. No more, no more. We're really going to make these guys angry.'
"Sure enough, we did. We came in for one of the few times in the history of the Beanpot the favorite in our semifinal game and lost, 4-3 [in overtime]. I was so angry at having my hopes for a final shattered that I frankly went right out of the building and into a cab.
"I did not realize until we were probably a mile away from the Garden that the cab was pitching back and forth and back and forth. The cabbie was cursing and saying, 'This is my final ride.' I was home in Brighton in no time and turned the radio on for them dropping the puck for BC-BU.
"So maybe I can say that they did me a favor. But not really."
Even more unhappy, but much less comfortable was Globe writer Bob Monahan.
"I left the Garden with [fellow writer] Willie McDonough, his son Sean and one of Sean's friends," says Monahan. "Willie's car was out back so we shoveled it out. We got on the Expressway and they were pushing the car. I used to smoke back then so I had no wind.
"A couple times we'd go 20 yards and they'd all hop in, but then we'd get stuck again. They literally pushed the car all the way to the Globe [about five miles away.] It was awful.

"I left the Globe four days later. We just put some papers on the desks and slept on them. It wasn't pretty. You didn't get close to anyone because everyone stunk. When you start smelling yourself and you don't like yourself, that's as bad as it gets. You're brushing your teeth with your finger. Hygiene went out for four days.
"I ate in the Globe cafeteria for three and a half days. I haven't had a bite to eat there since."
Although an early edition of Tuesday's paper appeared, that would be the last one for several days. With travel forbidden to all but emergency vehicles, printing a newspaper that couldn't be delivered to readers made little sense. Monahan and his colleagues at the paper's offices, however, called for quotes and wrote columns that were never read in case the Globe did get going.
Unlike Monahan and Grinold, however, most recall the Beanpot '78 experience with affection.
"I was going to all the games back then with the family," says BU radio broadcaster Bernie Corbett, then a high school senior. "We had season tickets. There was a big question because of the weather whether we were going to the game that night.
"But there was a question and there wasn't a question. We were going to go anyway. I went with my father and a couple of friends. We went in and stuck around despite the warnings. We just followed a snowplow up [Route] 93 to get home.
"My two friends from high school spent the week at my house. They never made it home all week. We had a great week. It was great to be a senior in high school because you got two February vacations that year, one scheduled and one unscheduled. It worked out great!"
More than 500 fans and Garden employees remained in the building, not leaving until a day and a half later.
"A lot of them were our employees," says Steve Nazro, FleetCenter Vice President of Events and Director of the Beanpot. "It took us a while, but eventually we figured they could have gotten home if they wanted to. But it was like boys' night out.
"'Honey, I can't get home. Can't you see what's outside?'
"I heard there were great poker games."
Boston Herald writer Jocko Connolly left the Garden on the MBTA trains that kept running long after their threatened shutdown. Although he didn't get all the way home, he made it home where the train stopped.
"The train got to Dover Street and the [conductor] said, 'We can't go any further, so everybody off,'" says Connolly. "Foley's Tavern was right at the foot of the stairs [of that stop].
"So I went down into Foley's and drank 'till about three in the morning. There were some MBTA guys there who ran the station. So then we got a case of beer and climbed back up the stairs. They opened the booth, where it was warm, and we sat there drinking until the sun came up. It was great!"
When asked if he recalls the Garden lights dimming late in the second game, Connolly quips, "Back in those days, I remember the lights dimming a lot!"
First prize in partying, though, may have gone to the BU team, which would have to wait 23 days for its championship game, the only such Beanpot contest to take place in March.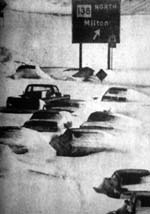 "I remember getting on the team bus going back to BU," says Terrier Sports Information Director Ed Carpenter, then experiencing his first Beanpot. "The bus stopped at Marsh Chapel, a chapel on campus. [BU coach] Jack Parker said, 'We'll leave it up to you guys if anybody wants to get off here and pray for the snow to end.'
"Well, everybody got off and walked across the street to the Dugout [a popular bar]. So much for Marsh Chapel.
"We continued on to the corner of [Commonwealth] Ave and Babcock Street. The bus driver said, 'I can't make it down Babcock Street.' That was where our offices were.
"I remember getting off and walking down the street to my office. I was walking and seeing little tips coming up from the snow. It wasn't until the next day that I found out that they were radio antennas on cars. So I was walking on tops of cars.
"I was marooned in the office. I never made it home for a week."
Back at the Dugout, the feeling was just about the opposite of being marooned. Several years ago, Terrier forward David Silk described it best.
"By the time we came out," he said, "the snow was gone and so were the seventies."