History will be made at the West Regional this weekend, in the form of a game between third seed Michigan and sixth seed Mercyhurst.
Just after 5:30 p.m. Eastern time Saturday, the Lakers will become the first MAAC team ever to face off in the NCAA tournament, thanks to the addition of an autobid for the fledgling league. And fans around the nation are up in arms, on one side or the other.
Some see Mercyhurst's addition as an abomination, a sure-fire loser in the first round, a team taking up space which could have been better used on Clarkson or New Hampshire or Nebraska-Omaha, depending on your point of view. Others envision a big-tent policy like the one that drives the NCAA basketball tournament, with underdogs making headlines and drawing new fans to the sport.
Such is the clamor surrounding the Lakers' selection that people have almost forgotten about top-seeded — and nationally top-ranked — Michigan State.
Almost.
In the end, though, it's hard to forget about the team that has topped the USCHO.com poll for virtually the entire year; which has lost just four games (four fewer than the next-best mark in the West, St. Cloud's eight losses); and which has the nation's top defense by a significant numerical margin.
Expect no cakewalk for the Spartans, however. Fourth-seeded Wisconsin and fifth-seeded Providence are both capable of pulling the upset, whichever of them opposes MSU in the quarterfinals. And in the other half of the draw, WCHA champion St. Cloud — awaiting the winner of the aforementioned Michigan-Mercyhurst collision — may just be the hottest team in the regional.
No. 1 Michigan State
You'd think that the Michigan State Spartans could afford to crow a little bit. After all, this team has just four losses in 40 games this campaign, has been ranked No. 1 for most of the season, won its second consecutive Great Lakes Invitational tournament and second CCHA postseason championship in a row.
But there's hardly a peep from East Lansing.
In fact, when the Spartans beat the Wolverines 2-0 in last week's league title game, they seemed to celebrate for exactly 15.65 minutes. At the post-game press conference, the players were clearly happy, but also a bit reserved. When asked how long the team would relish the win, MSU head coach Ron Mason said, "Oh, until practice Monday."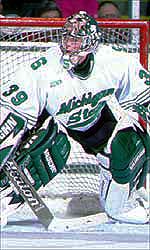 This Spartan squad is all business, at both ends of the ice. Lacking the superstar playmaker on the scoring side of the blue line, the team is led in some ways by the calm, collected presence of a superstar between the pipes: sophomore goaltender Ryan Miller.
"We don't have the big scorers, and last year and the year before look who we had," says Mason. "Ryan leads in the manner that a goaltender can lead."
Last year and the year before, as Mason points out, the Spartans were led by Shawn Horcoff and Mike York, both incredible players but both incredibly low-key. From such quiet superstars as Horcoff, York, and others cut from the same cloth — Sean Berens, Tyler Harlton, Mike Weaver — this current Spartan team has inherited an intense, determined, but decidedly non-crowing demeanor. That, says Mason, has been the secret to Michigan State's success this season.
"We're confident, but not overconfident. We've got some seniors who have been to the final four before. They've been in tough situations, they've seen the up side, they've seen the down side."
He adds, "We do everything by committee, and we don't underestimate our opponents. We know how hard we have to work to win."
The Spartan Scoring Committee this season includes senior Rustyn Dolyny (12-25–37), sophomore Brian Maloney (15-20–35), junior Adam Hall (18-12–30), and senior John Nail (19-8–27).
Of course, the strength of the Spartans emanates from the net outward. What more can anyone say about Ryan Miller (1.31 GAA, .950 SV%) that hasn't been said already? The 6-2 East Lansing native fills a net like no one else, sees the puck like no one else, stops the puck like no one else, smothers the puck like no one else, moves like no one else, and handles his hockey pedigree and fame like a gracious old pro, rather than a 20-year-old sophomore. He is, simply, amazing.
That kind of performance certainly makes for a more comfortable defense in front of the net, and because of that comfort zone, the Spartan blueliners have improved significantly this season, limiting shots and clearing the puck so that Miller less and less often sees a second shot.
The Blueline Committee, led by sophomores Brad Fast (4-23–27) and John-Michael Liles (7-18–25), and junior Andrew Hutchinson (5-19–24), has contributed to Michigan State's lopsided scoring this season, as the Spartans have more than doubled up on opponents 129-54.
Everyone knows that Michigan State's game is the kind of patient hockey that capitalizes on opponents' mistakes for offensive opportunities. Mason brushes aside the accusation that Spartan hockey is boring.
"I guess you'd have to ask our fans. We usually outshoot our opponent. We outshot Michigan last weekend, and they're seen as a pretty exciting hockey club. I don't know what people are saying. I think we're good defensively … and we're getting more and more offensive opportunities."
As for being a bye this weekend in Grand Rapids, Mason says it can be both an advantage and disadvantage. "It can be beneficial. If something happens in the first game like an injury that could be a factor in the second game. But if you have a win [in the first round], you could be coming off the momentum."
Mason says that the extra day will give his team time to recover from assorted "bumps and bruises."
The Spartans, who will face the winner of the Wisconsin-Providence game, aren't overly concerned with who they'll play. "There's positives in [playing] both. Obviously we've played Wisconsin, and they've played us. And we've never played Providence, so they've never seen us either.
"You don't get to this level if you're not a good team. We've got to play our game, and we can't be doing concerned about what the other team is doing."
This is the Spartans' eighth consecutive trip to the NCAA tournament.
No. 2 St. Cloud
It would be hard to dispute a claim that St. Cloud State is the most dangerous team in the NCAA tournament.
After all, this is a team with 31 wins, a solid goaltender, an unflappable defense and a powerful scoring punch.
This is also a team resilient enough to see a three-goal lead evaporate in minutes in the WCHA title game, and still have enough character to rebound and get the winner in overtime.
Suddenly, Ritchie Larson's prediction at the end of last year doesn't seem too far-fetched.
After Boston University knocked the Huskies out of the NCAA tournament in the first round last year, Larson, then a junior, made a bold prediction. Not only would St. Cloud return to the tournament next year, it was going to win it all.
That was quite a statement considering the school had never put up more than 23 wins in a season and had no WCHA titles to its credit.
But this season has been a magical one for the Huskies.
"We feel like we have … the best team the school's ever had," junior forward Tyler Arnason said. "Maybe not in terms of raw talent, but the way we get along together and the way we have heart."
There was a clear turning point for this year's St. Cloud State team. The Huskies lost a pair of 4-3 games at North Dakota on Jan. 26 and 27. The next weekend, they lost 5-3 to Colorado College at home on Friday night.
Their season was just about to start spinning out of control, and things got worse when they fell behind 4-1 after one period on Saturday.
"I asked them, 'What kind of a legacy do you want to leave? Do you want to be known as a team that could've and should've, or do you want to be known as a team that could've and did?'" SCSU coach Craig Dahl said. "And I said, 'The way we're playing is not the way you're going to get the job done.' I challenged them, I said I thought they were winners and I thought they had great character but we weren't showing it.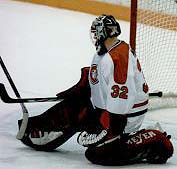 "I said, 'No matter what happens the rest of this game, I want to see the team I know and I started the year with.' And we responded with a come-from-behind 7-5 victory after being down three. And they haven't looked back since."
Scott Meyer hasn't had to look back much, either. But the five goals the senior goaltender gave up to North Dakota in the WCHA title game last Saturday came as a surprise to everyone.
He blanked Minnesota a night earlier, but it would actually be safer to say his defense blanked the Gophers.
Of the 70 shots Minnesota attempted, Meyer made a save on 23 and 21 were off target. But the Huskies' defense went down to block 26 of them, a sign of the commitment to defense exhibited throughout the lineup.
"We just emphasize getting in the shooting lane and doing whatever it takes to win the game," Dahl said. "That means blocking shots, that means chipping the puck out at the appropriate time, that means getting it in deep, that means backchecking hard. Just doing whatever it takes to win. Blocking shots is all mental. It's just a matter of being willing to get in the shot lane. More often than not then, the puck will hit you."
Even when things got through to Meyer, he lived up to his billing as the WCHA's first-team goaltender.
"When we screw up as defense, he bails us out just about every time," said Derek Eastman, the SCSU defenseman who scored the game-winning goal in overtime in the title game. "If he keeps on playing this way, it's going to be tough to beat us."
Said Dahl: "There'll be a couple teams that have something to say about that."
At midweek, Dahl hadn't seen any tape of either of his potential second-round opponents in Grand Rapids, Mich., Michigan and Mercyhurst. He hasn't even seen Mercyhurst play.
But Dahl's philosophy has little to do with opponents and more to do with emphasizing a full effort every time out.
"The idea is, if you try to be the best you can be … more often than not you're successful," Dahl said. "That doesn't always mean you're the No. 1 team, but it means you're successful. The fact that they were able to win the championship means that we were the best team that weekend. It's something you put in the back of your mind and think about in the spring and summer.
"Our guys have been focused on the NCAAs for the last two months, ever since we got beat by North Dakota Jan. 26 and 27, it's been a total focus on the NCAAs and trying to win that national championship."
It's not so far-fetched now.
No. 3 Michigan
This is not the way in which Red Berenson would like to be entering the NCAA tournament.
His Wolverines had a strong showing in the CCHA playoffs, polishing off the Ferris State Bulldogs in two games at home before advancing to the tournament championship game by beating Nebraska-Omaha 3-2 — and there was no shame in losing the title match 2-0 to Michigan State and Mr. Shutout, Ryan Miller.
But Michigan had a rough February and March, in more ways than one. In their last nine games of the regular season, the Wolverines went 3-5-1, hardly a strong finish. On top of that, the team garnered some unwelcome press because of an incident at an off-campus party.
All that's known publicly about what happened on the night of March 10 is that there was an incident — an altercation, perhaps — between one or more Michigan hockey players and one or more members of a University of Michigan fraternity.
Really, that's all that's known. While Josh Langfeld's name has been (perhaps unfairly) bandied about, no charges have been filed, and an investigation is just now underway.
Berenson admits that the whole thing "had a little bit of an unsettling affect, particularly because it's kind of an ongoing thing."
The coach says he doesn't quite know what action to take, because nothing concrete has come to light. "I haven't made a formal decision of how I'm going to treat this because they've just assigned a detective to it."
He adds, though, in the aftermath of the publicity and whatever it was that happened, "I think our team is handling it pretty well. It's not like it was a terrible incident. It's the kind of thing that happens all the time on college campuses, but because athletes were involved people are paying more attention to it."
But don't get the impression that Berenson is pleased or intends to sweep anything under the rug. He is not happy with what happened. He is not happy with the unwanted attention. Although we don't quite know what transpired, whatever it was "was a bad decision at a bad time," says Berenson.
Like any coach, he'd rather focus on hockey, especially now. Berenson says that even though his team tied for second in the CCHA regular-season final standings, he considers this year's performance by the Wolverines to be sub-par.
He says that the current senior class — which includes Langfeld, Mark Kosick, Scott Matzka, Bob Gassoff, Dave Huntzicker, Geoff Koch, and L.J. Scarpace — has struggled through the season.
"Most seniors who play at Michigan have had their best seasons their senior year. That's not necessarily been the case with this class," says Berenson. "Don't get me wrong — they're good kids."
This is the same class that helped win Michigan its last national title. In his rookie season, Langfeld scored overtime goal that earned the Wolverines the 1998 NCAA championship in Boston. Kosick lit the lamp twice in that same game.
"It may have been too much too soon for that class," says Berenson. "They've all been decent players at times."
He adds that the senior class would share his summary of their careers. "You ask yourself, 'Has this kid played his best hockey? Has he become the best player he could be?' and most of these guys would tell you themselves they're not."
Still, the senior class is not chopped liver (and Berenson is certainly not saying that they are). Kosick (12-16–28), Langfeld (15-11–26), and Koch (9-15–24) have a total of 36 of Michigan's 157 overall goals.
But it's not like the Wolverines aren't loaded for bear. The most consistent player for Michigan this season has been Josh Blackburn (2.24 GAA, .907 SV%).
Other standouts include Mike Cammalleri (26-31–57), Mike Komisarek (4-10– 14, +16), the underrated Mike Roemensky (2-7–9, +23), and the ever-present Jeff Jillson (10-19–29, +13).
Berenson says that facing Mercyhurst in the opening game is a daunting task — and he's dead serious. "It's a team you'd probably rather not play because they're more of an unknown team than any other team in the tournament. They'll be one of the scarier teams in the tournament. Remember Niagara last season."
How does Berenson keep his players focused on the task at hand? "If we don't have our best game on Saturday night, that'll be our last game. That will be a tough game to coach and prepare for. They'll be looking to over-achieve and we'll be looking to not underachieve."
This is the Wolverines' 11th consecutive appearance in the NCAA tournament.
No. 4 Wisconsin
In his mind, Jeff Sauer has been forced to reconcile with himself that he did something he didn't really want to do.
He lied to his players.
It was a well-intentioned lie, but it was a lie nonetheless.
Before Wisconsin's appearance in the WCHA Final Five play-in game against Colorado College last Thursday, Sauer told his players they needed a win against the Tigers to get into the NCAA tournament.
He knew better. He knew a win would all but guarantee the Badgers a spot in the 12-team field, but he also knew a loss wouldn't necessarily leave them on the outside.
After his team lost the game in the final minute, Sauer had to walk into the locker room and address his players.
"After the game, then I said, 'Guys you have to keep your heads up, there's a good chance we're going to get in. We just have to hope for some things to happen for us,' " Sauer said.
"Then I'm sitting back and saying to myself, I lied to my team, now I have to tell them it was just a small lie and pump them up again."
It didn't take much. Just seeing Wisconsin pop up on the television during the selection show was enough to give the Badgers' seniors a second life. UW plays Providence in Grand Rapids, Mich., on Saturday, with the winner playing Michigan State on Sunday.
The seniors said it wasn't hard to be optimistic about their chances after the Thursday-night loss, but doubt could have very easily crept in.
Instead, it's all about business now.
"The spirit is great and we're anxious to get going," Sauer said.
This Badgers team is well prepared in regard to the nationals. For the seniors, this will be their third trip to the NCAAs.
"[Senior] Graham Melanson has been the goaltender on three teams that have gone to the NCAA tournament, he's won a WCHA playoff championship and a WCHA championship," Sauer said. "I think that's a pretty good credit to this group of seniors."
But the national success hasn't been there. The Badgers lost to New Hampshire in the first round in 1998 and, despite being the top seed, lost to Boston College last season.
"That's the next thing," Sauer said. "That's the next thing I'm going to use in terms of motivation."
It's a mature team in that, last weekend, the Badgers dressed only two players that weren't on last year's WCHA regular-season championship team.
Even something as minute as the travel arrangements being a little awkward doesn't faze them.
"We're going to have to go by bus," Sauer said. "But the guys [say], 'Hey, fine, we'll survive.' There has not been any negative talk about, 'Aw, we have to bus over there.' I think those type of things are where the maturity shows with some of the guys we have."
The Badgers had been on a bit of a roll before losing to CC in the Final Five. Still, they have won five of their last six games and have Hobey Baker finalist Dany Heatley playing up to his potential.
In postgame news conferences last weekend, WCHA coaches made light of the fact that Wisconsin, the last of the league's teams to get in, is going to be the most rested team in the tournament.
They pointed out Sauer sitting in the back of the room and talked about his players sleeping in their own beds in Madison, Wis., while all the other teams were beating each other up.
If it only were so easy for Sauer. For most of Friday night, he paced back and forth through the Xcel Energy Center press box, waiting for updates from other games that impacted his team's tourney chances.
Once he knew his team was going to be in the field, he realized the loss on Thursday did no harm to his team's chances for a berth.
And he wasn't at all upset to be watching the other teams be the ones get dinged up on the ice.
"The fact that we won five of our last six there, we had good momentum going into Thursday," Sauer said. "I thought we played well. It's just CC scored the goal and that was the difference. We might still be playing if they hadn't scored that goal.
"CC, they got a broken nose [to Mark Cullen], [Minnesota's Aaron] Miskovich has a concussion. You never know what can happen."
That's the same approach the Badgers are taking this weekend. Patience is the name of the game.
"Against both teams we have to be patient offensively," Sauer said. "Against Providence, they'll be very strong in the defensive zone. And certainly if we get to Michigan State with the goaltender [Ryan Miller], you have to be patient against their style of play.
"If we get a good opportunity, we have to bury it and take advantage of it."
No. 5 Providence
Providence ranks as one of the biggest surprises in this year's NCAA tournament. Not because the Friars didn't deserve a bid, because they most certainly did. When the season opened, however, they were picked to finish sixth in Hockey East after some serious losses up front and devastating ones on the blue line. Their last appearance in the national tourney was in 1996.
As it has turned out, though, PC has played consistently strong hockey all season, leading up to its appearance in the Hockey East tournament's title game. The defense has been anchored by senior co-captains Jay Leach and Matt Libby, but four rookie defensemen, led by Regan Kelly, have made consistent contributions.
"We have come together real well," says Libby. "The expectations at the beginning of the season were real low. I think people looked at Providence at the start of the season and they thought we lost some quality guys. I've been impressed with the way the freshman have played."
Sophomore goaltender Nolan Schaefer has emerged as Hockey East's second-best goaltender — behind only New Hampshire's Ty Conklin — despite displaying less consistency over the second half than the first.
The line of Devin Rask, Peter Fregoe and Cody Loughlean has similarly risen to the fore. While there is depth to PC's offense, Rask and Fregoe are the proverbial straws that stir the drink.
The danger for a team like Providence that hasn't been to the dance in quite a while is that it may be satisfied just being there.
"I addressed that Saturday night when we got home [after losing in the Hockey East championship game] and I addressed that on Monday," says PC coach Paul Pooley. "I was a little businesslike because I think we have a chance to beat Wisconsin.
"I think people might underestimate us. Providence? What's Providence? Geez. Which is okay.
"That's one thing I've told our guys. [The coaches] will take care of the strategy. We'll take care of getting prepared. We'll take care of everything we need to do. You guys have to believe that we'll do it.
"That's the only thing we're asking of you, to follow the game plan and execute what we're doing and be hungry. We're not in the NCAA tournament just to be there. We have too good a hockey team to do that. We worked too hard all year.
"There was a little bit of that on Saturday night [against BC], quite honestly. We needed to get more of a mental edge. We didn't have the same mental edge on Saturday that we did on Friday. Whether BC took us out of that when they scored that shorthanded goal [to tie it], I don't know.
"But I said, 'Hey, we're in the NCAA tournament next weekend. If we get into a game where we're getting outshot, but we still have a chance to win it, we've got to find a way to win it. So learn from tonight and let's move forward and be ready.'"
As for facing Wisconsin, Pooley quips, "Where's my Wisconsin file?" Turning serious, he says, "They're a good hockey club, but I think we match up well with them.
"Obviously, they have one of the best players in college hockey with Dany Heatley, but we've faced Brian Gionta and [Krys] Kolanos who are very good players, too. Heatley is somebody that we have to pay attention to.
"Their goaltender [Graham Melanson] is very good; he's good numbers. I know a little bit about him from seeing him play in juniors and also at Wisconsin. I think we've got a pretty good handle on what they're doing."
Having a handle on what Heatley is doing, however, doesn't necessarily translate into stopping him.
"I'm going to watch some more tape," says Pooley. "I want to get a feel for how to take him away, whether to shadow him or put a certain defenseman on him, or use a certain forecheck just to take him out of the picture. We'll do what we need to do to pay special attention to him.
"They have the last change so if we're going to match lines, it might be a little more difficult."
Forget any thought that Wisconsin, which plays on an Olympic sheet (200×97), as does all but three of its WCHA brethren, will have a hard time adjusting to the NHL-sized (200×85) confines of the Van Andel Arena in Grand Rapids.
"They're 9-1-2 on the small sheet," says Pooley. "They're a big team that likes to play a little physical, but likes to cycle the puck. Not a typical wide-open style team. They play more of a pro-style game."
If the Friars get past Wisconsin, they'll then have to face the number-one team in the country, Michigan State.
"Obviously they're very good and they have probably the best goalie in the country [Ryan Miller], I would think," says Pooley. "They're big and they're pretty skilled. But they play a very defensive-oriented game. We'll play that same game. It'll come down to chances and goaltending.
"Honestly, I think Nolan [Schaefer] would be very excited about that matchup if we could get there, because they're both the same class [sophomores]."
Schaefer will play both games after rotating with senior Boyd Ballard for the second half up to the Hockey East semifinals.
"I would think so at this point," says Pooley. "I'm not above changing, by any means, but I just want who can win. I thought Nolan played very well against Boston College. There were a couple of goals that I think he'd want back, but overall he played pretty well."
Keys for Providence:
1) Winning or at least tying the goaltending matchup.
2) Controlling Heatley.
3) Getting big performances from the smallish Rask line despite Wisconsin's size.
No. 6 Mercyhurst
Thirteen years of coaching at Mercyhurst College couldn't have prepared head coach Rick Gotkin for what he faced last Monday morning.
"I had 116 voice mails and 78 emails yesterday," said Gotkin. "I couldn't answer the phone. And it never stopped ringing. It's unbelievable. It's overwhelming."
And to think, all Gotkin and his team did was win the MAAC championship. Okay, maybe you have to mention the fact that the Lakers became the first team in MAAC history to receive a bid to the NCAAs.
When the clock struck zero in the Lakers' 6-5 victory over Quinnipiac on Saturday afternoon, the jubilation that followed for Gotkin, his staff and players resembled that of national champions of the past. But much of that emotion was put in check by Sunday.
As the team sat in the Student Union on the Mercyhurst campus, Michigan, one of the most storied hockey traditions in the country, appeared on the television screen as the Lakers' first-round NCAA opponent.
"From what I hear, Michigan skates great," said Gotkin. "They're going to be a fast team to play."
Truly, that's all the X's and O's Gotkin needs to discuss. When you come down to it, his hockey club isn't going to win the game worrying about forechecks or faceoff plays. If they were to pull off this upset, one that makes David and Goliath look minimal, it going to take a few more things.
"We feel we've played as good as we can play [to this point]," said Gotkin, "and if we can do that [against Michigan on Saturday], we'll be fine.
"But we don't want the scoreboard to be the barometer [for our success]. We want the team on the ice and the coaches on the bench to be the barometer. There have been nights we've played poorly and won, but we don't feel good about it. And there are nights when we play great and lose tough games. That's the barometer that we use. We just want to know we went out and played our game and played as best as we could."
Maybe sounds a little like Gotkin feels that his odds of winning are slim? Not a chance.
"We're going out there to win a hockey game. The bottom line is, upsets happen all the time in athletics. We want to go out and play well, but we realize it's a daunting task. There aren't a lot of people who give us the chance to pull this off. But if it was a done deal, [the NCAA] wouldn't send us out there to play.
"I'm sure Michigan will give us everything we can handle, but I won't discount our chances. Whether we're [Hickory High School from] Hoosiers or a Monmouth, or a Penn State [in this year's NCAA hoops tournament] — if we're in this thing in the third period, I like our chances."
The fact that the game is being played in the state of Michigan makes the chance of Mercyhurst even being a crowd favorite pretty slim. Gotkin, though, noted that, regardless of size, the Lakers will have their own cheering section.
"Right now we have two buses full and we're working on others," said Gotkin, who, in Erie, Penn., is about six hours away from Grand Rapids, Mich., by bus. "We have a lot of alumni coming in from all around — Wisconsin, Minnesota, Michigan. We should have a pretty vocal crowd."
Michigan fans, though, may not be the only ones rooting against the Lakers this weekend. There are plenty of fans around the country who feel the MAAC, and thus the Lakers, weren't deserving of an autobid to the tournament. The MAAC did fulfill all of the NCAA's requirements to land the berth, but that still doesn't sit easy in many hearts.
"Our assistant coach, Greg Klym, was on all the message boards and telling me that we're getting hammered on there [for taking an at-large bid] away from the rest of the schools. I told him that so long as they're mentioning our name, that's all that matters."
— Mercyhurst head coach Rick Gotkin, on the fracas surrounding the MAAC autobid
Add that the conference itself has been a bit of a public-relations nightmare this season, and the list of those who won't support the Lakers grows. Even though it had nothing to do with Mercyhurst, the MAAC forced schools to eliminate Findlay, an emerging Division I program, from their schedules because they were not yet of full Division I status.
Nay-sayers, though, don't really bother Gotkin.
"Our assistant coach, Greg Klym, was on all the message boards and telling me that we're getting hammered on there [for taking an at-large bid] away from the rest of the schools. I told him that so long as they're mentioning our name, that's all that matters."
At the same time, Gotkin says that he doesn't really feel any pressure for his team to perform to any standards this weekend.
"We definitely have a great responsibility to our conference. In the years to come, we'll be the school that others are measured against because we're the first.
"But I don't think it's really pressure. I think everything in our conference [regular season and playoffs] was the pressure. Beating Fairfield and then beating Canisius, and then winning the championship against Quinnipiac, there we felt a lot of pressure. Here, we're obviously the underdog, so that alone has removed a lot of the pressure.
"It's great to be the underdog. A week ago we had the reverse. We had all the pressure. So being the underdog is a neat little thing. A lot of people want to see us get killed on Saturday. But with that said, I think a lot of people want to see us do well on Saturday."
As far as the style of game that Gotkin will play against Michigan, he's still not sure. The Lakers are one of the top defensive teams in the country, led by MAAC Goalie of the Year Peter Aubry. That, though, won't dictate their style of play.
"We think we can [play the trap]. But we're not really a trapping team," Gotkin said. "We can play [the trap] so that if a guy can cut across and get in, he'll go.
"But Michigan skates great. So we'll have to get in front of people and try to slow them down. That will be the key for us — to slow down their game. We probably won't be able to sit back and let them come to us, because [by that point] they'll have too much speed."
Summing up the strategy a little further, Gotkin said, "We're not going to change what we do, we're just going to have to do what we do a lot better. We talked to our kids yesterday, and they're pretty focused. That's a good sign."
So how is Rick Gotkin holding up through all of this excitement?
"I'm fine. I'm just overwhelmed about what needs to be done. I'm just not used to it. I love to talk to people, so that's not a problem. But just being able to call people back has been though.
"I just got done doing an interview with the New York Times. Stuff like that doesn't happen to Rick Gotkin.
"You know how they say everyone gets 15 minutes of fame? Well, I've just had my 15 minutes and realize now, it's pretty cool."
One of Gotkin's concerns, of course, it that with all of the excitement that accompanies playing for a national championship, it's easy to get caught watching.
"We've talked to the guys about being too wide-eyed this week," said Gotkin. "We realize the most important thing is to be focused.
"These guys realize this is a great opportunity that we don't know if we'll ever get again. We'd like to be back here, but there's no guarantee."
The only guarantee is that the Lakers and the Wolverines will make history this weekend. It may be for a little longer than Gotkin's 15 minutes allows, but it will be something that the Mercyhurst players, coaches, and fans will never forget.