USA Hockey today announced the 22-player roster for the 2002 United States National Junior Team, which will compete in the 2002 International Ice Hockey Federation (IIHF) World Junior Championship. The tournament, featuring the world's top players under 20 years old, will be held Dec. 25, 2001-Jan. 4, 2002 in Pardubice and Hradec Kravlove, Czech Republic.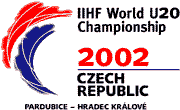 "This team will possess skill intelligence and grit," said Team USA head coach Keith Allain. "Our success will be determined on how quickly we can bring all of these qualities together to become a team. I am very excited about this team and have high expectations."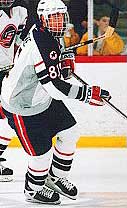 The roster features 11 National Hockey League draftees, including five returning players from the 2001 U.S. National Junior Team. Eight of the 22 players are in Major Junior leagues, while the other 14 are playing in U.S. Division I colleges.
This year's team features four players who were selected in the first round of the 2001 NHL Entry Draft, including the top American selection, Mike Komisarek (Michigan), who was taken seventh overall by Montreal.
Other first round selections include: R.J. Umberger (Ohio State), who was the 16th overall pick by Vancouver; Jason Bacashihua (Plymouth, OHL), who went 26th to Dallas; and David Steckel (Ohio State), who was taken 30th by Los Angeles. Umberger, Komisarek and Steckel all played on the 2001 U.S. National Junior Team.
Last year the United States finished in fifth place out of 10 teams, posting a 5-2-0 record in Moscow.
Other returnees include: Plymouth Whaler forward Kris Vernarsky, and Notre Dame forward Rob Globke.
The team will assemble in Ann Arbor, Mich., on Dec. 16 in preparation for the 2002 IIHF World Junior Hockey Championship. On Dec.19, the squad travels to Switzerland for exhibition games on Dec. 21 versus Switzerland, and Dec. 22 against Sweden, before beginning competition at the World Junior Championship on Dec. 25 against host country and defending champion, the Czech Republic.