Jerry Galway, senior co-captain for RIT, has been awarded the American Hockey Coaches Association (AHCA) Men's Ice Hockey College Division Player of the Year. Galway, a defenseman from Mississauga, Ontario, has led his team to the NCAA playoffs all four years during his college career. With 46 goals and 118 assists in his career, Galway set an all-time assist mark for a defenseman at RIT.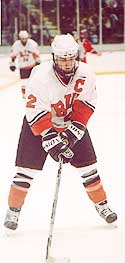 "He is unquestionably the best two-way player in Division III hockey," said RIT coach Wayne Wilson. "His poise and leadership make him a very special player."
Galway has also earned rave reviews from uncountable coaches around Division III hockey. Every coach that he has played against this season has had positive comments about his play, and his demeanor on and off the ice.
Galway's college career almost ended in 1999, when he suffered a shoulder injury in an exhibition game at the beginning of the season. His shoulder was broken in four places, and the doctors were unsure that he would ever regain full movement. Galway took a medical redshirt for that season, and through intensive rehabilitation was able to fully heal from the injury.
This is only the second time that a defenseman has been named AHCA Player of the Year in the 10 year history of the award. The last defenseman to be so honored was Ian Smith from Middlebury in 1996.