A bad break for Rocky Reeves was a lucky break for Buffalo, N.Y.
In his first game at Buffalo State the day before Halloween in 1998, Reeves scored on a penalty shot in the middle of the second period. But moments later, he slid hard into the boards and fractured his right leg, ending his rookie season.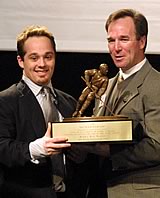 Reeves saw the extra time on his hands as an opportunity, and approached coach Jim Fowler with an idea to improve the image and visibility of the Bengals' athletic program.
The school was participating in the national "Take Back the Night" program to combat rape and sexual abuse. The campus health department contacted the athletic department looking for volunteers to attend a kickoff meeting with school and city officials.
By the next day, Reeves had enlisted more than 100 athletes for the program, and his commitment to community service on campus and in the city of Buffalo had begun.
That commitment was recognized Friday by the Hockey Humanitarian Foundation, which chose Reeves as its 2002 honoree at a ceremony in conjunction with the St. Paul Frozen Four.
"My message today is one of compassion and unlimited pursuit," said Reeves as he accepted the award from foundation trustee and Notre Dame coach Dave Poulin.
Reeves outlined what he believes people need to do to better their own existence by helping others.
"We need to defy mediocrity in our lives and uplift the spirit of all. We need to turn to our loved ones, and to help the poor, afflicted, and sick. We need to have a 'hobby of the heart.'"
As with the six honorees who preceded him, Reeves' achievements are themselves inspirational, and his selflessness heroic.
Even while in recovery and rehabilitation from the injury that caused a medical redshirt in his freshman year, Reeves participated not only in "Take Back the Night," but also by serving and cleaning up at Buffalo's Concerned Ecumenical Ministry soup kitchen. After that, he was active in the National Condom Week safe sex promotion in February 2000 and a cancer fundraiser the following September.
In December 2000, Reeves organized a rummage sale to benefit the homeless, and in March 2001, started Project FLIGHT, which distributes books to the needy in western New York.
Reeves has also spearheaded the Aid Buffalo food and clothing drive for the United Way, and, as president of Buffalo State's Student-Athlete Advisory Committee, has steered that group's involvement in a number of volunteer projects, including one to gather food and clothing for people affected by the aftermath of September 11th.
Even with hockey and volunteerism on his plate, Reeves earned his bachelor degree in health and wellness with a 3.30 GPA in December, and is now pursuing his master's degree.
His athletic, academic, and humanitarian achievements are exceptional, though Reeves doesn't necessarily think so. "It's almost embarrassing to receive an award for things we all should be doing," he said.
Reeves returned to the ice in the 1999-2000 season, and despite having missed the entire previous campaign, his teammates elected him captain, a position he held the two following seasons. While he would be tapped by his fellow Bengals for the "C" again in his final season of eligibility if he wanted it, Reeves wanted that honor and responsibility to pass to a teammate.
As captain, Reeves has used his leadership to encourage the team to achieve. He believes that being more well-rounded and developing character has helped the Bengals on the ice as well as off. His assessment: "If you can't grow as a person, you can't grow as a player."
That growth has shown itself in steady improvement by the Bengals over Reeves' years. This past season, Buffalo State made the SUNYAC conference playoffs for the first time.
"He holds the team accountable for being better people on and off the ice," said Fowler. The six-year Bengal coach said that Reeves is finds it hard to turn down a request. "Anytime the school wants something, he hardly ever says no."
However, earlier this year, Reeves did have to say no to one request. He was urged to run for student body president by the college administration, but turned down the opportunity so he could continue his volunteer activities.
While Reeves encourages the participation of his fellow students in humanitarian efforts, he doesn't welcome those whose motives are other than altruistic.
"People have asked me how to get involved in things to help their resume. I don't like to hear that. Don't do it for your resume; do it from your heart."
After finishing his master's, Reeves said he might like to coach, so he can continue to motivate young people.
"I want to try to inspire people to do good things."