Jeff Taffe, who finished fifth in the nation in scoring for the national champion Minnesota Gophers this past season, has signed a three-year contract with the NHL's Phoenix Coyotes. Taffe foregoes his final year of collegiate eligibility.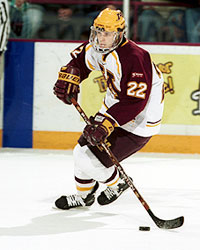 Financial terms of the deal were not disclosed.
Last season, Phoenix plucked Krys Kolanos off national champion Boston College after his sophomore season. Kolanos jumped right into the lineup and has made an impact for the Coyotes.
Phoenix general manager Mike Barnett hopes Taffe, 21, originally a first-round pick by the St. Louis Blues, can do the same.
"It's obviously a big jump, but Krys Kolanos proved it could be done," Barnett said to the Associated Press.
The 6-foot-3-inch, 180-pound Taffe said winning the national championship was all the impetus he needed to make the jump.
"I'd have had some unfinished business back there if we wouldn't have won," Taffe told the AP.
Taffe's agent, Kurt Overhardt, who also represents Kolanos, said the Coyotes are a good fit for his client, saying the team stresses conditioning and can help Taffe bulk up to NHL size.
"Obviously, they're very progressive at developing young talent," Overhardt said to the AP. "They're huge into off-ice conditioning, going the extra step to be the best, and that's pretty much what Jeff's all about."
Phoenix acquired the rights to Taffe — along with Ladislav Nagy, Michal Handzus and a first-round choice in this year's entry draft — in a March 13, 2001, trade that sent former captain Keith Tkachuk to St. Louis. Taffe was taken by St. Louis with the final pick of the first round in the 2000 NHL Entry Draft.