What a long, strange trip it's been.
When Winny Brodt scored the first goal in Saturday's Minnesota-New Hampshire game, it marked a completion of sorts for the 24-year-old senior — 25 in February.
You see, Brodt started her collegiate career and scored her very first college goal in the Whittemore Center, on the campus of New Hampshire in Durham, N.H., though she was wearing a different uniform at the time. She started her college career as a Wildcat, but when asked, she couldn't even remember who that first goal was scored against.
"It was a long time ago," Brodt said. "There's a lot that's gone on in my career since then."
Which may be the understatement of the young century. For Winny Brodt, it wasn't as easy as just starting at one school and transferring to another. Unusual obstacles presented themselves.
When Brodt was a senior in high school in Roseville, Minn., she led her team to an undefeated season and a state championship, capturing the inaugural Ms. Hockey title, awarded to the state's premier women's high school player, along the way.

That was back in the 1995-1996 season, and while Brodt dreamed of playing for the University of Minnesota, the Gophers didn't have a women's program yet. That was the same season that Minnesota coach Laura Halldorson was hired to start the school's hockey program from scratch. But play wouldn't begin until the next year, and even then, no one knew how good the fledgling team would be.
"At the time Minnesota didn't have a college team," Brodt recalled. "I wanted to play right away, and I wanted to play with the best team in the country, and at that time, it was UNH.
"If I wanted to follow my dreams and play in the Olympics and with the U.S. national team, I had to play with the top college team."
But a surprise call from a high school friend cast her plan into jeopardy. When a buddy, who happened to be one of the top gymnasts in the state, was suddenly ruled ineligible for a college gymnastics meet because of a shortfall on her high school transcript, Brodt got a call to warn her that the same thing might happen to her.
"I had a 3.6 [grade point average] with college prep courses. I didn't think I wouldn't be eligible," said Brodt. "I called the NCAA clearinghouse, and in fact, I wasn't cleared."
It seems that one of her high school English courses was incorrectly classified by the NCAA, and so Brodt was a half-credit short.
"So I wasn't cleared and I didn't start school," she explained. "I took that year off, because I didn't want to get to December and still not be cleared, and lose a whole year of eligibility."
So for the 1996-1997 season, Brodt elected not to play in college, and instead played for senior-A team McGovern's in Minnesota that year. She scored 128 points and captured her second state title in as many years.
When she did finally go to college the next season, she went to national powerhouse New Hampshire, as planned. After pulling on the Wildcat jersey, she scored 11 goals and 34 points, led the team to a 31-5-3 record, and, you guessed it, a national title, then awarded by the American Women's College Hockey Alliance. She was named the tournament's Most Valuable Player after New Hampshire's 4-1 victory over Brown in the title game, played at the FleetCenter in Boston.
But the call of her Minnesota home was hard to ignore, and for the following season she transferred to Minnesota.
"The reason was due to my family and friends, and just wanting to play in my hometown," she said. "It would have been harder to leave New Hampshire if we hadn't won the national title that year. But having such a wonderful year, it was just picture-perfect.
"It was the right thing for me to do."
After a 45-point sophomore season that saw her play both defense and forward, Minnesota finished with a 29-4-3 record and captured third place in the AWCHA tournament.
In 1999-2000, with Brodt in her junior season, the Golden Gophers won the AWCHA title, by coincidence also coming in the city of Boston and also by defeating Brown in the title game. With the win, Brodt became the first player to win a national title for two different programs. She was named to the all-tournament team after scoring a goal and adding three assists as a defenseman in the two-game tournament.
"I remember after the celebration on the ice, she and I were two of the last people to hit the locker room," reminisces Halldorson. "She said, 'Coach, thanks for everything,' and gave me a big hug. I told her, 'Winny, you had a lot to do with our success this season.' That was a special team and a special time, and she really contributed to that national championship."
But the success didn't come easy that year. Brodt missed 11 games during the season due to a fractured vertebra, and when she left the team, it was as the leading scorer.
"She had the injury that year, which kept her out for six weeks and she really struggled with being on the bench," recalled Halldorson. "I don't think she had ever been injured for any serious length of time and that was a real test for her."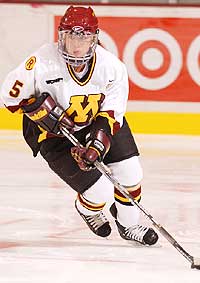 But she returned in time for the final series of the regular season, scoring five points against rival Wisconsin, and played the rest of the season, culminating in the AWCHA championship. She was named the WCHA Defensive Player of the Year, and was a First-Team All-WCHA selection, finishing the year second in the country in points for a defenseman.
"I was really impressed with Winny that season," said Halldorson. "I didn't know her that well when she came to Minnesota, but she and I really came a long way in terms of understanding each other and getting to know each other the year we won the national tournament."
To follow that up, Brodt made the initial cut for the U.S. national team that toured the country, training for the Olympics. She, and several other college players, took an entire year off to train together and to form a team bond. The team started at 25, then was trimmed down to 20 players, and Brodt made it to the elite final group.
But then came the actual Olympics in 2002, and a surprised Brodt found she didn't land a spot on the roster.
"I didn't even make the top 25," said an exasperated Brodt. "So I just took a step back from hockey, decided not to play and just enjoy myself as a student, just take some time for myself."
So despite being back on campus at Minnesota in the 2001-2002 season, Brodt found herself watching from the sidelines.
"It wouldn't have been fair to the team and the coaches, or me, if I wasn't going to put 100 percent effort into it."
Halldorson agreed with her. "I think it was the right decision, because I wouldn't have wanted her playing if her heart wasn't in it."
But that didn't make it any easier for the team. After being decimated by the graduation of their first big recruiting class, the Gophers were looking to rebuild that season, and Brodt would have fit right into those plans.
"We were worried about our team last year," said Halldorson. "We thought we really needed her, but other people stepped up in her absence and we were just fine." Minnesota was better than just fine, as the Gophers earned the top seed in the NCAA Tournament, and finished in third place nationally.
Having her batteries recharged, and having filed with the NCAA for an extension on her eligibility for a final year, Brodt found an added bonus that came with all the delays and hassles. Her younger sister Chelsea, also a defenseman, was now a freshman with the team, and the two could play together despite the six-year gap in their ages.
"I think it's an awesome experience," said Chelsea. "Sometimes she can be hard on me because I'm her little sister and she kinda takes things out on me, but I can take it."
"It's an awesome experience," agrees Winny, showing the similarity between sisters. "I never dreamed I would be playing with my little sister. I never thought in a thousand years I would be playing at the Whittemore Center with my little sister on the ice on my team.
"It's bringing back memories. When I was at New Hampshire I was [jersey] number four, because Brandy Fisher who was captain, was number five. So I took Bobby Orr, number four. Now I'm number five this year and she's number four. It's neat to be on the ice and be like, 'Whoa. She's number four.'"
Says Chelsea with a grin, "Next year, I'm going to be number five."
"Sometimes it's funny when they get in small arguments, because Winny thinks she's the boss because she's the older one," says Halldorson. "Winny is older and more experienced but Chelsea sticks up for herself. It's pretty cute, the two of them."
The two sisters even have similar skating and playing styles.
"Just watching her on the ice, I think it's me sometimes," says Chelsea. "She says the same thing."
Winny concurs. "It confuses me sometimes. We'll be watching video and I'll think, 'Wait, I thought that was me? Nope, it's Chelsea.'"
That's what comes from springing from a hockey-centric family. Winny and Chelsea's parents, Jack and Marelene, still play hockey to this day. Older brother Vic played at St. Cloud State, and older sister Kerri was the initial coach for the St. Cloud State women's hockey team.
"Their family lives and breathes hockey. There's a lot of hockey being played on that road," says Halldorson.
Not only that, but they grew up next to the Curtin family, which produced, among others, Ronda Curtin, one of last year's Patty Kazmaier finalists while playing defense with the Gophers.
"Ronda is almost like a sister, because she lives right next door to where I live. If not for us, she probably would have been playing basketball, with her height," Brodt says with a giggle, referring to the 5-foot-10 Gopher captain.
So what is the result of all that Brodt has been through, the eligibility trouble, the injuries, transferring programs, two national titles, the U.S. National team letdown, and nearly seven years of hockey, in and out of the college ranks?
It just might include another shot at the national title, this time awarded by the NCAA, as Minnesota is one of the early favorites to participate in the tournament in late March. But Winny doesn't look that far ahead.
"I just try to be that person that gets everything out of a teammate, to really push them to become better and dig down deep, to know what it is like to win."
Says Halldorson, "I think players look up to her. Because of the different places she's been, she's really had to battle through some bad luck and tough times, and she's motivated because she knows this is her last year of college hockey.
"What she brings is experience, and she's also a really fun person. She's a talker, a social person. She wants people to get along and enjoy the experience so she brings a good perspective to the team."
"I'm very old," Brodt says, and then pauses.
"Well, I should say, experienced," she adds with a grin.