Turn …
Adversity into adventure
Criticism into compassion
Trouble into tenacity
Problems into positives
Opposition into opportunity
Slump into success
Sorrow into support
Mistakes into miracles
GRAND FORKS, N.D. — Words of advice written three years ago by Jennifer Enoch, the mother of Ryan and David Hale, mirror the lives of her sons and the fortunes of the hockey team for which they play, the North Dakota Fighting Sioux.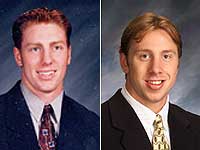 Following an eight-year battle with breast cancer, Jennifer died Sept. 6, 2001, less than a month before Ryan, 24, and David, 21, were to play together in the grand opening of UND's new Ralph Engelstad Arena. For the Hales, it was yet another setback in college careers that began with great promise.
"It was tough because she was such a big inspiration for us both," says Ryan. "She lived through us, being able to see us play at different levels. One of her goals was to make it long enough to see us both play at UND, and she got to see that."
The Sioux have rebounded from a 16-19-2 record in 2001-1002, to 21-2-3 (11-2-3 WCHA) this season. They have been ranked as high as No. 1 in the USCHO national poll and are in contention for the WCHA regular-season title after a sixth-place finish last year.
Ryan, a 6-2, 220 pound junior, plays forward on UND's checking line and on the penalty kill. David, also 6-2, 220 and a junior, is a defenseman who head coach Dean Blais has touted as a potential All-American candidate.
Many reasons have been given for UND's dramatic turnaround this season, including the arrival of freshman phenom Zach Parise, a weak non-conference schedule, a friendly home schedule and a year of experience for last season's freshman-laden team.
Often overlooked is the fact that not only are Ryan and David both healthy and playing together regularly for the first time in two seasons, but the juniors from Colorado Springs have also stepped into leadership roles with Ryan as captain and David as an assistant captain.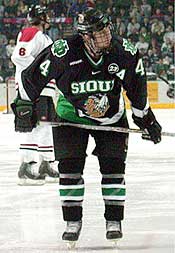 "They bring the leadership we need," says Sioux assistant coach Brad Berry. "They're the backbone of the team as far as making everyone accountable. They lead by example on and off the ice.
"North Dakota has always been known for its hardworking teams. Those two exemplify the team today and Sioux teams of the past."
To reach this point, the Hale brothers followed a path filled with peaks and valleys. In his first year at UND during the 1999-2000 season, Ryan played on a team that captured North Dakota's seventh NCAA national championship, defeating Boston College 4-2 at the Frozen Four in Providence, R.I.
David arrived for the 2000-2001 season, but his time playing with his brother was cut short when, after just eight games, Ryan suffered a shoulder injury that required surgery. He sat out the remainder of the season as a medical redshirt. As a spectator at the 2001 Frozen Four in Albany, N.Y., he watched David and the Sioux lose the national championship 3-2 in overtime to Boston College.
"Sitting out and the watching him play, especially having the team almost go all the way again, was tough, but it really got me focused to come back," says Ryan.
However, a month after the season ended, David was hospitalized in Grand Forks with an illness that puzzled doctors.
"I was medevaced home to Colorado Springs and spent about a week in the hospital there," David says. "They did pretty much every test imaginable to find out what it was.
"It was really scary. Some of the tests they were doing were for serious stuff, like leukemia. It's nerve-wracking when they test you for that. You never know because you have no idea what's going on with your body."
David was diagnosed with a condition called IgA nephropathy, a disorder caused by deposits of a protein in the kidneys that interfere with their ability to filter bodily wastes. Although there is no cure for the disease, proper rest and diet can help minimize its effects.
"To this day, I still don't fully understand it," David says. "It really acts up when I get run down and don't take care of my body as well as I should. I run a fever and get lightheaded. It's not that bad. I've gotten used to it. It recurs every once in a while."
The condition bothered David throughout much of the 2001-2002 season and forced him to miss an entire series at one point. But weighing more heavily on the minds of both Hales was the loss of their mother.
"Once she was hospitalized, it all happened within a month and it was right before the season," Ryan says. "We missed the first two weeks of school and training. Right after her funeral, we came straight back and just jumped into things. I don't know if that was good or bad, but at the time, it seemed to help keep us occupied.
"For me, that year was just tough, trying to deal with it. Now I think we're really beginning to actually come to terms with it."
Says David, "It pretty much just delayed the grieving process for me. I couldn't concentrate very well on school or hockey. Personally, I know my mind wasn't on hockey pretty much the whole year."
UND's problems on the ice during the 2001-2002 season didn't help. For the first time since Dean Blais took over as head coach in 1994, the Sioux experienced a losing season. And for the first time in five years, UND failed to make the WCHA Final Five tournament.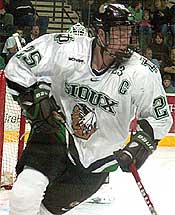 "That gave us a little taste of reality, that it's not always so easy," Ryan says. "It takes a lot of hard work. I think that's what we got back to this year."
In the offseason, Ryan and David, along with many other Sioux players, spent the summer in Grand Forks, participating in hockey camps, practicing and working on strength and conditioning.
"All the freshman came in for a month, too, so it was a good deal to have everyone up here. That's where a lot of the team chemistry came from," Ryan says of this season's Sioux team.
Prior to the start of the season, the players elected Ryan team captain. David and senior Kevin Spiewak were elected assistant captains. The role wasn't new to Ryan, who had served as captain of his USHL Waterloo Blackhawks team before joining the Sioux, but it was to David.
"It was a role I was ready for," says David. "After two years of experience here and getting to know how everything works, especially after having a bad season, I was ready to step up and help lead the team to a better record."
The difference between last season's team and this season's "is like night and day," Ryan says. "We're a real team this year. Everybody gets along and everybody's on the same page all the time. Everybody plays their role and everybody has come together and gelled."
As only the second pair of brothers to ever serve as captains for the Fighting Sioux, Ryan and David have a rapport that only brothers can share. While discussing whether David, a first-round draft pick of the New Jersey Devils, will be back with the Sioux next season, David says, "I don't even know that it's my decision."
Slightly exasperated, Ryan replies, "Yeah, it's your decision."
He tries to be realistic about David's future, saying, "I definitely think that the success of this season will have a lot to do with what happens next year. With the success of a team comes individual success."
Hearing this, David breaks into grin, laughs and chides his older brother: "You're pretty wise in your old age."
Right now, winning another national championship is the primary mission of the Hale brothers.
"Without being cocky, we're confident that we can get the job done," Ryan says of the team's attitude. "We're just a team that goes out and wins games. Let the critics say what they will. At the end of the season, if we're still standing, they'll have nothing left to say."