Mention Cornell when you're talking with your college hockey buddies, and discussion usually centers around goaltender David LeNeveu, who will likely finish the year with the lowest goals against average in NCAA history.
Then maybe you'll move on to other subjects: Doug Murray, the hard-hitting Swede who was a Hobey Baker finalist last season; Stephen Bâby, the back-to-back ECAC Defensive Forward of the Year; or perhaps Sam Paolini, the walk-on-turned-hero who scored the overtime game-winner in last weekend's ECAC championship game.
And then you'll talk about guys like Mike Knoepfli and Shane Hynes.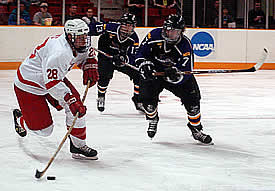 Oh, you won't? Don't recognize the names? That's surprising. After all, guys like Mike Knoepfli and Shane Hynes are the reason the top-ranked Big Red is one game away from its first Frozen Four since 1980.
"The strength of our team is that we can roll four lines," said Knoepfli, a third-line wing, after he and Hynes each scored twice in Cornell's 5-2 win over Minnesota State-Mankato on Saturday afternoon. "On any given night, someone different is coming up with the big goal."
Knoepfli (24 points) and Hynes (19) have been consistent players this season and are among Cornell's top nine scorers. But with the accolades bestowed upon the likes of LeNeveu and Murray, their contributions have been somewhat obscured.
No more. Their performances against Mankato were another installment in a trend of Cornell role players looking an awful lot like big-time scorers.
Last weekend, fourth-liner Greg Hornby, who had scored twice in a little under four months, and Travis Bell, who had not scored this season, accounted for both of the Big Red's goals in a 2-0 win over Brown in the ECAC semifinals.
"We've been getting big contributions from a lot of different guys," said Cornell coach Mike Schafer. "I've got a lot of confidence in all the players we have out there."
That confidence showed in how much ice time Schafer has given his second power-play unit … which includes both Hynes and Knoepfli … even though the Big Red's first group has cashed in 25 times this season.
"That second group doesn't have the big, booming shot of Doug Murray, but they're very skilled," Schafer said. "They're very good at finding seams."
And that's exactly what Knoepfli, the sophomore from Georgetown, Ontario, did midway through the first period, when he hit Hynes with a goalmouth pass to give the Big Red a 2-0 lead.
Hynes' power-play exploits didn't stop there. At 13:56 of the second, he muscled his way in front to redirect Matt Moulson's shot past Mankato goaltender Jon Volp, giving Cornell a 3-2 lead and setting a new personal high for goals in a game.
"That's his strength," Schafer said of Hynes, the freshman wing who was slowed by a hip pointer during the first half of the season but has emerged of late. "He has such strong hands around the net."
Knoepfli began the scoring 1:53 into the first period, then put the Big Red up 4-2 about seven minutes into the third, equaling his career high of two goals he had in the season opener at Ohio State.
Cornell added a power-play goal in the third — from the first unit — and finished 3-for-6. The Big Red now has the 11th best power play in the nation (37 of 157).
"That's the best power play I've seen all year, and we've played Colorado College [the top-ranked power play in the nation]." said Mankato coach Troy Jutting, whose team has the No. 4 power play in the country. "They look like they've been playing together forever. That's a very unselfish group."
From Jutting's remarks, it was hard to tell if he was referring to Cornell's first power-play unit or its second. Perhaps he didn't notice a difference.
If so, Jutting probably wasn't the only one.