His season started with a bang, ended with a whimper, and saw plenty of highs and lows in between. But for Maine goaltender Jimmy Howard, hopes are highest at the present time as the 19-year-old goaltender sits just days away from learning a bit more about his hockey career fate.
Howard is ranked No. 2 ranked on the National Hockey League's Central Scouting Service rankings among North American goaltenders. It is almost a guarantee that on Saturday afternoon, as the two-day NHL Entry Draft commences in Nashville, that Howard will hear his name read.
"There's a lot of suspense until draft day comes and you finally figure out what happens when your name is called," said Howard, who combined with fellow netminder Frank Doyle to lead the Black Bears to a 24-10-5 record. "I have no idea of [what my stock value] is."
In late January, the answer to the stock value question might have been a bit easier. Howard was on fire, Maine was ranked near the top of the national polls, and all indications said that Howard was a guaranteed first rounder.
That was until things inexplicably changed.
"I was out of the gates fast as a freshman goaltender," said Howard. "The first two-thirds of the season were fantastic for me. I couldn't have wished for it any other way.
"Down the stretch, pucks started taking funny hops on us and nothing was going our way."
The translation to the slow finish was a major dent to Howard's nearly impeccable record. After a 3-2 victory against Massachusetts-Lowell on Jan. 24, Howard sported a remarkable 12-1-0 record and ranked near the top of the country in every goaltending statistic. He had allowed more than two goals in a game only three times and sported a 2-1-0 record in those games.
But February proved to be the nightmare for Howard and the Black Bears. From Feb, 1 through season's end, Howard held opponents to less than three goals only twice (his only two wins over that time) and posted a 2-5-0 record — pretty much Dr. Jeckyl to Howard's Mr. Hyde-like performance to start the year.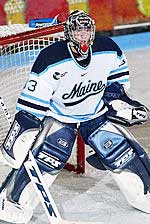 Maine started the month with a 4-2 defeat at UNH that saw Howard take the loss for the first time since Oct. 18. But head coach Tim Whitehead put his faith in Howard and started him in net the next night, only the second time in the season he'd played back-to-back for the Black Bears.
The move seemed to pay off, as Maine won, 3-2 in overtime when Lucas Lawson redirected a pass with his skate in the waning seconds of the overtime period — a goal that should have been disallowed had the referee seen the deflection. Some felt that might have been the luck that Maine needed to jump start its run to the finish line. Sadly, though, it didn't turn out that way.
"The game works in mysterious ways sometimes and everything was going our way," said Howard. "After Lawson's goal at [UNH's] Whittemore Center, though, we weren't given any more luck."
After that night, the Black Bears went 4-7-1, never won the opening game of a weekend series for the rest of the year, and were swept at home in the first round of the Hockey East playoffs — the first time Maine lost a home playoff series in school history.
The result was a three-week hiatus for the Black Bears before their next game — an opening-round match against Michigan on enemy ice. At that point, Whitehead decided to give the team — and Howard — some rest.
After the season, Whitehead admitted that his freshman goaltender was likely a bit fatigued. Besides splitting time with Doyle in net for Maine, Howard had traveled with the U.S. World Junior Team during the holiday break, depriving the young netminder of any time off.
Howard denied that the play schedule worn on him, but quickly noted the late-season vacation was a welcome one.
"When I got to come home for a couple of days when we lost to UMass, it was my first time home since the beginning of the season," Howard said. "It was a good week away from hockey. When I came back I felt totally refreshed."
Unfortunately, though, there would be no more hockey in the season for Howard. Doyle was given the call in the NCAA Regional semifinal game versus Michigan and the Black Bears fell, 2-1.
Still, though, Howard is able to find a silver lining.
"The experience and what I learned this season was excellent," said Howard. "Now that I know what it's like to go through a spurt and not win for a couple of weeks at a time, at least I can know how to react next year to regroup. You've just got to let it go. You just have to put it behind you."
And to this point, Howard has put the past behind him. He remembers many of the fun and exciting moments of being a Black Bear for the first time, but won't dwell on the ending of his rookie campaign.
"It was a fantastic every weekend to put on that jersey and hear the crowd at Alfond [Arena]," said Howard. "It incredible to realize that you're a goaltender for Maine, just like the likes of Garth Snow and Mike Dunham."
With his past firmly tucked away, Howard now focuses on this weekend ahead. He attended the NHL Combine for draft-eligible players and felt he performed well. He's been contacted and interviewed by a plethora of NHL clubs and figures to be a potential first or second round draft pick, likely second as a goaltender only to Quebec Major Junior phenom Marc-Andre Fleury who is currently rumored to be a potential No. 1 pick overall.
Whichever team gets their hands on Howard can rest assured of what they have: a solid goaltender that possesses hands-on experience that includes every peak and valley of a U.S. college hockey season. In other words, they might just strike gold.