Mariucci Arena, Minneapolis, Dec. 20-21
New Hampshire vs. Miami, 4:05 CT Saturday
Princeton at Minnesota, 7:05 CT Saturday
New Hampshire/Miami vs. Princeton, 4:05 CT Sunday
New Hampshire/Miami vs. Minnesota, 7:05 CT Sunday
Television: Fox Sports Minnesota (DirecTV Ch. 641).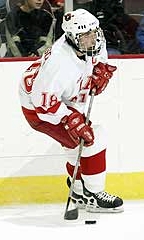 No. 13 Miami (10-6-2)
Players to Watch: F Derek Edwardson, Sr. (11-15–26); F Mike Kompon, Sr. (6-17–23); G Brandon Crawford-West, Fr. (8-1-1, 2.37, .907).
Notable: Miami's last games were a home-and-home sweep with Ohio State, which vaulted it into first place in the CCHA. … The RedHawks power play is ranked fourth in the nation, behind only Mercyhurst, Brown and Minnesota. … Senior captain Derek Edwardson, coming off a season that was cut short by a torn knee ligament, leads the nation in scoring with 26 points. … Two freshmen goaltenders have competed for the top spot, with Brandon Crawford-West emerging. … Freshman Matt Christie leads the team with five power-play goals.
Minnesota (7-8-1)
Players to Watch: F Thomas Vanek, Soph. (10-10–20); F Troy Riddle, Sr. (9-8–17); F Grant Potulny, Sr. (6-2–8).
Notable: Minnesota, the two-time defending national champs, stumbled out of the gate. An injury to defenseman Keith Ballard, piled on top of the loss of senior-to-be defenseman Paul Martin to the pros and the decision by goalie Travis Weber to quit hockey, made the defense very vulnerable. But things began to solidify after Ballard's return, and the Gophers ran off five straight wins, including a sweep of Michigan and Michigan State at the College Hockey Showcase. The last game broke the streak, a 6-4 loss at resurgent Alaska-Anchorage. … Thomas Vanek, the fifth overall pick in June's NHL Draft and last year's NCAA tournament Most Outstanding Player, started slowly, but is building up speed, with six goals and 13 points in his last eight games. … Sophomore Gino Guyer is also coming on, after an early-season personal tragedy; his 20-year old cousin was killed in an auto accident on her way home from watching Guyer play in a tournament in Omaha, Neb. on Oct. 12. He has four goals in his last six games. … All four regularly-playing seniors are forwards.
No. 6 New Hampshire (10-5-2)
Players to Watch: F Steve Saviano, Sr. (12-10–22); D Brian Yandle, Soph. (8-9–17); G Mike Ayers, Sr. (7-5-2, 2.99, .897).
Notable: Seven of the next 12 games for the Wildcats are against ranked opponents. Senior goaltender Mike Ayers, though otherwise struggling, owns a 2-0-2 record vs. nationally ranked opponents with a .950 save percentage and a 1.68 GAA. Ayers was expected to be in Hobey contention this season, but his save percentage currently sits at .897. … New Hampshire comes is 0-2-1 in its last three games and comes off a 7-2 loss to Merrimack, its first loss to the Warriors in eight years. … Senior Steve Saviano (90 career points) and junior Sean Collins (94) are in a tight race to become the 59th Wildcat in school history to reach the 100-point mark. … Robbie Barker (appendectomy) and Ed Caron (concussion) will return to the Wildcats lineup, while Nathan Martz, serving a suspension after a game disqualification against Merrimack, sits out.
Princeton (5-9-0)
Players to Watch: F Mike Patton, Jr. (3-7–10); F Patrick Neundorfer, Soph. (4-3–7); G Eric Leroux, Soph. (5-9-0, 3.07, .904).
Notable: Princeton has long surpassed last year's win total (3), and is coming off an emotional win over Harvard to sweep the season series. The Tigers are 5-1 against the Crimson in the last six meetings. … Goaltender Eric Leroux has played every minute of the Tigers this season. He emerged last year despite going 0-9. He lost his first four decisions of this season to go 0-13 for his career, until he defeated Harvard on Nov. 14. … Freshman defenseman B.J. Mackasey's father works for the Canadian National Team program. … No Princeton player has more than four goals in 14 games. … Princeton won its last trip to this tournament, in 1998, defeating Minnesota and Boston University to take the title. Princeton made its only trip ever to the NCAA tournament that season.
Quotable
Princeton coach Len Quesnelle: "Going out there, is very similar to going out to St. Cloud at the beginning of the year. We put ourselves in an environment for the first two games of the regular season, against a good opponent, against a WCHA team; so it is very similar to Saturday at Minnesota. It's going to be a packed house. It's going to be a great challenge. It will be an opportunity for us to take a step forward and get better."
Analysis: Why, oh why, did they have to rename this one after a corporate sponsor. Of all tournaments, did the Mariucci Classic need to be hijacked? Anyway, Minnesota is rolling again, and this will be a tough matchup for the young Tigers, who are nevertheless, playing relatively sound hockey. The New Hampshire-Miami matchup is intriguing, with the so-called struggling, but experienced, Wildcats matched up against the upstart RedHawks, who have just cracked the Top 15. Look for New Hampshire and Minnesota to renew acquaintances from last year's NCAA title game, with similar results.