The story of Friday's first Frozen Four semifinal between Minnesota and Dartmouth?
With the score tied 1-1 entering the third period, Minnesota proceeded to dump 10 shots on net to Dartmouth's two. Four of those 10 were converted for goals, and the Gophers came up with a 5-1 win.
Minnesota had speed that led to breakaways, and quality scoring chances in close to the net throughout the game, but it was in the third period that things broke open.
So what was the difference between the first 40 minutes of the game, and the last 20? There are a number of theories, from hockey conventional wisdom to head-slapping Canadian policies.
The simplest proposal is just that Minnesota needed to shake off the rust after a two-week break. Minnesota downed archrival Minnesota-Duluth on March 14, nearly two weeks ago, for the WCHA championship. Contrast that with Dartmouth, which played in the ECAC tournament last weekend.
"Two weeks is both positive and negative," said Minnesota's Natalie Darwitz, who assisted on the first two Minnesota goals. "You get two weeks off for your body, which is positive. But it's also a negative because you get out of rhythm.
"With not playing last weekend we were a little out of rhythm at first."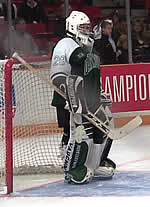 That sounds good, but Minnesota outshot the Big Green 25 to 20 in the first two periods. Not an overwhelming advantage, admittedly, but Minnesota had the better chances of the two teams. And the fabled Minnesota team speed was on full display on the numerous breakaways that Dartmouth goaltender Kate Lane, a surprise starter in net, was called upon to make.
Quite famously, Dartmouth was missing two members of Team Canada, Gillian Apps and Cherie Piper, who were forced to choose between playing for their college team in the Frozen Four, and playing for their country at the World Championships. They chose their country, caught in a decision that everyone found unfortunate.
No one knows what would have happened Friday if those two players were in the lineup for Dartmouth. However, a secondary questions is: Did the rest of the team wear themselves out making up for the ice time that Apps and Piper would have filled?
"I don't know that Gillian Apps or Cherie Piper would have scored out there today," said Mark Hudak, Dartmouth head coach. "Would their presence have helped with the fatigue? Well sure, it's got to."
But the mood in the Dartmouth locker room put the lie to that.
"We knew we could do this on our own," said Krista Dornfried, who scored the only goal of the game for the Big Green. "People look at our team and see those two great players and think that's the team. It's great to show the world we have a lot of heart and can do it without them."
On her team's dominance in the third period, Minnesota coach Laura Halldorson suggested a third option.
"I think our offense allowed us to play less defense," she offered. "And it looked like Dartmouth got a little discouraged after we put a few in there in the third period.
"We got stronger as we scored more goals, and that made it difficult for Dartmouth."
That's a notion that resonated with Hudak. "They have a tough first line to contain for three periods, and we just ran out of gas," he said. "Once the muscles get tired, so does the brain. We made some mental mistakes.
"They took advantages of mistakes we made in the third period, which we expected them to do."
So which was it? A layoff? Missing a couple of key players? Discouragement after falling behind a couple of goals? Simply running out of energy with the game on the line?
Chances are it was actually some of all of these explanations. The question is if history will repeat itself for Minnesota in Sunday's championship game.
Regardless of what happens, one clear hurdle has been passed for the Gophers. "It's good to finally get a win here," chuckled Halldorson, whose team was 0-3-1 in the Frozen Four since the NCAA took the torch from the AWCHA.
Now 1-3-1. And counting.