At first glance, it might seem that the WCHA was lagging behind in the race to produce NHL-caliber talent. After all, the conference produced just five Central Scouting-ranked players this year, the fewest of any major.
In reality, however, the opposite is true. With nearly 50 percent of the WCHA comprised of players from the United States League, most of the conference's players were already ranked and drafted during their days in America's top junior league.
That leaves just a few WCHA prospects to slip into the annual CSS rankings, three of which played for Wisconsin this season.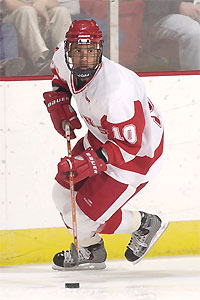 At the head of the list was 5-foot-11, 185-pound freshman winger Robbie Earl, a Los Angeles native and WCHA All-Rookie selection. Installed at No. 59 among North American skaters by the NHL CSS, Earl led the Badgers with 14 goals in WCHA play, including one huge game-winning tally in overtime against then-No. 1 North Dakota in early-February.
Of course, size is the issue. And consistency. Still south of 6-feet tall, Earl will need to prove he can survive the crash and bang if he hopes to become an impact player at the next level.
He will also need to sharpen his focus. Wisconsin coach Mike Eaves is Earl's biggest fan, but even he admits that there are times Earl fails to make the impact he is capable of making.
And then there was the late return from Christmas vacation that earned Earl a benching and some time in the Eaves doghouse. Before that, there was the rescinding of a verbal commitment to attend Michigan.
Those things aside, his penchant for scoring big goals has helped raise his stock. Not only did Earl co-lead Wisconsin in game winners last season, he also scored the game-winning goal in the championship game of the 2002 World Under-17 Hockey Challenge in Stonewell, Manitoba.
"Robbie is a very gifted athlete," said Eaves. "He's got tremendous quickness and he is learning to play the other facets of the game well, too. With his growth and development over the past year, the sky is the limit."
Next on the CSS' radar was 6-foot center Jake Dowell, ranked No. 62. The 195-pound Wisconsin native finished 2003-04 as the Badgers' third-leading rookie scorer, but made an even more significant mark with his intangibles. By season's end, Dowell was the man Eaves sent over the boards to take the key faceoffs. He also was a primary member of the Wisconsin penalty-kill unit.
"Playing against Dowell is like playing against a bull in a china shop," said Eaves. "He's very powerful and he's difficult to play against in the corners and on the draw. He gets better by leaps and bounds every year and he's got lots of potential to grow into."
Dowell's terrific season included back-to-back WCHA Rookie of the Week honors, as well as a gold medal at the 2004 World Junior Championships in Finland. But the campaign was played with a heavy heart in the Dowell household, a situation that was first reported in March by Eric Lindquist of the Eau Claire Leader-Telegram. Dowell's father, John, suffers from Huntington's disease, a fatal genetic brain disorder that causes a steady decline of mental and physical ability.
The gene is present in just one of every 10,000 Americans. While each person has about 30,000 genes, a single abnormal gene produces the disease. Discovery of the gene in 1993 led to a direct genetic test to diagnose the disease, but has yet to yield what those inflicted really want: a cure.
The condition of everyone who gets Huntington's deteriorates until they become almost completely immobile, with death typically coming 10 to 20 years after diagnosis, said Dr. Sharat Ahluwalia, John Dowell's neurologist at Marshfield Clinic's Eau Claire Center.
In perhaps the cruelest twist of all, children of a person with the Huntington's gene have a 50-percent chance of inheriting the gene. And everyone who has the gene develops the disease. That means Jake, 19, and his brother, Luke, both have a heads-or-tails chance of getting it. Both young men live with that cloud over them, but neither has been tested.
"I don't really want to know until I need to someday, when I'm thinking about getting married or having kids," Jake said. "I'm kind of hoping they might have a cure by then."
Playing under that cloud, Dowell still managed to register six goals and 19 points en route to an impressive freshman performance in red and white.
The last of the ranked Wisconsin triumvirate was 5-foot-10 Jeff Likens, a slight but determined defenseman who was slotted at No. 202 among North American skaters by the CSS.
Likens' 17 points trailed only Ryan Suter in terms of Wisconsin rookie defenseman scoring last year and the Illinois native also managed to claim a gold medal with Team USA at the World Junior Championships.
"Jeff's greatest skill is his great competitiveness," said Eaves. He's got a nice set of skills, but he gives himself a chance to play at the next level because of his competitiveness." Eaves should know. He's been with all three players since their early developmental days at the USA Hockey National Team Development Program.
"The more time you spend with people, the more you get to know them better. And one thing we've told all three of these kids is that the draft is not the be all and end all. It's just a measuring stick. It doesn't me they will make it to the NHL, it doesn't mean they won't. They just have to use it as a measuring stick and continue to grow."
(This article originally appeared in this month's edition of USCHO Magazine.)