Ron Rolston, assistant coach at Boston College and former assistant at Harvard, is no longer a candidate for Harvard's top job, according to sources close to the situation. That paves the way for Harvard to name former captain Ted Donato its new coach; an announcement is expected shortly.
Six candidates were interviewed for the open Harvard position, USCHO sources previously indicated. Those same sources also indicated that it was between Donato and Rolston for the position.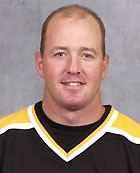 The six also included current assistants Sean McCann and Gene Reilly, former assistant and current Union coach Nate Leaman, and St. Sebastian's Prep coach and 1975 Harvard alum Steve Dagdigian.
Rolston played his college hockey at Michigan Tech before embarking on a coaching career. He was an assistant at Clarkson under Mark Morris before leaving for Harvard in 1999. After three years under Mark Mazzoleni, Rolston joined the staff of Jerry York at BC. Rolston was a finalist for the opening at his alma mater last year, which eventually went to fellow alum Jamie Russell, and is a current finalist for the job as head coach with the U.S. Under-18 team.
Donato has played 13 years and 796 games in the NHL, including just last season with the Boston Bruins. Donato has never coached at any level, but his stature as a prominent alum and NHL veteran has made him a frontrunner. He scored 50 goals in four seasons, graduating in 1991, and played on the 1989 national championship team.
After graduating, Donato played on the 1992 U.S. Olympic team before starting his professional career with the Bruins. He had three 20-goal seasons, including his best statistically, 1996-97, when he scored 25 goals and 51 points in 67 games. He bounced around over the last few years, until landing back with the Bruins last season, where he scored six goals in 63 games.
McCann, who captained Harvard's last Frozen Four team in 1994, has been an assistant coach the last two seasons after wrapping up his minor-league playing career.
The position opened when Mazzoleni resigned earlier this month to accept the position as head coach of the Green Bay Gamblers of the USHL.