If you think 1-0 games are more appropriate for soccer than for college hockey, you might consider becoming a devotee of the Princeton Tigers.
High-scoring hockey games make many coaches reach for the antacid tablets, but first-year Tiger coach Guy Gadowsky finds fast-paced action easy to swallow. Thanks to the influence of Wayne Gretzky and company during his formative years, Gadz revels in offensive intensity and creativity.
"I grew up in the '80s in Edmonton," Gadowsky says. "That's how I fell in love with hockey. I think it's wonderful to watch. We're not just coaches; we're fans of the game, and I really enjoy watching hockey like that. Lately I think we've had tremendous games where coaches would say, 'Geez, those were excellent hockey games.' Playing St. Lawrence and Clarkson, I thought those were physical, up and down, lots of chances-great hockey to watch."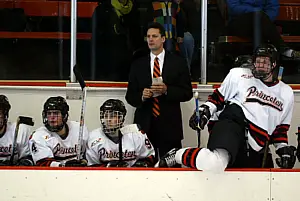 Great to watch, but how successful can this approach be in D-I hockey? Skeptics point to the team's 5-12-1 record this season, but there's no question that this program is heading in the right direction. Consider that Princeton posted a woeful 3-26-2 record just two years ago, following that up with a 5-24-2 record last season.
In addition to matching last season's victory total with 11 games remaining, the offensive production is generating excitement. Two years ago, the team's leading scorers only picked up 23 points in the team's 31 games. Last season, freshman Grant Goeckner-Zoeller led the Tigers with just 20 points in the same number of games.
So it's refreshing to see that Goeckner-Zoeller and linemate Dustin Sproat have already surpassed that total in just 18 games. In fact, Sproat, senior defenseman Luc Paquin, and Goeckner-Zeller are currently 1-2-3 in scoring in ECAC games.
Of course, there have been moments in which one has wondered if the team has just found new ways to lose — such as an 8-6 defeat to Harvard earlier this season.
Gadowsky chuckles. "You're certainly right when you say we give up the odd goal, and we know that," he says. "It's a tradeoff we expect from the way we play: We want to score goals. The philosophy is that it's a lot of fun, and I certainly think you can win with it.
"There are teams that are very successful playing a more defensive style, and I think that's wonderful too. But for us, we want to establish a team that gets up and goes and maybe takes a few more chances."
In reality, the team is doing better both defensively and offensively under Gadowsky. In 2002-03, Princeton scored four or more goals just four times while surrendering at least five goals 17 times. Last year, the Tigers scored four or more goals six times but gave up at least five on 15 occasions.
This year the Tigers have already scored at least four times in seven games while giving up five or more seven times.
In spite of the positive trends, Gadowsky adamantly looks forward rather than backward in evaluating the program.
"It is a process," Gadowsky says. "We're really not looking at that way in terms of success compared to what's done in the past. We're trying to gauge our success by the standards that we're trying to set going into the future. The guys have been doing a great job of that. They all have a lot of pride in Princeton University — it's difficult not to. You look at the prestige of the university; they want the same for the hockey program, and they're working hard to get it. It's not necessarily the wins and losses right now but the standards we're going to set."
For the players, Gadowsky's emphasis has represented a radical departure from previous years.
"He really believes in a quick transition game, so most of our practices are hard and short," co-captain Pat Neundorfer says. "We have hard backchecking drills; he expects us to be a great backchecking team. We're building a better fan base than we've had in the past few years and that's part of the excitement that's created through having a quick-transition team and a team that has offensive creativity and intensity."
"It was really exciting to have him come in," says co-captain Sproat, who has 13 goals and 13 assists in 18 games this season. "Before games, he's not a real rah-rah guy. He does a lot of his motivation during the week. He expects a lot of hard work out of everybody.
"One of the things that's interesting to me is that we don't really focus on the teams that we're playing against. We focus on playing our best game and playing it the best we can. He says, 'If we're playing our best game, then it doesn't matter what they're going to do. Let them play into us.'"
This was more than a slight adjustment from the previous regime.
"We're used to kind of the complete opposite: shut down the other team's top line and hope that if that works, we'll get a couple of breaks," Sproat says. "So [Gadowky's style] is pretty rejuvenating."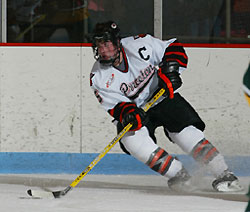 The offensive emphasis is more of a philosophy than a tactic. "It's not a matter of Xs and Os," Neundorfer says. "Coach Gadowsky just has us go out and play. We're not going to be punished for trying to make a creative play; he supports us in trying to use our hockey sense."
Certainly the top line is Exhibit A of the upside of this approach, led by Sproat's career year.
"Sproater's a leader by example," Gadowsky says. "He doesn't say too much, but he speaks with his body. He does things well all around the rink. He gets open for the puck in the defensive zone as well as he does in the offensive zone. He has a very good shot and very good vision. I don't think you're going to find any player who has statistics like he does who doesn't have great vision, and he certainly does. But I think he'd be the first to tell you that he's developed great chemistry with Pat Neundorfer and Grant Goeckner-Zoeller."
Indeed, Sproat credits his linemates for his eyebrow-raising numbers this seasons. "The good start can be attributed to be putting on another line with our other co-captain Pat and the guy that led our team in points from last year, Grant Goeckner-Zoeller," Sproat says. "Right away that worked really well for us. Our power play started clicking, and everything was going in. Last year I think I had more shots, but nothing was going in."
Neundorfer has enjoyed playing alongside Sproat as well. "He's very creative with the puck; he's got great hands and sees the ice very well. He can feather a pass through skates or snap a puck top-shelf on the goalie."
Sproat may be the co-captain, but he points to Neundorfer as the heart and soul of the team. "Pat's our leader," Sproat says. "He's the guy who shows all the energy out there. He's fast, real gritty. Hits hard and drives the net hard. He's got a great shot — give him the puck in the slot, and he can bury it. Grant's the guy that you give the puck to when you want to enter the zone, and he's the guy who sets you up in front of the net. He's got amazing hands and great playmaking ability."
In general, the enthusiasm and optimism on the team has been contagious. "I think the core of our team has brought their game level up," Neundorfer says. "Everyone is playing better with this offensive style. Luc Paquin is leading our team in defensive points. He played half a season last year and is having a great, great year this year also. He has really fit into this new style of play very well."
That said, the Tigers face a gut check in the weeks to come. One way that this year's edition bears an unfortunate similarity to last year's is a pattern of early success followed by a tailspin in terms of losses. Last year's team was 5-9 in mid-December and then failed to win a single game the rest of the way, a disastrous stretch of 0-15-2. This year the team started off 4-4-1 but has gone 1-8 since late November, losing several close games in the process.
"What's changed is the production on the power play," Gadowsky says. "That's going to happen now and then throughout a season; there's going to be dips and valleys. It's a little bit like putting: it's not that you're doing anything different, just in some stretches the ball's going in the hole and in some it's not. That's what's happening to us right now. We started off with our power play being very hot, and lately we haven't had the same production."
Despite the struggle to get a few Ws, the team has stayed positive and determined. During the recent exam break, there were several well-attended captains' practices.
"We've had some real close games that haven't gone the way we would like," admits Neundorfer. "The biggest contrast is that it seemed like my first few years guys would kind of get down in midseason when things weren't going the right way and allowed some negative energy to creep into the locker room.
"The biggest difference this year is that we're really optimistic. I think guys this year realize we're on the verge of breaking through and having a successful rest of the season."
Further reason for optimism will be arriving with next year's recruits. "Brett Wilson is leading the Alberta Junior Hockey League in scoring by about 18 points," Gadowsky says. "I think he's the top scoring junior player in Canada. And he's a great person. If you get to know him a little bit, you'd love to have him on your team even if he scored no goals.
"He's a really good guy, and it's very exciting to see what he's been able to accomplish consistently in that league. It's an excellent league and for him to keep doing what he's doing with all the attention he's getting shows real mental toughness."
Gadowsky has talked to several Princeton hockey alumni, absorbing former coach Don "Toot" Cahoon's emphasis on recruiting hockey pioneers instead of historians — a recruiting angle that helped him land stars Jeff Halpern and Syl Apps III, who helped the Tigers reach the NCAA tournament for the first time in 1998 after an improbable three wins in three ECAC playoff days gave Princeton the league championship.
"I think it's wonderful; we want to follow up on that," Gadowsky says. "Coach Cahoon is valued so highly here and has done so much. He was very, very successful. We'll try to steal as much from him as we can."
So the transition game for Princeton hockey forges ahead, on and off the ice.
"The overall experience has been great," Gadowsky says. "Princeton is an absolutely beautiful, beautiful place. I've been here half a year now, and still, you walk to the office and look at the campus and shake your head at how beautiful it is.
"The guys on the team have probably impacted me the most in terms of how enjoyable this has been because they're all so impressive. Working with them is a lot of fun because of that — how quickly they pick things up and just how impressive they are even outside of the rink with what they're doing. We have guys that are volunteering or assisting in transplant surgeries or volunteering in hospitals in Ecuador.
"The experience has been wonderful so far."
Gadowsky won six games his first year in coaching Alaska-Fairbanks in 1999-2000. His team went 9-19-8 the second year and then 22-12-3 the third. It may be hard to match that turnaround, but then again, this coach is passionate about quick transitions.