This time last year, A.J. Bozoian figured his hockey career was over. And he was willing to accept that.
But it wasn't an injury or lack of talent that had him thinking that. He just simply couldn't catch on with a Division I school, or in specific terms, a Division I school where he could play. He had tried Niagara and Ferris State and ultimately Wayne State, where he now mans the blue line, but the road back home to Michigan wasn't exactly smooth sailing.
Bozoian played the 2001-2002 season at Niagara where his older brother, Mike, was a junior defenseman and a member of the Purple Eagles team that went to the regional finals in the 2000 NCAA Tournament after an upset of New Hampshire.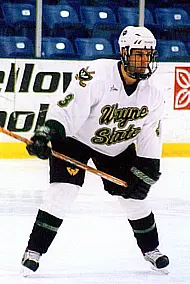 That year in western New York, the younger Bozoian posted just two assists in 17 games.
"I enjoyed my freshman year very much and from it, I took a great experience," said Bozoian. "But seeing the direction things were heading, I felt it was no longer the best place for me to be."
Coming home to the Detroit suburb of Brownstown the summer of 2002, Bozoian contacted Detroit Compuware head coach Todd Watson about the possibility of coming back and playing another year of juniors in the North American Hockey League. He was welcomed with open arms and had several schools inquire about his services for the next year.
One was Ferris State. The Bulldogs' coaching staff told Bozoian he would have a legitimate shot at cracking their lineup, but nothing would be concrete.
"I went to Ferris and was told I was going to be given a shot to prove myself," explained Bozoian, 22. "After our intrasquad game, Coach Daniels called me into his office and said he didn't feel I would break the lineup and he couldn't see carrying nine defensemen. So I left Ferris to be closer to home. It made no sense to live four hours from home just to go to school."
At the Christmas break of 2003, Bozoian enrolled at Wayne State and began going to some of the Warriors' hockey games early in 2004 hoping to rekindle old friendships.
"Once I got to Wayne, I did believe my hockey career was over," admitted Bozoian, a secondary education major. "I was just looking to finish my degree and begin my 'life.' During my first term, I went to watch some men's games and recognized guys like (Greg) Poupard, (Steve) Kovalchik, (Ryan) Wright, (Marc) Cannon and (Mark) Nebus. I have grown up with these kids and know they are all great guys. I figured, 'Why not give it one more shot?'"
Bozoian spoke with WSU associate head coach Willie Mitchell over the summer and asked about walking on. Mitchell and head coach Bill Wilkinson agreed to the tryout, but offered no promises. That's all Bozoian needed.
"The coaching staff gave me the opportunity I was looking for," he said. "And I am very excited contributing here in whatever way I can."
Sitting out the Fall 2004 semester as he had to complete his year in residency after transferring to Wayne State in January, Bozoian made his Warriors debut Feb. 4-5 at Bemidji State and then faced his old Niagara team at home last weekend.
"Each player here has, and knows, his role with the team," the 5-foot-9, 190-pound Bozoian noted. "I am still trying to feel out my role here.
"Against Niagara, I felt comfortable out there. I was more anxious to just start playing again as opposed to being nervous about playing NU. There are only three guys left from the original 2001-02 freshman class [defenseman Shayne Baylis and forwards Ryan Gale and captain Barret Ehgoetz]. All three are good guys and it was nice to see them again and have a chance to compete against them after everything that happened at NU."
"A.J. has Division I experience and has good puck skills and skates well," Wilkinson said. "On defense, you have to have those skills and he will contribute nicely and give us some depth."
A redshirt junior, Bozoian is eligible to play next year and has every intention of doing so. But beyond that, it becomes a bit of a question mark.
"Hockey future is never a certainty," Bozoian said. "I am going to finish my degree and hopefully have a good senior year in both academics and athletics and see what opportunities present themselves. If I play hockey after college, that would be great.
"But if I don't, I am old enough to respect the fact that I have played 22 years of hockey and it got me to the college level and helped mold me into who I am today. Hockey teaches you more than any lecture, book or class ever could. It has been a great experience and I feel lucky to be able-bodied and healthy enough to have played for as long as I have already.
"But like I said, I would still love to play somewhere after college."