For Assumption College's junior captain Geno DeAngelis, life came to a screeching halt in March of 2004 when he suffered an unforeseen seizure that began a series of life-altering events.
Just two scant weeks after finding out he had been named a captain for his upcoming junior season, DeAngelis was diagnosed with a brain cyst and accompanying brain tumor. The prognosis was one to be concerned about, as the immediate course of action required brain surgery.
You know the old expression "It's not like it's brain surgery"? — well, this was exactly what DeAngelis was facing.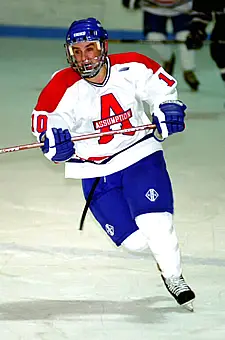 For a 20-year-old college kid, that is traumatic, scary, and truly overwhelming in terms of facing both the known realities of the situation as well as the potentially unknown complications of the world after surgery. Suddenly, school, friends and hockey all took on a much different focus and there was serious consideration that life would never be the same again.
"When I first had the seizure, I had no clue what was going on. When I found out I was going to need to have surgery to have it removed, I was freaking out," said DeAngelis. "The questions were kind of obvious — how could this happen to me? How could it happen and me not notice it?"
After seeing the images from an MRI, DeAngelis was stunned by the size of the mass in his head. His thoughts about the future were becoming quite clouded as the reality of the surgery came closer. "I told my doctor that I was quitting hockey," noted DeAngelis. "I felt I had done everything playing the game and that it would be OK to walk away — it would be difficult not to play anymore but I had to think about other more important parts of life.
"My doctor, Dr. Cosgrove at Massachusetts General Hospital, was great. He had the best way of talking to me and calming me down about everything. First, he said to just finish the spring semester and he'd do the surgery at the beginning of the summer to take the pressure off. Then he told me I didn't need to quit playing hockey. After the surgery he said I would be back playing in three months. I don't really know why, but the way he said it, I believed him."
DeAngelis made it through his semester with a lot of support from fellow students, teachers and a nun with hockey in her blood — Sister Guerin (yes, that Guerin, she's related to Dallas' own power forward extraordinaire) facilitated DeAngelis' dealing with the upheaval and working through the final academic requirements for the term.
"She was great! She really was incredibly helpful in getting me through the semester. Really, everybody was great! Honestly, I wish the semester lasted longer. It's the first time I wasn't looking forward to summer vacation," he said.
A quick trip to the Bay area on the West Coast, a missed flight home one day before surgery and the moment of truth arrived on May 25, 2004.
"The surgery wasn't that bad," commented DeAngelis. "I had great nurses and a very supportive family. After a couple of days, I knew I was going to be OK."
Recovery, as one might expect, was a long and slow process and not without its detours. Just a couple of days after his stitches came out, DeAngelis found out he had an infection or sepsis — a potentially dangerous situation for anyone, but especially so for someone recovering from brain surgery. So he went back into the hospital for the first eight days of what would become a seven-week antibiotic regimen — one week in the hospital and six weeks at home.
"That stuff really wiped me out," said DeAngelis. "I had to do two IV bags per day at home for six weeks. It's actually a good thing that I didn't know how serious it could have been at the time because I might have freaked out a bit. Being home was great, but I couldn't really do anything. I started going for walks with my family just to get some physical activity in — building up my strength.
"During my recovery was when I also really noticed my coaches and teammates calling and checking in on me every day. There was a real team atmosphere around my recovery. Some guys started sending over DVD's for me to watch — some of them I never heard of, but apparently had mentioned as a freshman. These guys have a better memory than I do. At the end of the day, whether I could actually play or not, I was part of this team — it felt awesome!"
By the end of the summer, he started working out. First he started with the cardio workouts and just basic skating. By the fall, he was working out hard and taking part in his own captains' practices — actually playing pick-up hockey.
"There wasn't any contact for me at all," laughed DeAngelis. "It was kind of weird, I was playing hockey but without the physical part of the game. It was actually good because it gave me a chance to get my feel for the game back, my hands, seeing the ice and getting into the flow. Before every session all of the guys would get together at center ice and say 'Nobody touches Geno!' I would have hated to be anybody that even got close; my teammates were very protective of me."
So when did seriously playing hockey creep back into the picture as an option? Certainly there was a great deal of trepidation regarding playing again. What about the stresses of playing the game, the ability to take the physical contact of a very intense sport and the repetition of playing multiple games at a high level? All of these issues swirled around in DeAngelis' now tumor-free head. One step at a time became the focus, as he came back to school in the fall of 2004 looking to re-establish the normalcy he enjoyed just a few short months prior.
At the start of the season, the Ice Dogs started quickly, as did DeAngelis. He soon found his rhythm and established himself as the team's leading goal scorer in just his first ten games back.
In his very first game, the physical part got answered quickly. Out for just his second shift of the game, DeAngelis was leveled. He got up none the worse for wear and got back into the game. "I was glad I got it over with early. Taking that hit answered a lot of doubts in my mind." What was even better was DeAngelis scored on his very next shift — his first goal in his first game back, and the team's first of the season.
DeAngelis scored two his first night back and quickly piled up some impressive offensive numbers in the first half of the season.
With just four games left in the first half of the season, DeAngelis took a heavy hit in a match-up with SNHU at the PAL Cup tournament. A minor concussion was suspected, and Geno, as a precautionary measure, sat out the final three games leading into the break in order to get ready for the second half of the season.
After completing the first semester and playing in all but three of the team's games in the first half of the season, DeAngelis had come to be comfortable with his recovery from a life-threatening medical problem. He had made it all the way back. Entering the second semester, his focus was now directed at helping to elevate his team's play into the rigors of league competition and getting his team positioned for the Northeast-10 D-II playoffs.
For the first time in several seasons, Assumption has the chance to finish with a winning record — something none of his current teammates has enjoyed as an Ice Dog. He acknowledges that his health issue has been a galvanizing event for 24 guys, their coaches and school. As a team captain, a load has been lifted off his shoulders as everyone has become comfortable with each other and each knows his role on this team.
"It took a while, but it's come together," said DeAngelis proudly. "After the first four or five games we just started getting better. Right now we have four solid lines that can score, a good defensive group and three goalies that can all play. We will take it as it comes but we definitely have playoff goals in mind."
Today, Assumption has climbed back above the .500 mark to 12-11-3 after a first-round playoff win over Franklin Pierce on Saturday, and on the strength of key wins over Johnson & Wales, Nichols, Plymouth State, SNHU and Stonehill. Since mid-January, the Ice Dogs have gone 7-2-2 in their last 11 games. Within the ECAC Northeast schedule, they were 8-5-2, having completed their final game in the regular season last Tuesday.
DeAngelis has been an inspirational leader for his team in showing the strength of resolve and personal commitment to attaining one's own goals no matter how distant or unreachable they may seem. His point production has fallen off a bit since the early season, but DeAngelis is a key contributor on and off the ice.
Having played in 23 of the team's 26 games, DeAngelis is second on the team in goals with 12, fourth in points with 19 and has produced two game-winners along with three power-play goals. DeAngelis had a goal and an assist on the game-winning goal against Franklin Pierce on Saturday.
While modest about his ordeal and his role on Assumption's hockey team, DeAngelis very clearly understands that he can achieve great things when he sets his mind to getting there.
"I look at things differently now, after this whole thing. I am definitely living day to day and enjoying my time in school and playing a game I love. School is going well and I definitely have a better appreciation for things I never noticed before.
"These are supposed to be the best four years of your life and I want to make that happen. I couldn't be happier."
Geno DeAngelis' season is an inspirational story. He has overcome much with the support and friendship founded on a sheet of ice. He has a better understanding of being a teammate, a friend and a captain. He can hardly believe he still has another year to enjoy the whole college experience.
"It's all just so exciting right now. Coming to school, going to practice, playing the games, it really is better than I thought it could be."
While DeAngelis still faces the occasional challenge on the ice, he is very focused on what potentially lies ahead in March for his team.
"The D-II championship falls during our spring break," laughed DeAngelis. "I plan on going away but made my reservations for after the scheduled date of the title game. I'd be happy to let some other team go on break early."
If you're a betting man, don't bet against this kid. He's already come through one of the toughest challenges one can imagine with character, poise and courage. And if you face him on the ice, don't count out Captain Courageous and the Ice Dogs of Assumption.