Confirming a move that had been rumored in recent months, Boston University today announced that the Agganis Arena hockey rink will be named after Terrier head coach Jack Parker.
In an early afternoon press conference preceding Thursday's pivotal Hockey East matchup against New Hampshire, BU athletic director Mike Lynch made the announcement.
"This is Boston University's way of recognizing one of history's most outstanding collegiate coaches," Lynch said. "Not only for his team's performance on the ice, which is well documented, but also for the loyalty and dedication that he's displayed to Boston University that he has demonstrated over 35 years of contributions both as a player and a coach as well as his commitment to his players as contributors to their communities both on and off the ice."
"This certainly is quite an honor for myself and my family," Parker said. "I'd like to personally thank President [Aram] Chobanian and Executive Vice President Joe Mercurio for pushing this issue with the Board of Trustees and getting that done.
"I don't think I'll appreciate this as much until after the season's over and we see this on the ice next year and in future years. I really think that what makes it a big honor is to be associated with this university and this facility. This is quite a rink; the university did it right. It will be a benchmark for an awful lot of other rinks that people will try to build in the future. This is just another example of BU treating me very, very well."
Parker acknowledged that it feels slightly strange to have the rink named after him while he remains as coach — let alone the fact that he's still alive.
"It makes it even more special," Parker said. "My twin brother Bob said he'd absolutely give to the rink if it was the Jack Parker Memorial Rink. So it usually doesn't happen while you're still alive let alone when you're still coaching, but I think it's even nicer for me and my family to have it happen now."
Asked what he thought of the term "living legend," Parker dismissed the idea altogether.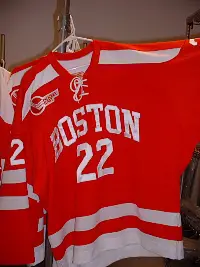 "Don't apply it to me," Parker said. "It doesn't apply to me. There's a lot of real good college coaches that have been around a long time. The ones that are around for a long time are usually there because they're at good programs: It's more the players and the school than it is the coach. So the longevity of the guys who have been coaching for 25 or 30 years is usually the school wanting to have a good program, the school emphasizing that sport, more so than the coach being better than somebody who's at a nondescript university, hockey-wise."
Keeping matters together in an interview after the press conference, Parker emphasized that the most important thing that could happen Thursday would be beating the Wildcats, coached by his friend Umile.
"I'd rather let them call it the Umile Rink and get the two points tonight," Parker quipped.
Parker came into Thursday with a career coaching record of 712-367-79; he has won more games at a single school than any college hockey coach. His wins include 40 tournament titles, including the NCAA championships in 1978 and 1995. He has won 25 games in NCAA tournament play — more than any college hockey coach.
A public announcement of the naming was scheduled to occur before Thursday's game. "I think it ties in with a celebration that we'd like to have next season," Lynch said. "We wanted to make sure our fans and all of the people who contributed to this facility knew of this announcement this year, and then we'll carry this into next year with a large-scale celebration where we'll invite all the members of the BU family to come out and celebrate."