When Boston College coach Jerry York announced that freshman goaltender Cory Schneider would be starting the most important game of the season, it raised some eyebrows. Since injuring his knee in the Beanpot on Feb. 14, Schneider hadn't played until last Saturday's Hockey East quarterfinal clincher against Massachusetts.
The alternative was senior Matti Kaltiainen, a workhorse in the BC nets until Schneider's arrival last fall, playing in 68 games over the past two years after appearing in 18 as a freshman. Kaltiainen's statistics trailed the rookie's by a small margin, but still ranked among the best in the country.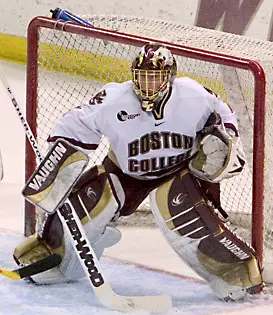 "It was very close," York said after Schneider stopped 39 shots in a 2-1 double overtime win over Maine, sending the Eagles into the Hockey East championship game. "We've been monitoring them all year because we knew at some point we were going to have to make a decision. Their save percentages [and] goals against averages, everything was so very close that it made it a difficult decision. It could have gone either way."
While that decision was a close one, the choice between the Black Bear pipes was a foregone conclusion, the ultimate no-brainer for coach Tim Whitehead. Jimmy Howard, who earned All-America honors and rewrote the Hockey East record book last year while leading Maine to the national championship game, would take on the top-seeded Eagles.
Howard had been hampered by injuries in the first half of the year and, as a result, failed to earn either first team or second team All-Hockey East honors. Even so, he continued to be the standard by which other Hockey East goaltenders are measured.
"He's probably the best goalie in the country fundamentally," Schneider said. "Technically, he's so sound.
"I've enjoyed watching him this year. The three games that Matti played [against Maine], I studied [Howard] and how he played. It's amazing how good he is."
Going head to head against Howard would be just the latest of challenges for Schneider. When the rookie arrived at BC, the conventional wisdom held that he would bide his time for the season, learning the ropes while the senior stayed in the limelight for his last hurrah.
Schneider, however, was no typical rookie. A first-round NHL draft pick, he became friends with Kaltiainen, but conceded nothing on the ice.
"Coming in, I knew that Matti was the guy and he'd been here for three years," Schneider said. "I respected that. Coach said that he was going to start off with a rotation at first just to let me get my feet wet.
"Matti has been unbelievable all year. He's been very supportive, very helpful, just encouraging me. There's not been a bad word out of him. He's made it real easy for me to make the adjustment.
"I was just looking to contribute in any way I could, coming in as a freshman, but fortunately I'm playing well right now. If we win it's great no matter if he's in there or I'm in there. We're both confident in one another."
The rotation was working splendidly with Schneider pushing the incumbent Kaltiainen to higher levels until the Beanpot knee injury. Schneider's 2005 playoff life flashed before his eyes.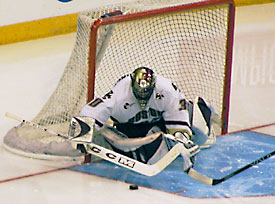 "I knew it was bad timing," he said. "It was very frustrating and disappointing to get hurt at that point, but the coaches were very positive. They said, 'Get that knee healthy and be ready to go. Don't just sit back and think that your season is over because we may turn to you again at some point.'"
York did turn to him again in last Saturday's 5-1 win over UMass. Even though the Minutemen had taken BC into overtime in the quarterfinal opener before falling, it was the ideal return game for a potentially rusty goaltender: a best of three series with the first win in hand, going against the bottom seed in the playoffs.
Schneider looked good, stopping 16 of 17 shots while wearing a sleeve on the knee and dealing with manageable pain. However, that low-risk game was hardly preparation for a semifinal contest against the team that had ended BC's season two of the last three years. Not to mention that guy Howard in the other nets.
"I knew I had to be on the top of my game because he's not going to give up any softies," Schneider said. "It just made me bear down and try that much harder to match him save for save."
Schneider saw an uncharacteristic amount of action in the early going as Maine outshot the Eagles, 14-4 in the first period. The rookie made all the stops, however, and the game turned into the tight-checking battle expected from two of the best defensive teams in the country.
BC and Maine swapped goals just 12 seconds apart in the second period, but after that Howard and Schneider took turns making all the saves whether routine or difficult.
The rookie was at his best on a faceoff play with 7.2 seconds left in regulation that set up Josh Soares on the doorstep all alone for an initial shot and the rebound. For BC fans, it was uncomfortably close to the opportunity Maine used in the final seconds of the 2000 Hockey East championship game to defeat the Eagles, 2-1.
Schneider, however, came up with the big saves to force overtime where he and Howard continued to stymie potential scorers until an Andrew Alberts shot in double overtime deflected off a Maine stick into the net.
"It was fun going back and forth," Schneider said. "If [Howard] makes a save, you can't let it get to you because they'll come right back at you and you've got to make the save and return the favor."
The 39-save win in Schneider's first Hockey East semifinal amounted to a pretty good birthday gift for the just-turned 19-year-old young man.
Although one would think that his 39 saves of 40 shots guarantees an appearance in Saturday's title game, not to mention the NCAAs, York continued to play his goalie choice close to the vest. Which is fine with Schneider.
"It was good to get my feet wet in playoff experience and see what it's all about in front of a big crowd under the lights," he said. "As far as I'm concerned, I'll be ready to play every day.
"I have all the confidence in the world in Matti. He's a great goalie so if he goes tomorrow, then great. He'll give us a great chance to win as well. We just feed off each other."
If Schneider does play in his first Hockey East championship game, he'll be hoping to avoid another first: his first loss. You see, Schneider's record now stands at 11-0-4.
For a rookie who has had to wrestle playing time from one veteran and then post wins against many others, it's the one statistic that really matters.
Undefeated on March 18? Not too shabby.