Saying Goodbye Is Hard To Do
As the National Anthem was about to be played, the Plattsburgh players all moved together on the blueline and wrapped their arms around each other, knowing that for many it was their last game together.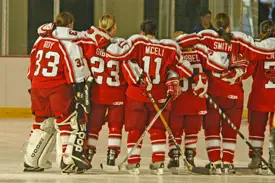 The spur of the moment act was an emotional one.
"Truthfully we were on the line…" co-captain Erin O'Brien said.
Co-captain Jenn Clarke finished, "…we passed it down seconds before."
"It's been emotional all weekend," O'Brien said. "It was emotional the moment we arrived. Whether you win or lose for some of us it was our last two games. We knew that all year, but when it finally comes to reality it's hard to swallow, but we gave it everything we got."
"Credit to our seniors for creating that legacy and hopefully the future of Plattsburgh will live up to that," said Plattsburgh coach Kevin Houle. "They have a lot to be proud of."
Some of the seniors admitted they may not be taking off their jerseys right away.
The Next Generation
Much has been written about the Plattsburgh senior class, the first graduating class for this young program. Now, it's time to look at those who will carry the sword in the upcoming years.
Despite the fact the Cardinals will be losing ten seniors, their future still looks very bright, thanks to players such as Jenn Clarke, Jamie Longo, Jessica Moreau, and Chantalle Rye.
Clarke, a junior and already co-captain of this year's team, will be looked upon to take over the team's leadership in her senior year. She certainly has done a fine job this year as the team's second leading scorer. She finished the year with 18 goals and 21 assists for 39 points. The Prescott, Ontario native, the tallest on the team at 5-10, will be looked up to by her teammates as Plattsburgh looks to continue the established tradition of excellence.
Right on Clarke's tail in scoring has been freshman sensation Jamie Longo from Staten Island, N.Y. who was named ECAC West Rookie of the Year. Playing at Northwood Prep last season prepared Longo for a team like Plattsburgh and she has made an immediate contribution with 15 goals and 15 assists for 30 points.
Second year player Jessica Moreau scored 19 goals and 9 assists for 28 points. This put the Laval, Quebec native third on the team in goals scored.
Chantalle Rye is the top defensive scorer for Plattsburgh this year with four goals and 17 assists for 21 points. The Ennismore, Ontario junior will be expected to continue feeding the forwards returning to the lineup next year.
"We're optimistic," Houle said. "We have some very strong players coming back. Hopefully, we'll have a strong recruiting class as well. It's a long tough road to get back to this point at the end of the season. That's gong to be our goal to get back to the final four and compete for the national championship."
Plattsburgh may be graduating a lot of seniors who helped build the foundation for one of the consistent winners in DIII women's hockey, but the fans at Stafford Arena should still be seeing a lot of wins — and a very good chance at reaching Houle's goal.
The Future Is Set
On the other end of the spectrum is Gustavus Adolphus who is losing just three seniors.
Granted, saying "just" when one of the seniors is Laura Stypulkowski from White Bear Lake, Minn. doesn't do justice to what they are losing in the forward. This year alone, Stypulkowski scored 17 goals and 31 assists for 48 points. In her career she has scored 53 goals and 81 assists for 134 points in 114 games.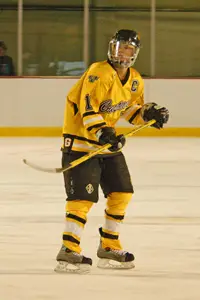 This year's All-American and two-time All-MIAC is Gustavus' all time leader in assists and second in career points.
"Had four really good years," Stypulkowski said. "Was actually not going to play hockey. Coach Carroll got me into Gustavus, and I really learned about the game. A fun four years."
However, despite the loss, the Gusties are looking strong in the years to come. With players like Andrea Peterson, Kelly Crandall, Molly Doyle, Ingrid Neve, Abby Randall, and Kara Meyer all coming back, it would be no surprise if Gustavus is back competing for a national championship next year.
"We have high expectations every year," Gustavus coach Mike Carroll said. "We have a good young team. It will be hard to replace seniors but every team has to replace seniors. Got a good nucleus and if the girls work hard, we're looking to get back here next year, but it will take an awful lot of hard work."