When North Dakota forwards Brandon Bochenski and Zach Parise went pro early after last season, fans of the Sioux had to wonder if the team's offensive punch would leave town with them. After all, the two scored 50 of the team's 182 goals last season.
Throw in graduating senior David Lundbohm, who added 15 lamplighters, and the Sioux had lost three of their top four goal-scorers, forwards who combined for 35.6 percent of the team's tallies.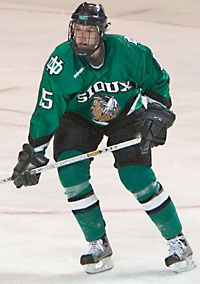 There was hope that Brady Murray might grab the offensive reins, given that he was the team's third-leading scorer in last year's campaign. Instead, Murray struggled with injuries that limited him to 8-12–20 in just 25 games played. He was not available in Worcester.
With two goals as well as an assist in Saturday's Frozen Four-clinching victory, freshman centerman Travis Zajac took the team's goal-scoring lead from fellow freshman and linemate Rastislav Spirko. The rookie stunned the Worcester crowd just 42 seconds into the game by burying a rebound at the top of the crease.
Then he scored what proved to be the game-winner at 12:03 of the second stanza. It was a pure sniper's goal: Set up by a Drew Stafford pass from the left-wing faceoff circle, Zajac received the puck at the far side of the slot, eyed the net, and then pinpointed a wrister that found a small spot high on Cory Schneider's glove side.
Zajac has now amassed an impressive total of 17-19–36 this season. All the same, the Winnipeg, Man., native has not exactly been an enormous surprise.
Playing for the Salmon Arm Silverbacks in the British Columbia Hockey League last season, the 6-foot-2, 205-pound Zajac piled up a whopping 53 goals and 82 assists for 135 points in just 73 games. Along with Spirko, he was one reason why many coaches pointed to North Dakota's recruiting class as one of the best in the country along with those of Boston College, Minnesota, and Boston University.
"Coming into this season, I really didn't know what to expect," Zajac said. "I didn't want to look at myself as a freshman; I wanted to contribute each night and try and fight for a spot in the lineup and playing time. That's how I looked at coming in. I didn't set real goals for myself. Teamwise, it's like every other team: You want to win a national championship. That was my main concern coming in this year."
Even before arriving in Grand Forks and now on the national stage of college hockey, Zajac's prowess hadn't gone unnoticed in the pro ranks. The New Jersey Devils selected him 20th overall in last summer's draft, meaning that the centerman could be a teammate of Zach Parise eventually.
Zajac got off the gate early on the team's scoresheets, scoring six goals in his first eight collegiate games, including a goal in North Dakota's first meeting with Boston College last fall. Both he and the team have had their peaks and valleys since then, but obviously the team picked the right time to get hot.
"I think it's just the whole team coming together; the last little bit of the season we've all been on the same page the last part of the year," Zajac said. "We've been working through everything; our character has shown. We've had our bumps, but we never let the highs get too high or the lows get too low. That's a credit to the guys on this team. We've just come together as a family here."
In addition to his obvious offensive exploits, Zajac does the little things well. By a wide margin, he is the best faceoff man on the North Dakota squad, winning almost 58 percent of his draws going into the NCAA tournament. And when the Sioux had to kill a cavalcade of penalties Saturday, coach Dave Hakstol frequently turned to the freshman for the kill — even when facing a critical five-on-three.
"Well, you heard Travis speak up here; he's very humble," Hakstol said. "And I think his approach coming into this year was to come in and battle and compete and make sure he had a spot in the lineup. That's the way he approaches the game.
"Obviously, he's a freshman by status, but we have an awful lot of confidence in him. We don't consider him to be a freshman out there: He takes a lot of key faceoffs for us. As gifted offensively as he is, he is as good of a two-way centerman as there is, I believe, maybe in college hockey."
Not bad for a teenager. Yes, that's right. Zajac is still just 19; he'll turn 20 this May. That seems fitting, as a player this complete this soon in his collegiate career hardly seems like he should be legal.