It's been more than two decades coming, but the Frozen Four finally has gone back to school. This weekend's tournament will be the first since 1983 to be played on a college campus, as Ohio State hosts the annual event at Value City Arena.
Don't, though, go blaming your local college or university for not taking the same initiative as the Buckeyes. For any arena to be able to host the Frozen Four in this day and age, it must have 15,000 seats, a criterion met only by OSU and Wisconsin's Kohl Center.
"You know, it doesn't feel like a college campus," said Denver coach George Gwozdecky, who has been a part of the Frozen Four and emerged as a champion as both a coach and a player. "These venues are so big, they're all professional venues."
Said Gwozdecky, who last year lauded host city Boston for its hospitality, "We've been treated great. [Tuesday], the Blue Jackets [Columbus' NHL team] opened their facility so that we could practice.
"Ever since we landed, it's been a terrific experience, and I'm sure it'll continue that way."
"I'd never been on [the OSU] campus," said North Dakota coach Dave Hakstol. "So far I'm very impressed.
"I think it's nice to have it in a college setting on a college campus."
There are still questions entering the weekend, though, on how strong actual attendance will be. A quick check of eBay showed that hundreds, if not thousands, of tickets are available for sale, most with bids well below face value.
It's hard to tell whether the quantity of available tickets is related to the host city or the fact that all of the teams playing are from one conference. Still, the success of this weekend's event will be a factor as to whether the tournament will return to Columbus in the future.
"You want to play at the best venues," said Tom Jacobs, director of championships for the NCAA. "It's just an added bonus when that happens to coincide with a college campus."
As far as the future, Jacobs said that will be up to the committee to decide. The next selection of host cities, which will include the 2009, 2010 and 2011 tournaments, will take place this summer. Ohio State is expected to bid again.
Parise: Props to the Wolverines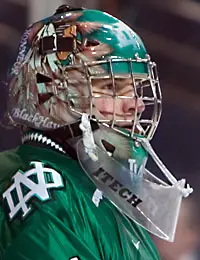 North Dakota goaltender Jordan Parise, a native of Faribault, Minn., was asked what it will be like to play Minnesota in Thursday's national semifinal as a native of the Land of 10,000 Lakes. Parise's response inspired quite a chuckle from the media.
"I was more of a Michigan fan growing up," Parise said.
Chalk one up for the CCHA.
Irmen: Right Back At You
Parise isn't the only player this weekend to have rooted against his hometown club growing up. Minnesota's Danny Irmen, a native of Fargo, N.D., had no qualms saying that he didn't grow up a fan of the Fighting Sioux.
"I've always been a Gopher fan," admitted Irmen, who unlike Parise actually ended up attending his favorite childhood school.
Gophers Seeing Double
Looking to follow in the footsteps of the 2004 Connecticut basketball program, the Minnesota men's club will look this weekend to complete the school's daily double following the women's team's national championship victory two weeks ago.
Said coach Don Lucia, "They made the [good-luck] phone calls to us and we made the phone calls to them.
"We don't see them as much anymore," added Lucia, alluding to the fact that the two Gophers programs play in different facilities. He did note that the clubs often pull switch-a-roos of practice venues depending which opponent each team plays in the coming weekend.
"We swap. If we're going to be playing in a small [NHL-size] rink, we'll play at Ridder Arena," said Lucia, referring to the women's home rink. "If they're going to play on Olympic ice, they'll practice at Mariucci."
Gopher fans hope that the men's squad picked up the positive vibe when crossing in the corridors.
Speaking of Ice Size
This weekend's tournament will be played on the 200-by-85 foot ice surface of Value City Arena. For two of the four teams involved, that will be different from what they're accustomed to — with both Colorado College and Minnesota both playing on the expanded Olympic-size sheets at home.
That, though, isn't a big concern for Lucia.
"For us to play on an NHL-size rink, it has to be on the road and we've played good on the road," said Lucia. "We won at Boston University, we won at Denver, we won at North Dakota, we swept at [Michigan] Tech."
The Gophers' most recent trip to an NHL-sized venue, though, wasn't as pleasant. Minnesota finished fourth at the WCHA Final Five, played at the Xcel Energy Center, home of the Minnesota Wild.
"Even though we didn't win at the [Xcel Center], we gave up only 22 shots a night against two really good teams [Colorado College and North Dakota]," Lucia said. "I don't know if it makes that much of a difference at this time of the year. We've just had two weeks to practice on [the smaller ice sheet]. So I feel pretty good."
Denver Going With Mannino
Denver coaches pondered. They asked for input from others. In the end, their goaltending decision came down to cold, hard facts.
Peter Mannino is 3-0 against Colorado College this season, all on NHL-sized rinks. Glenn Fisher is 0-2 against the Tigers, both on Olympic sheets.
With those numbers in mind, the Pioneers are breaking with their normal rotation and going with Mannino, a freshman, against CC on Thursday.
"It wasn't an easy decision, but when we did make a decision and we sat down with Glenn and Peter, both of them understood," Denver coach George Gwozdecky said. "There was not any concern from either one of them."
The final decision went against what Gwozdecky pointed to last week, when he suggested there was no reason to alter the normal rotation, where Fisher, a sophomore, starts the first game of the series and Mannino takes over in the second. As a whole, the Pioneers have tended to play better on Saturdays, which may have contributed to Mannino's better numbers.
The Experienced Will Lead Them
The notion that Minnesota is an experienced Frozen Four team because it has been here three of the last four years may not be so accurate. Of the 26 players on the Gophers' roster, only 12 were on the team when it defeated New Hampshire for the 2003 national title.
But those without experience in a Frozen Four are looking to those who have it.
"Our upperclassmen have been great leaders all year, and when it comes to this time of the year, we've got to follow them," Irmen, a sophomore, said. "They've been here, they know what it's all about, they know what it takes to win. Looking at guys like that and listening to how exciting it was when it was their time and they did it earlier, they're definitely going to lead us this weekend and it's going to be fun to follow them."
Lucia said there too much may be made of experience in this tournament, citing Denver's run to the national championship last season without any of that.
He just wants his team to start Thursday's game well. In Buffalo two seasons ago, that didn't happen but the Gophers recovered.
"You just want your guys to play relaxed," Lucia said. "I'm such a believer this time of year in play on your toes, take your swing. If you're going to go down, you want to go down swinging, not watching the third strike."
Non-WCHA Presence
The Frozen Four may look like an all-WCHA affair, but there will be elements from outside the league on the ice this weekend.
The on-ice officials will not be from the WCHA, despite league commissioner Bruce McLeod asking that his referees be allowed to work the tournament because all the competitors were from the league.
McLeod told the Grand Forks Herald he never got a response from the tournament committee.
"You could make one argument that it's all WCHA teams, it would make sense to have WCHA officials," Owens said. "But that isn't the case. This is the national tournament. It's the NCAAs. Whoever they put out for referees will be thought through very carefully. In some ways, it's fresh. You don't go into the game thinking, 'Oh, he doesn't call anything,' 'Oh, he always looks for Mark Stuart.' There's some freshness to it, which I think is good."
The officiating crews are expected to be from the CCHA and ECAC.
One-Timers
• There were 275 credentials issued to media members, down from the number handed out in recent seasons. That's likely because all four teams in the tournament are from the WCHA, possibly limiting exposure in college hockey's East.
• ESPN personnel were busy testing out a camera mounted on a rail on top of the Plexiglas on the penalty box side of the ice during Wednesday's practices. The camera, which sits at about the same level as the seventh row at Value City Arena, slides between the faceoff dots to provide a closer view of the action.
• One of Owens' first notes to his team during its hour-long skate at Value City Arena was for the goaltenders to watch the bounces out of the corner of the boards. In the first few minutes of practice, CC coaches tested the corners and found some awkward bounces. Owens also said the ice turned "sticky" toward the end of his team's practice session, the first of the day Wednesday. "But it always is the day before," he said. Temperatures in the Columbus area have reached the mid-70s.
• The captains of all four teams are defensemen. They are junior Mark Stuart for Colorado College, senior Matt Laatsch for Denver, senior Judd Stevens for Minnesota and junior Matt Greene for North Dakota.
• Denver defenseman Matt Carle appeared at the Pioneers' news conference wearing a dirty white hat. The logo? The 2004 Frozen Four.