Where will 15,000-plus college hockey fans be trekking to at the beginning of April in the years from 2009-2011?
It's down to six cities:
Boston (TD Bank North Garden)
Detroit (Ford Field)
Philadelphia (First [nl]Union Center)
St. Paul (Xcel Energy Center)
Tampa (St. Pete Times Forum)
Washington, D.C. (MCI Center)
The process started with 13 cities that submitted bids. Why were these seven sites eliminated after the first round?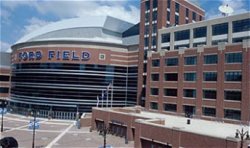 I would have to think that Buffalo and Columbus were grouped together and didn't make the next cut for one or both of the following reasons: It was too soon after they have hosted and/or the NCAA was not too particularly fond of either site. I think that the first is the biggest reason.
San Antonio is a repeater to this list. The lack of a college hockey association in conjunction with the bid could have hurt (the co-host was the University of Texas-San Antonio), or that it is a bid, once again, from out of left field.
Kansas City was also a return bidder. They were passed over the first time a few years ago, but this time they bid with the brand-new Sprint Center, set to open in 2007. It will hold 18,000-20,000, but I think it was too much of an unknown right now with the building not even being built.
Albany also tried to regain the Frozen Four, but capacity issues really sink Albany.
Sunrise is a newcomer to this list. A few factors I think were involved here — another Florida bid in Tampa, the proximity of the arena to the hotels, dining, i.e. the athletes/fans/officials experience factor wasn't high enough on the NCAA's list.
Another newcomer to the list was Glendale, Ariz. and the Glendale Arena, the home of the Phoenix Coyotes. With a hockey capacity of 17,653, I would think this would be on the low end of the list.
That brings us to our Final Six. Three get to host, three get to try again. Taking a look at the factors and the six remaining sites, we can see if we can make heads or tails of how the committee will think.
The criteria for choosing a site is laid out by the NCAA as follows:
Facility Requirements and Needs (Seating Capacities, etc.)
Locker Room Space
Media Facilities
Hotel Facilities
Headquarter Hotel
Media Hotel
Officials Accommodations
Team Accommodations
Fan Accommodations
Financial Projections
Ticket Prices
Projected Ticket Sales
Five of the six sites are NHL arenas, with Ford Field being the exception. Therefore it has to be dead even when it comes to facility requirements, locker room space and media facilities.
Each of the finalists has hotel facilities very close by for the NCAA, officials, student-athletes, media and fans. The furthest would be in Philadelphia, but that's only a seven-minute ride to the main hotel facilities. It's dead-even.
This is very important to the committee. Remember the last time around in choosing sites in 2000? Or in 2003? Then-ice hockey committee chair Bill Wilkinson in 2000 said, "The building is very important for the players, and that's the most important thing we're looking at," he said. "That we can get a quality building, similar to the [nl]Providence Civic Center, with hotels nearby and all the amenities that go with it, that's the key.
"We don't want to have the players 10, 15 miles away from the facility because it becomes a bus trip every time they go to practice and the games. The easier it is on the players, the better."
What about financial projections? It's all about finances right? Who can provide the financial aspect of the Frozen Four? St. Paul and Boston have proven it while the other four sites have not had the Frozen Four ever. So there really is no previous sheet to compare the other four sites. St. Paul and Boston have to have an edge.
But looking at the criteria, it makes everything seem dead-even between the six sites. So how will the committee decide? How will the six groups decide how to make their site seem better than the others?
I think I've got it narrowed down. The criteria laid out for the building, hotels, etc., is not as important. Everything is all the same, and we have one major exception in Ford Field. What is important? It is the experience that will be had for the student-athletes and for the fans and the proximity in which they can enjoy themselves.
It's become more about what happens surrounding the event and can the student-athlete and fan get to these things that is going to be the key.
But the question remains, how do you handicap who is going to get the three bids? There are many thoughts out there. But there is one constant — can the attendee of the event, whether you're a spectator or participant, get to everything the event and city has to offer easily. Can you enjoy yourself without exerting yourself is the way I would put it for lack of better words.
What it is going to come down to is the intangibles — the entertainment aspect of the Frozen Four. Who can give the best facilities for the Hobey Baker, Humanitarian and USCHO Town Hall Meeting, what can the fans do to enjoy themselves, what's the atmosphere in the city going to be like, how far will fans have to travel to the games, the student-athletes themselves, how close will they be to the venue, that's what it will come down to.
With that in mind, you now ask, whom would I pick? I've been at a lot of Frozen Fours, both as a fan and in conjunction with USCHO. I think I've got a pretty good handle on it all.
I think all six cities would do a great job, no doubt about it. Everyone in every city is behind the event and there will be no lack of hospitality, no matter what city you will be in.
And that's what makes it tougher.
I'd love to say give all six the Frozen Four from 2009-14, but we can't do that right now. We can only choose for 2009, 2010 and 2011.
But here's what I think.
There are no boundaries in college hockey anymore. What I mean is that you can go to any city and it will sell out. It's all about the experience for the fan and student-athlete these days. How much fun will you have at the event, how much will you enjoy yourself and watch some great hockey, that's what it's all about these days.
Let's blow away some of the myths in my mind.
The first one that comes to mind is that St. Paul and Boston are shoo-ins. It's widely rumored that two of the three spots will go to these two cities. I don't believe that's the case at all. I think only one of them gets a bid this time around and the other gets one of the two spots when the bidding goes for 2012 and 2013.
How about the myth that because the NCAA will be in [nl]Denver, St. Louis, Milwaukee and Columbus in 2008, 2007, 2006 and 2005, that you have to have an Eastern city in 2009? Baloney. So geography won't play a role here. But, the chances that an Eastern city gets it in 2009 are high since four of the cities are on the East Coast.
So what would I do if I were on the committee?
I think that there are three races here, one for each year. While the committee will never say that there are races and that all six are considered equally, I think that there are races. I think they're sitting in the room, listening to all the presentations and then, in their minds, are comparing sites to each other and then narrowing it down even further.
That said, I think there are three races. Those races are:
St. Paul versus Boston
Washington, D.C. versus Philadelphia
Detroit versus Tampa
Why have I decided these are the races?
I stated my reasons for St. Paul and Boston above. I think only one of them gets it this time around and the other in the next round of bidding.
It's never been said, but I believe that the NCAA would like a minimum number of years between venues for a number of reasons. It's reliable and it's a good site. There is a large opportunity to grow the sport by taking it to areas where it has not been. In order to do so, you need more sites in the rotation.
That being said, I think that that number of years is eight. So lets just do the math. St. Paul last hosted in 2002, Boston in 2004. That puts the Frozen Four in St. Paul in 2010 and in Boston in 2012. What do you know? That puts Boston out of this year's bids.
So St. Paul gets 2010.
Let's look at Detroit and Tampa now. I've decided to make this a race because it's not really Detroit versus Tampa as much as it is Ford Field versus Tampa. Detroit is a known variable. The biggest unknown here is Ford Field. There will be a higher attendance, different configuration and it's big. It's something else, there's no doubt about it. Which puts it, in my opinion, in a "non-traditional" sense.
I don't think there's any doubt that Tampa is a non-traditional site.
So this makes a tough decision here. Growing the sport has always been a big thing. Going to a venue is a big thing. I am going to point to one thing about Ford Field, which in my mind may not be the best thing.
Ford Field is the event, not the Frozen Four.
What do I mean by this? The Frozen Four is the event. The student-athletes participate in the Frozen Four and the fans watch and enjoy the Frozen Four. My thinking is that if the Frozen Four is at Ford Field, Ford Field becomes the event rather than the Frozen Four. The attention shifts somewhat to the rink, the venue, the size of it, the how it was done portion of it. While great publicity, and possibly growing the game, the bottom line here is that it's about the student-athletes. Putting it in Ford Field, again, in my mind, takes away from the student-athletes and the real reason for it being held.
As for Tampa, the town has embraced hockey, the venue is large and accommodating, and I don't think that the issues which people brought up with Anaheim will phase the bid. The group behind has run college tournaments before on a large scale and magnitude.
Looking at these two reasons, I would choose Tampa over Ford Field, because I think the experience will be more about the Frozen Four and not Ford Field.
Therefore, I put the Frozen Four in Tampa in 2011.
Now we are left with 2009 and two cities — Philadelphia and Washington, D.C. Two cities separated by not a lot of miles. These two cities rich in history and tradition and these are two cities that are probably very similar in the things that it can offer and show to the non-resident. How do I choose here?
I honestly think that this is 50-50 and I need something to tilt the scale towards one city. I've been to both arenas, seen hockey in both arenas. Seen concerts in both arenas (Bon Jovi in D.C. was awesome but I digress). Hung out in both cities. I literally have to find something to tilt.
And here is what it's going to be. I had to drive or take public transportation to the First Union Center. I walked from my hotel to the MCI Center. Proximity, proximity, proximity. It's been pounded into our heads this bidding round. And I think that is what tilts the scales in favor of D.C. in 2009.
So to recap, if I had to predict what the committee is going to do here it is:
2009 – Washington, D.C.
2010 – St. Paul, Minn.
2011 – Tampa, Fla.
And let's not forget to pencil in Boston for 2012.