The phone rang Wednesday afternoon. I answered. "Hello?"
"Hey Paula. It's Jamie. I've got Kyle here. Is now a good time?"
"Jamie" is Jamie Schanback, sports information director for Alaska-Fairbanks hockey. "Kyle" is Kyle Greentree, the sophomore winger who has led the Nanooks in scoring this season.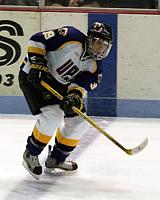 "Yes!" I said. "Put him on!"
A pause. A man's voice. "Hello?"
"Is this Kyle Greentree?" I asked. "The Kyle Greentree?"
The man laughed. "Yes, it is."
Eureka! Finally, I was speaking to Kyle Greentree, the Kyle Greentree whom I'd been hounding all season! Suddenly, it was Christmas morning! It was my 16th birthday! It was the morning after the Oscars and I had Clooney on the line!
As Kyle Greentree and I settled into our conversation, we laughed about the notoriety brought to him by my weekly assurances to readers of my CCHA column that next week I would have that long-promised interview with Kyle Greentree. Next week. Honest.
The realization of this phone meeting took planning, timing, and more than a little puck luck. The UAF home base is 3,037 miles as the crow flies from mine in Columbus, Ohio, and the differences in schedules and time zones, coupled with the sheer amount of time the Nanooks spent in transit this season, undermined my efforts to contact Greentree at a time of day when we were both conscious.
As it turned out, the only way for me to get Greentree was when we were both in the same time zone for a significant period of time. And that's where the UAF Nanooks have been for nearly three weeks, stranded in Eastern Standard Time, playing their fates on a weekly basis.
For nearly two weeks, the Nanooks were encamped in South Bend, Ind., where they played Notre Dame the last weekend of the regular season and the following week as well, in the first round of the CCHA playoffs.
Then, by virtue of their sweep of the Irish last week, the Nanooks won the right to remain in the Lower 48 for another week, this time in East Lansing, where they faced the Michigan State Spartans in the second round of CCHA playoff action.
Should they survive this best-of-three series, they'll advance to the CCHA championship tournament in Detroit's Joe Louis Arena, and remain in Michigan until they've won or lost there.
Greentree is, understandably, optimistic about UAF's chances this weekend and beyond.
"I think we've put together as a good playoff team as I've ever been on," he said. "I've been on a couple of winning teams in juniors. You don't play well at the right time and you're not going to go anywhere."
The Nanooks have seen their shares of ups and downs this season, like every team between Miami and Bowling Green in the CCHA standings. In January, UAF went a disappointing 2-6-1, with four straight losses to kick off the calendar year. The Nanooks bunkered in Bowling Green the week between the losing weekends against BGSU and Michigan.
And, like many other CCHA teams, the Nanooks have found it hard to find the net in stretches. While all but two skaters who have played in a significant number of games have scored at least one goal for UAF this season, only junior forward Curtis Fraser has scored more than 10. The midseason departure of sophomore forward Ryan McLeod forced an already-struggling offense to reinvent itself.
"It's no secret," said Greentree. "This year we had trouble scoring goals. It's been a bit frustrating for personal individual success, but overall the team's doing good. When Ryan McLeod left, that was a huge blow to our offense, but players come and go and a lot of guys stepped up.
"We set goals this year, and slowly we wanted to get better. We went through a skid after Christmas and that was frustrating. Last year, we started playing good hockey at the end of the season. You can go on streaks early or you can get hot late.
"It's a new season."
A new season, spent a continent away from home. While many CCHA fans know, in some sense, that Alaska is a long way away from the rest of the league and that the Nanooks travel many miles, most don't appreciate that Fairbanks is a very different world from East Lansing or even Sault Ste. Marie, and the remoteness of Fairbanks dictates a unique life, different even from that of those who play hockey in Anchorage.
For example, the location of the school makes it difficult to draw recruits from the Lower 48, but its proximity to Western Canada gives UAF a pool of talent from which few other D-I programs draw. There are 19 Canadians on the current Nanook roster, and none of the six American Nanooks hails from further east than Las Vegas.
As a team, the Nanooks are also older than most other CCHA squads, with the average age of UAF players between 21 and 22 years old. The Nanooks are, in essence, what most CCHA teams were 10 years ago: majority Canadian, very few true freshmen, seasoned players before they get to college.
It's that added maturity that helps keep these players in school through a long season of difficult traveling. You think your commute is long? As the crow flies, the Nanooks have already traveled 39,038 miles this season. That is a conservative estimate that doesn't take into account variations in flight patterns and overland miles.
How far is that? The earth's circumference at the equator is approximately 24,900 miles.
Not surprisingly, the Nanooks learn to like the travel. "It's nice getting on the road," said Greentree. "At the beginning of the year you go on a lot of road trips. When it's really cold up there in the winter, it's really nice to travel down here."
Oh, and that's another thing. Most of us think that players from Western Canada are right at home in Fairbanks, when in fact it's a big adjustment for many of them. Greentree himself is from Victoria, B.C., which is 1,433 air miles from Fairbanks. Victoria, a mere 110-mile drive north of Seattle, experiences mild, rainy winters. "We get two inches of snow at home," said Greentree, "and the city shuts down."
Greentree and I talked a little about his mom, Bonnie Stones, his life in juniors before he decided on UAF, and it was the usual good stuff that we hockey fans have come to expect from hockey players. Hockey people, as we all know, are a different breed and Greentree in many ways is typical of the breed: played juniors at home in Victoria, billeted out and spent some time away from home, went to college an older player, hopes his mom gets to make the trip to Detroit next weekend.
I asked the obligatory questions. "What do you like most about UAF?"
"The guys," said Greentree. "We've got a lot of players from the BCHL and Western Canada, and the group of guys that the coaches have recruited are great guys. Sometimes there's not much to do in Fairbanks when it's minus-50, so it's good to have Canadians around."
I'm not sure what that meant, but I agreed immediately because coming from Kyle Greentree, it sounded perfectly logical.
I warned Greentree that I'm an English teacher before I asked the next question. "How do you keep up with studies when you're away so long?"
He laughed but gave me a straight answer. I think. "You ask your professors what you're missing for the week, make sure that you're not falling too far behind. A lot of us take online courses, so that helps.
"We're going to have a lot of catching up to do. We do put aside some study time. The coaches get us a conference room and we set up."
Then I asked Greentree what he most wanted people unfamiliar with Alaska to know about Fairbanks, and his answer — and the passion with which he conveyed it — surprised me.
"It's a great hockey town. They probably don't know that hockey is so big up there. A lot of people don't know much about Alaska. You run into people … it's pretty funny.
"They think our program isn't up there with the Michigans and the Michigan States. We want to run with the bigger schools.
"Our fans are unbelievable. I was pretty disappointed when we lost out on our home-ice advantage on that goal differential because we wanted to play in front of them. They're knowledgeable."
Greentree said that in post-game press conferences, there are "150 to 200 people and they ask questions, good questions. They don't ask how someone scored a goal. They want to know our systems."
Then I had to know. "What do you do when you spend so much time in one place away from Fairbanks?"
"We go shopping," he said, dead serious. "We hit up the malls and stuff, we go to the movies. We have a lot of free time to cruise around the town and stuff."
This year marked Greentree's first trip to South Bend, and as lacking in mystery as northern Indiana may be for the rest of us, Greentree sounded awed by his stay near Notre Dame.
"I was so surprised by the tradition behind it. We checked out the stadium, all the buildings are so historical. Football's pretty big there. You hear so much but you don't believe it until you see it."
And East Lansing "seems like a small town within a town. There are buses and stuff going around. The arena's nice and the fans are great.
"All these campuses are so big. They're way bigger than ours."
And then, after Greentree got comfortable, I got what I was looking for: dirt on his teammates.
"Tell me about Wylie Rogers," I prodded.
Greentree was more than willing. "He's more of a pretty boy, with streaks in his hair and he wears these pink shirts."
But Greentree provided a disclaimer for Rogers that covered everything. "You know, he's a goalie." He laughed. "He can definitely pull it off. He's really confident. He's a great guy."
And who, I wanted to know, were the smart ones on the team? Greentree didn't hesitate.
"Ryan Muspratt and Trevor Hyatt. They're both really book smart. I think the smartest overall is myself, of course, but sticking with school, definitely those two. Ryan is talking about getting his masters."
Kyle Greentree and I laughed a lot on the phone that day, and he reminded me of so many players I've come to know through the years. That's not to say, however, that he is stereotypical. I got the sense that he is passionate about hockey, about UAF hockey, and that he's the kind of guy who comes to the rink ready to go, every practice, every minute of every game. And for one so young and inexperienced with the press, he handled me like a pro.
In short, we disarmed each other completely.
By the end of the conversation, I told him something I've shared with several Western Canadians associated with hockey. It's a motto of mine that I can get away with because I'm twice the age of most of the players in the league, and most of their dads and coaches are safely married. I said, "The women of Western Canada must be very happy. All the guys are good looking, and they all play hockey."
It worked on Greentree, just as it does on every player or coach from Winnipeg to Prince George.
Then I asked, "You know what else those Western Canadian boys like?"
He took the bait. "What?"
"Flattery."
Greentree laughed even harder and agreed. "Yeah, we're different out here."
Out there or in East Lansing, yes, Kyle Greentree, you are.