Standing outside the Wisconsin locker room after a WCHA Final Five semifinal loss Friday afternoon, Wisconsin goaltender Brian Elliott talked about how he didn't think it would be difficult to get up for the third-place game a day later.
It wasn't even until later that the Badgers found out they would be playing archrival Minnesota in the consolation game, but Elliott wanted to show the effort his team had against North Dakota on Friday wasn't a true picture of the Badgers.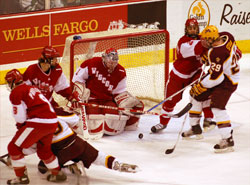 He responded well, as did the rest of his team. The 4-0 victory over Minnesota at the Xcel Energy Center marked the fourth time this season Elliott has followed a loss or a tie with a shutout in his next game.
For someone who has only five losses and three ties, that's an indication of how motivated Elliott can be when he's coming off a negative experience.
Elliott followed a 2-2 tie against Colorado College with a 3-0 shutout of the Tigers on Nov. 12. A night after losing to Michigan Tech, he blanked the Huskies 7-0 on Dec. 10. In the game following a humbling loss at Minnesota State, Elliott and the Badgers beat St. Cloud State 1-0.
And Saturday afternoon — a day after allowing four goals in a 4-3 loss to North Dakota — he stopped a sluggish Minnesota team cold with 26 saves.
That gave Elliott a shutout streak of 124 minutes against the Gophers. He was out injured when the Gophers swept the Badgers at the Kohl Center in January, so his last look at Minnesota was in a Wisconsin sweep at Mariucci Arena in December.
"The first time we took it to them in the offensive zone," Elliott said. "I think our offense is definitely our best defense. When we have that going and when we're playing in their end, you can't say enough about how important that is to your team.
"We all had great games [Saturday]. The defensive corps just pushed them to the outside and they couldn't get any shots or rebounds or anything. We just shut them down as a team, and I don't think it was any one person that did anything that special."
His teammates didn't share that last opinion.
"He played unbelievable tonight," Badgers winger Ryan MacMurchy said. "When we needed him, he was there. He stoned [Minnesota forward Phil] Kessel on a lot of great shots. That gives us confidence. We know when we slip up every now and then he can back us up. That's what you need is a playoff goalie like that. It was great to see him play well and have confidence because that gives us a lot of confidence because he's our No. 1 guy. We're going to ride him out for the rest of the season."
The Wisconsin junior got some help for his shutout. With Minnesota on the power play late in the first period, Minnesota's Ryan Potulny fired on Elliott from the right side, and the puck slowly trickled through the goaltender's pads.
Wisconsin center Joe Pavelski outmuscled Kessel, who was in position to sweep the loose puck into the net, and Elliott was able to cover the puck.
In the second period, Elliott stopped Kessel on a rush up the right wing by quickly kicking out his right pad. The Badgers had only a 1-0 lead at that point.
"Those are the types of saves that when you make those, you're feeling the puck and you know you're in the game," Elliott said.
Elliott, one of 10 players named Thursday as finalists for the Hobey Baker Award, missed eight games with a knee injury suffered in practice on Jan. 18, and the Badgers went 3-5 in that stretch. When Elliott returned, he allowed 15 goals in his first three games and was 0-2-1.
Since then, he has three shutouts in six games — setting a Wisconsin single-season shutout record with six and tying the Badgers career shutout record with nine — and looks to be back to the form that he once had, even if that's tough to describe.
"I don't even know what 'back' is," Elliott said. "You can't really describe your play before or after an injury. It's tough to say, but I have the confidence in myself and in my teammates that we can bring that kind of game every night. Now it's just four more games the rest of the season, and that's the way we look at it."