Defense Wins Titles
Wisconsin's defense was not only the best of this NCAA tournament, but perhaps the best ever.
The Badgers allowed just one goal in three games played. The only goal scored against Wisconsin came from the stick of Mercyhurst's Julia Colizza, who scored shorthanded in the first period of a double overtime game. The last even strength goal allowed by the stingy Badger defense was back on March 3rd against North Dakota in the WCHA quarterfinals, eight games ago.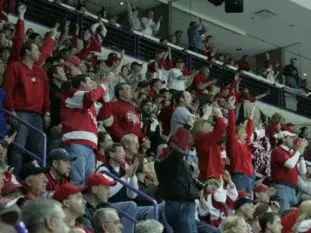 Minnesota made a push in the third period with 14 shots but could not solve Vetter.
Wisconsin goalie Jessie Vetter, a redshirt freshman whose college career did not begin until December, currently has a shutout streak of 201:04, an NCAA tournament record. In the semifinal game against St. Lawrence, Vetter served up the first shutout in Frozen Four history, and then in the final, she had the second.
"We had a goaltender who did a fantastic job, not just today against Minnesota, but also against St. Lawrence," said Wisconsin coach Mark Johnson.
Given her start to the season, Vetter easily ranks as the most unlikley NCAA Most Outstanding Player. The previous three winners of the award all entered the Frozen Four with Olympic medals.
"For the first six weeks of the season, she had mono," said Johnson. "And then when she came into a game, she allowed a goal on her first shot against Bemidji. But I knew I was going to start her the next day, and she got better and better as her strength improved. She has played with a poise and composure that you don't find in most freshman."
Vetter becomes the first freshman and first goaltender to ever be named MOP of the Frozen Four.
Special Special Teams
In the last meeting between the two teams, Wisconsin took a 4-1 decision, largely on the strength of three power play goals.
So, as you might imagine, better penalty killing was high on the agenda items for Minnesota coach Laura Halldorson while preparing for the championship game.
"They scored three power play goals in the WCHA championship, so that's obviously a concern for us," she said, the day before the game. "But we feel like we have learned a lot since then."
But then on Wisconsin's first power play of this game, the Badgers scored just 39 seconds in, as Jinelle Zaugg knocked home a shot past goaltender Brittony Chartier, after Wisconsin had several good looks at the net.
In the second period, with the score 2-0, Wisconsin tallied on a second power play strike when Zaugg buried a one-timer off a pass from Kazmaier winner Sara Bauer.
"That third goal was huge," said Halldorson after the game. "Before that, if we manage to score, it is a 2-1 game. That third goal might have been the dagger.
"In playoff games, your special teams have to be good," said Mark Johnson, Wisconsin coach. "You look for breaks and bounces, and we got those."
Minnesota had its own chances on the power play, but went 0-for-5 on the afternoon. Wisconsin finished 2-for-4 with the man advantage. Minnesota was not much better in allowing New Hampshire two goals on five opportunities in the semifinal game.
Happy To Be Here
It is a bit of a surprise to see Minnesota in the national title game at all. From last year's championship winning team, the Gophers lost an incredible amount of talent. They lost Olympian Kelly Stephens and goaltenders Jody Horak and Brenda Reinen to graduation. Natalie Darwitz, Krissy Wendell, and Lyndsay Wall all left for the Olympics. They left major holes to fill in all aspects of the game — goal scoring, defense and goaltending.
After an uneven start to the season, Erica McKenzie emerged as a true scoring threat, and freshmen Kim Hanlon and Brittony Chartier emerged as a solid netminding tandem. The Gophers steadily rose in the national rankings and in the eyes of the NCAA Selection Committee.
"It didn't take us too long to stop talking about last year," said Minnesota coach Laura Halldorson. "It was a reality that we were a very different team. We lost an incredible amount of talent. It took some time for players to determine what their roles were going to be on the team, but now I hope that people realize that all we managed to do was a great accomplishment.
"We managed to come into the Frozen Four as the No. 4 seed, and we beat the No. 1 seed [New Hampshire]," she continued. "If we would have beaten the No. 2 seed [Wisconsin] it would have been a miracle."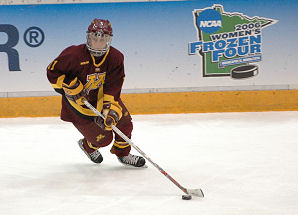 Ashley Albrecht earned All-Tournament honors for the Gophers. (Photo: John E. Van Barriger /
words-photos.com
)