The Oswego State men's hockey team will showcase the new Campus Center hockey arena when it hosts three of the nation's best Division III college hockey teams Dec. 29 and 30 in the Pathfinder Bank Oswego Hockey Classic.
The Lakers will welcome Elmira, New England College, and St. Thomas to the Campus Center hockey arena, which is scheduled to open this fall. The state-of-the-art arena will have a seating capacity of 2,540.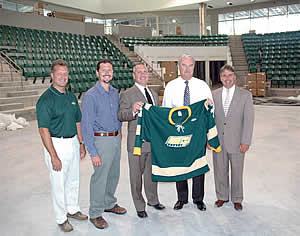 Oswego is the two-time defending SUNYAC regular season champion, was ranked in every USCHO.com poll released in the 2005-06 season and was among the top five teams for most of those weeks. The Lakers finished the season with an 18-7-2 overall record and return the majority of the lineup, including All-American and SUNYAC Player of the Year Ryan Woodward.
"The Campus Center gives us an opportunity to host an event of this magnitude and we are excited to bring in traditionally strong programs for a tournament that will help promote hockey on this campus and in this community," Laker coach Ed Gosek said. "Oswego State hosted an invitational tournament many years ago and we're happy to be able to continue that tradition. We intend for the Pathfinder Bank Oswego Hockey Classic to be one of the finest events of its type in the country and are working with the community and sponsors to ensure its success."
The Lakers will welcome three accomplished opponents for the 2006 Pathfinder Bank Oswego Hockey Classic. Each of the teams has participated in the NCAA Division III Men's Frozen Four within the last four seasons.
Traditional rival Elmira College finished the 2005-06 season with a record of 18-9-2 and captured the ECAC West title after finishing third in the regular season. The Soaring Eagles qualified for the NCAA Tournament and advanced to the semifinal round. Elmira head coach Tim Ceglarski is excited about playing high-level competition at the holiday tournament.
"It's a great opportunity for all four teams and we are really happy to be playing at this exciting event," Ceglarski said.
New England College, located in Henniker, N.H. ended last season with a record of 19-6-3 and finished third in the ECAC East. Pilgrims head coach Tom Carroll said, "The tournament is going to be great. We are really excited. It's four good teams and we're happy to be a part of it."
St. Thomas, located in St. Paul, Minn., finished with a 17-9-1 (.648) record and first place in the MIAC. St. Thomas was the runner up in the 2005 national championship game.