Anticipation was the only way to describe it.
There was a huge sense of it ringing through the Houston Field House on Saturday evening, thanks to two things that those in attenance were awaiting.
One was the regular-season debut of Seth Appert as the new Rensselaer head coach.
The other was the return of Engineer captain Kirk MacDonald.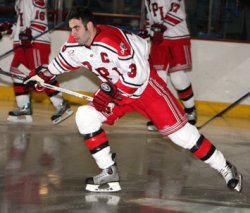 Appert's debut was anticipated because many wondered what he and his staff would put on the ice. The fans were not disappointed as the team came out with energy and an up-tempo style — exactly what Appert had promised when he took over.
But everyone wanted to see "Mac." They wanted to see their captain after a year of absence from fighting the biggest battle of his life, against cancer.
It has been written about before — many times as a matter of fact — but nothing could compare to the moment that the teams lined up and were introduced to get ready to play.
"It was the longest pregame I ever had today," MacDonald said. "I've been up since the break of dawn, just sitting around thinking about it. It's good to get it over with. It was a lot of fun. It was a great atmosphere."
The introductions were made and the game got under way. The Engineers played hard against third-ranked Boston University, but the Terriers were able to come back and tie the game against the Engineers, 4-4.
For RPI, it would have been nice to get the win in Appert's first game, but also for MacDonald and his return.
But most importantly, a new era began at Rensselaer and a return of one of the ambassadors of the game.
"It's tremendous, I'm glad to see him back," said ECACHL commissioner Steve Hagwell. "The long and grueling road that he has to go through to get back on the ice again, I imagine that he's ecstatic. Everyone is ecstatic and college hockey is glad to have a guy like him back."
"That was a special story and he deserved all the applause and attention that he got," said Appert. "He doesn't necessarily want it being the kind of guy he is, but to see him back on the ice … To hear the roar and applause throughout the game and to see how hard he plays. He's such a leader and he's an infectious guy."
"It felt pretty good to get out there and play and to get all the stuff like the introductions out of the way," said MacDonald, who had two assists on the night. "Just to get out there, it was awesome. You couldn't ask for anything more; it was a great atmosphere and that's why you love playing."
"The guys just look up to him and the guys were banging their sticks when he was introduced," said Appert. "I'm glad he got a chance to play so well and have some great moments."
After all the anticipation and 65 minutes of hockey, it turned to business as usual for Appert, MacDonald and the Engineers.
"Now we can get ready to focus on the task at hand and go play Denver," said Appert.
There's one thing left on the docket for this team.
"We would have loved to get the 'W' tonight," said MacDonald. "But hopefully we can get it at (Appert's) old stomping grounds next weekend, and I know we'll be jacked up to play for him next week."