Marquette is a town that tends to stay out of the national spotlight. If you don't live in the Upper Peninsula of Michigan, odds are you've rarely ever heard of the city that plays host to the NMU Wildcats.
On the frosty and secluded shores of Lake Superior, Marquette annually experiences long winters and even longer hockey seasons. This season, in the quiet town where college hockey never truly stops, one player is flying high, but staying just below the radar.
Meet Mike Santorelli. From Burnaby, B.C., he came to Northern more than two seasons ago, fresh out of the BCHL. He was raw and unmolded, looking to mature and searching for his identity.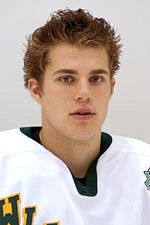 If you ask anyone connected with NMU hockey who Mike Santorelli is today, they will all tell you the same thing. He is a modest guy, a quiet guy, a team player. He is a hard worker who leads by example and cares about everyone in the locker room.
They will go on to tell you how, as of late, Santorelli has quietly become one of the top players in college hockey.
"I just wanted to come out here this year and I wanted to work hard," Santorelli says after stepping off the ice, nearly an hour after the end of practice. "After last year, I talked with the coaches about what I needed to work on. I'm starting to pick it up now and I'm starting to produce some more offense."
In this, his third season at Northern, Santorelli has produced enough offense to go around. In just 28 games, he has amassed 23 goals and 15 assists. His 40 points are a personal best and his goal totals are near the top of the leaderboard: his 20 in CCHA games are first in the league, and his 25 overall are second in the nation.
"He's our MVP," NMU captain Pat Bateman says of Santorelli. "He always scores timely goals and he takes the burden off of everyone else. We need Mike going every night or we could be in trouble."
Santorelli established his scoring prowess early in his career. In 120 games with the Langley Hornets and Vernon Vipers, Santorelli gathered 67 goals and 81 assists.
His presence as an offensive force didn't miss a beat when he arrived at NMU the next season. In his first two years as a Wildcat, Santorelli started all 80 games while racking up 31 goals and 63 total points.
Despite his prolific history, though, few expected him to produce the way he has this year.
"You can never project success to this extent, but Mike's first couple of years here showed that he can score goals," NMU head coach Walt Kyle says. "Usually by the time a guy is a junior in college he shows what he is going to do offensively and we felt that Mike was going to come in and be a potential 25-goal scorer this year. It looks like he can certainly exceed that."
The 21-year-old Santorelli conditioned hard in the offseason and credits one aspect of his game, above all else, with greatly improving his performance.
"My speed has gone way up since last year and that's the main thing that I focused on this past summer," he says. "I worked on it a lot and I think that has helped me out the most."
According to his teammates, however, the biggest reason for the spike in Santorelli's game may be due less to his raw talent than to his uncompromising work ethic.
"Mike Santorelli has always been a special player on the ice and he is one of the hardest-working guys that I've ever played with," Bateman says after a mid-week practice. "Right now, he's out on the ice shooting pucks. After that he'll leave the ice and ride the bike. Then he'll go lift weights. This was only a matter of time for him."
It was "only a matter of time" for a player who is constantly working to improve himself, his game and his team. After assessing his play after last season, Santorelli and his coaches decided that it would be to his benefit if he put some work into the defensive aspect of his game.
Since that time, he has played myriad penalty-killing shifts for the Wildcats, picking up an NCAA-best four shorthanded goals in the process, and he continues to hone his skills regularly in practice.
"I want to become a more all-around player and I haven't really played any penalty kill until this year," Santorelli says. "It's a definite adjustment and there's a lot to learn, but I'm glad I'm doing it. Ultimately, I have to play defense, too, and I'm starting to take pride in that."
It seems that the only problem for a player like Mike Santorelli may be that his quiet town and small school prevent him from receiving recognition on a larger stage. But that may not be a problem after all.
"Players get overlooked all the time," Bateman says. "We're a small school here at Northern and it will just take a while before Mike starts to get the recognition that he deserves. He is a modest guy, though, and he doesn't want that attention. Mike will deflect it."
The Vote For Hobey list was recently released, allowing fans to vote to help select 10 Hobey Baker finalists from a list of 40 candidates. Ten of the nation's 12 most prolific goal-scorers are on the list. Mike Santorelli is not.
The poll doesn't mean a whole lot in Marquette.
"He's my Hobey Baker candidate," Bateman says. "I'm not even being biased. He is honestly the best player that I have seen this year."
"Mike is absolutely an all-league player and, in my opinion, he should be a strong consideration as an all-American and as a Hobey Baker candidate," Kyle says. "He is having that kind of year and he is proving, night-in and night-out, that he is one of the best players in college hockey."
While the opinions may be strong, they are not necessarily shared by all the Wildcats. When asked about his Hobey Baker status, or lack thereof, Santorelli just shrugs lightly and blows the whole subject off with a content grin.
"I don't know if I should be a candidate or not," Santorelli says. "There are a lot of great players around college hockey and I just want to keep going out there and working hard. If people think I am, then they think I am."
And with that, Santorelli distances himself from any and all Hobey controversy.
Now, as the sun begins to set on his junior season and with little to do in a bitter Marquette winter, Mike Santorelli will do what he does best. He will play hockey. And he will score.