In women's ice hockey, offensive defensemen are an unusual commodity. That may make Ohio State, with three scoring blueliners, the most unusual team in Division I.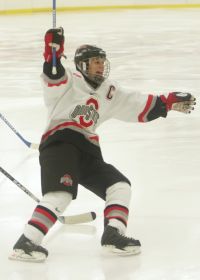 Throughout the 2006-07 season, Buckeye defensemen Tessa Bonhomme, Amber Bowman, and Lisa Chesson have been three of Ohio State's top four scorers. Nationally among defensemen, only Wisconsin's Meaghan Mikkelson has more points than any of the three.
"Normally a team will carry one or two," said Bonhomme. "They help contribute to the offense for us…but just because we're [among] the leading in scoring doesn't mean our forwards aren't creating any offense either. We have three offensive defensemen, and our team is very lucky. We just help contribute game in, game out. You don't see that often."
With 22 goals and 26 assists heading into the WCHA playoffs, forward Erin Keys has more points than each of her defensemen. Bowman (9-29–38), Chesson (13-24–37), and Bonhomme (14-22–36) and are numbers two, three, and four respectively on the Buckeye stats charts. The three account for nearly one-third of the team's total goal scoring.
Bowman and Bonhomme are seniors, co-captains, defensive partners, and Ontario natives — Bowman from Innisfil and Bonhomme from Sudbury. Bonhomme will play for Team Canada in the 2007 International Ice Hockey Federation (IIHF) Women's Championship, and she was recently named one of 10 finalists for the Patty Kazmaier Award. Chesson is a junior from Plainfield, Ill.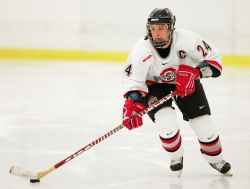 "All three of them have a great vision of the ice, they've got outstanding skills, and they get involved in the offense — not only five-on-five, but they're all key parts of our power play," said eight-year OSU head coach Jackie Barton. "When you have an opportunity to play five-on-four, they're very creative and they do a great job of getting the team some great scoring chances."
The three play on OSU's first power-play unit and were responsible for 17 of the Buckeyes' 39 man-advantage tallies during the regular season.
"Tessa is more the offensive on the power play," said Barto. "We have a couple of looks that we can present to opponents. We definitely use all three, because they're among our most talented offensive players."
But the power play isn't the only venue to highlight their offensive talents, said Barto.
"All three of them are great skaters. They have quickness and speed. They have great skills and are able to jump into the attack and join a rush and make it a four-on-three.
"They're also able in zone, off a set, in offense to jump into the flow. They're not hesitant. They don't question that. They'll take those risks offensively, but they're also very smart about those risks. They do it at opportune times."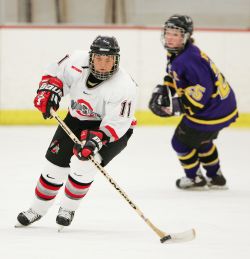 The blueliners see their offensive-minded roles as part of the changing women's game, and Barto said that the Buckeyes came into the 2006-07 season with a deliberate plan to change the transition game to allow the defensemen to jump into the action more effectively. This system is more commonly seen in men's ice hockey.
"A big focus for our team this year is that we have very good defensemen who can handle the puck, possess the puck, don't dump the puck in the neutral zone, regroup, and maintain possession. With those three gals, they're a good nucleus of that.
"We're doing a better job possessing the puck and controlling the neutral zone. We still have a ways to go; we're not there yet."
Like many D-I women's players, Bonhomme and Bowman played in co-ed leagues when they were very young, and they both began as forwards and switched to defense when they joined the all-girls leagues. And like many of the best offensive defensemen throught the game, the opportunity to play on the other side of the blue line gave each a chance to develop her all-around skills.
"I think right now because the girls' game is still kind of growing and getting bigger," said Bonhomme, "they put all the best skaters and the best stick-handlers up front — just like you stick the kid who can't skate in net, right? I was put back there because I was able to skate forwards and backwards.
"I started out as forward, and when I moved over to guys, I moved over to defense."
"I went right into our local boys league, and switched over to girls in grade 10," said Bowman. "When I was young, there was no such thing as a girls' league around. We all just played guys, and switched over as it started to develop more.
"I started forward and only played a couple of years. I was way more defensive, so they put me on defense. I was one of the better skaters. My game was naturally defensive. I'm still learning the offensive role. I'm learning."
Chesson, the odd man out — so to speak — wanted to tend goal. "My parents wouldn't let me because it was too expensive, and every time I get the chance now, I put on the pads. I started out as forward."
The three defenders are quick to point out that although they have become as integral to the Ohio State offense as they are to the defense, it has taken every Buckeye to make this season a success.
"Hockey is a team game, whether you're on the bench or not dressing, in the stands," said Bonhomme. "Everybody's hoping and cheering for our power play and our penalty kill to be successful, so whether you get the puck out or you're sitting there cheering them on, or letting somebody know that there's somebody back door, it's a team effort."
"On the ice, there's not just one person doing everything," said Chesson. "We need everybody to contribute. Everybody's working to get the points. We give the puck up to our forwards and everyone contributes."
That overall team effort has made this Buckeye squad unique, said Barto.
"There's more talent than we had five years ago. I see something different in this team than I'd seen in any of the previous teams. I see some character and
I see a really good work ethic and some pretty good leadership.
Bowman said that the chemistry on this year's team is like "nothing that I've ever played on before."
"This fourth year of mine is definitely different," said Bowman. "There's just a feeling with our team. It's very enjoyable to play with, play for each other.
"I just think we're really close. We hang out all the time. We're all basically like sisters. It's a bond that we carry onto the ice. In any situation we get ourselves in, someone's going to be there for you.
"You can say anything to anybody. I think we have a good balance, even with personalities. Not everybody's the same. It brings the chemistry that much tighter."
And what these three defensemen bring to both sides of the puck, said Barto, is good news for the future of the women's game.
"I think the level of the whole women's game is improving. The kids are more talented, have more skills, they just get better and better every year."