There's a row of pucks laid along a blue line.
Nothing unusual, really, when you think about it. It is, after all, practice for the Vermont hockey team. What's different, though, is that these pucks are orange and plastic.
In seconds, each will be fired at players positioning their bodies in front of the neon blur, and using their sticks to deflect it away.
Seems straightforward, like your run-of-the-mill exercise, right? Well, to these Catamounts it is more.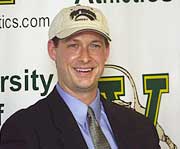 "It is part of our culture and mentality. If you are not willing to block shots and thus sacrifice for your teammates, then you will not play," says UVM coach Kevin Sneddon. "It's really that simple."
Those words go a long way to illustrate what Vermont hockey is about. The team won't score six goals a night; it can ill afford to play an up-and-down style of game; but it does promise one thing: defense.
Sneddon, in his days as a player at Harvard in the late 1980s and early '90s — aiding the Crimson to the 1989 national championship — fit the very definition of a defensive defenseman. He was a player who was responsible in his own end, and focused on helping the team succeed.
That is the attitude with which he has imbued his teams at Vermont, now in his fourth season on the shores of Lake Champlain. The Catamounts have been at, or near, the top of the national rankings in scoring defense for three of those years.
"I think it's just everybody's willingness to … do the dirty work," says defenseman and co-captain Kenny Macaulay. "We don't do anything special. I think we're just good at what we do, and that's what makes us successful."
Macaulay is being modest. He and co-captain Torrey Mitchell are quietly strong leaders who exemplify the ethic, which has drawn the team together as a disciplined and cohesive force. The coaching staff and captains lead a team that believes in its defensive philosophy carrying it to wins.
Consider the evidence: Vermont, allowing about 24 shots per game and boasting a penalty kill that has hovered around the 90-percent mark all season, has, most importantly, held opponents to fewer than two goals per game.
It certainly helps to have, as Sneddon puts it, "the best goaltending group in the country," headed by junior Joe Fallon and a promising freshman in Mike Spillane, too.
A tenacious forecheck has been a staple of Vermont teams for years, even prior to Sneddon's arrival on campus. UVM uses an aggressive two-man forecheck in most situations on an opponents' breakout.
"We [also] allow our defensemen the chance to pinch, if it is there," Sneddon adds, "and sometimes keep a third forward high, no matter what offensive pressure we are sustaining."
If the opposition breaks the forecheck, the forecheckers engage in back pressure. They squeeze the puck carrier from behind, allowing the defensemen to move up. This takes away space and time from the offense, forcing them to dump the puck.
The NCAA's attempts to rid the game of clutching-and-grabbing infractions has influenced the way the team plays in its own end of the ice, where Vermont is usually strong.
"Our defensive-zone coverage is based on taking away time of possession in our zone and getting the puck out as quickly as possible," explains Sneddon. "In order to do that, we try to outnumber the puck as quickly as possible, so our opponent cannot find open seams or shooting lanes.
"We went to this system when college hockey tried to crack down on obstruction. We did not want long battles along the wall to emerge as part of our game. The quicker we ended those battles, the less likely we would be called for a penalty."
Opposing coaches in Hockey East have taken notice, pegging UVM as a difficult team to play against.
"When they're thorough defensively, they're very stingy," says Massachusetts coach Don "Toot" Cahoon. "You don't get second-chance opportunities, so they can win the close game, and they've won a lot of low-scoring games."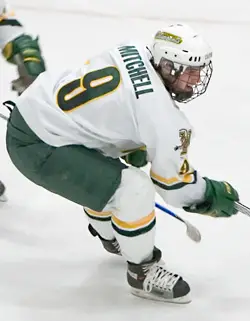 Providence's Tim Army says, "They work hard. … They make it difficult on you to get a lot of opportunities, and I think that's fairly consistent with all their opponents."
Shot-blocking and eliminating shooting lanes are a large part of what makes the Catamounts' penalty kill one of the best units in the nation.
"If we give up a shot, then we haven't done our job — especially from the outside," says Mitchell, the team's leading scorer and arguably its best penalty-killer. "You've got to have your stick in the right position [and] never lose the shooter's shooting lane. That's pretty much been the key … getting our bodies in front."
"We call the front of the net 'Bloody Nose Alley,' and if the puck's there, we've got to do whatever we can to get the puck out of there — whether that means throwing your body in front of someone, then that's what you've got to do to get the puck out of Bloody Nose Alley. So everyone's bought into our system."
"Everybody who's out there is willing to drop in front of the puck," says Macaulay. "It obviously doesn't feel too good, sometimes, but it's important that we do it. It helps out Joe, a lot."
It's not like Fallon needs much help. The Hobey Baker Award candidate and semifinalist for the Walter Brown Award has already left skate marks all over the school's record book. Averaging one shutout every five-and-a-half games played, Fallon currently holds seven UVM goaltending records.
"I just believe that playing good defense breeds good team chemistry and teaches the individual to sacrifice for the good of the team," says Sneddon. "We will always be a good defensive team as long as I am coaching here at UVM."
The players carry wallet cards which remind them of the ten aspects that they review after each game.
"It's called our Ten Categories for Success," Mitchell says, "and if we achieve … seven out of ten on the road, and six out of ten at home, then we put ourselves in a 98-percent chance of winning the game."
No doubt, one of the ten categories has to involve blocking shots. Taking it for the team is what the coaches demand, and the players willingly accept. If that holds true for the rest of the season, the Catamounts just might be using those orange pucks in practice, deep into March.