Never mind that Northern Michigan freshman goalie Brian Stewart almost singlehandedly eliminated Ohio State in last weekend's first-round CCHA series.
He's just elated to be playing college hockey after bouncing around the Canadian junior ranks the past two seasons and three seasons ago in the ill-fated Continental Elite Hockey League.
The six-team CEHL, a non-sanctioned junior league that allowed 21-year-olds, lasted only three years (2001-04), but in its final year, Stewart was part of the Continental Cup champion Metro Fighting Moose out of New Jersey.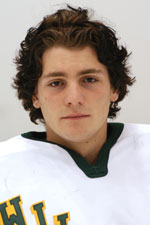 His older brother, Dave, who ultimately ended up leading the CEHL in scoring after an early-season trade, began the year in New Jersey with his kid brother. The Moose had former NHL defenseman Bruce Driver as their assistant coach and director of player personnel and Ken Daneyko as an assistant coach as well. Their head coach was former minor pro and junior coach Dave Lohrei.
Stewart is arguably the league's bragging right when it comes to players it sent to Division I colleges. Most players, if still playing, are in the low minors or playing Division III. One player, bruising forward Steve MacIntyre, signed with the New York Rangers after being banned for life from the CEHL for on-ice brutality.
Driver became close with Stewart, then 18, and saw potential far beyond the junior ranks.
"I certainly had a vision for Brian as a Division I goalie, but it was just a matter of whether he wanted to work hard enough to become one," Driver said. "At such a young age, he was already a very good goaltender, but there was still so much potential for growth as a player that it seemed inevitable."
Fast forward three years to last weekend.
Northern Michigan was facing Ohio State in a first-round CCHA playoff series. Bill Zaniboni had gotten the hook in the first game and NMU head coach Walt Kyle inserted Stewart, a goalie who had just three NCAA starts up to that point — though one was beating then-No. 2 Miami back on Nov. 4.
The Wildcats lost the game when Stewart came in, but he played the role of superhero last Saturday and Sunday and eliminated the Buckeyes.
"I think the biggest single thing … is we changed goaltenders," Kyle told reporters Sunday. "And that's no slight on Billy (Zaniboni). We changed goalies and the kid (Stewart) was unbelievable. I mean, he was unbelievable. The save he made in the goalmouth down here (Sunday) in the third, that's pure athlete right there."
The "pure athlete" save Kyle mentioned was Stewart's spread-eagle stop of Corey Elkins' point-blank shot with five minutes to go in the third, just one of many highlight-reel plays Stewart made last weekend.
Stewart said that the Miami win was his coming-out party and after that 39-save performance several months back, his confidence level hit astronomical proportions.
"I played the third period the night before, but when I was told I'd be starting that Saturday game, sure, I was nervous," said Stewart, a native of Burnaby, B.C. "But once I got out there and made the save on the first shot, which was a breakaway, I kind of settled down and the pressure went away.
"That game maybe wasn't my best or favorite all-time, but definitely top three. I had some good ones in junior."
With the Moose, Stewart was named the league's rookie of the year and shared top goalie laurels after a 19-1-0 record with a 1.78 goals-against average and a .940 save percentage. In the playoffs in 2004, Stewart was even better with a perfect 3-0 mark, an 0.67 goals-against mark and a .978 save percentage. This year, through last weekend, Stewart is 3-2-0 with a 3.23 goals-against average and a .904 save percentage.
"As a coach, I encouraged Brian to work hard in practice as that is where all young players can improve the most," noted Driver. "He had the mentality to push himself and to stop everything in practice. Coach Lohrei, (Moose general manager) Mark Puttenvink and myself all took an interest in Brian's development as we quickly found that he was probably the player on our team with the most potential.
"That's not to say we didn't have an interest in all our other players, but as junior hockey coaches, it is our job to develop and prepare all our players for the next level. We also had former Michigan goalie Al Loges help us out at training camp, which was a huge plus for Brian because he had never had a goalie instructor before."
The 6-foot-4, 195-pound Stewart spent the 2004-05 season in the Ontario Provincial Junior Hockey League with the Cobourg Cougars and last year back home in B.C. with the Alberni Valley Bulldogs of the British Columbia Hockey League. College was his top priority and said Maine had an interest in him, but it never went further than that.
"A few other schools were after me, but Northern made the best offer," said Stewart, now 22. "I knew coming in here that Billy was the starter and I'd be the backup. That was fine with me and early on I got a good feel for things here. Zaniboni has helped me out on the ice, giving me tips and stuff like that. He's especially helped me with my rebound control.
"I really like it here, too. Walt runs a good program and I think it's been a good year. Hopefully, we can keep it going."
Stewart is planning on sticking around Marquette through the early part of the summer to take spring/summer classes and "to sort out everything" academically.
But based on his play last weekend, it appears some of the "everything" may already have been straightened out. At least on the ice.