Wisconsin's Jack Skille today signed a three-year contract with the Chicago Blackhawks, forgoing his final two years of eligibility.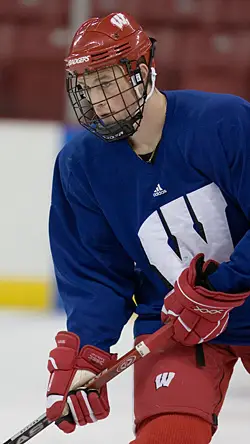 "We feel Jack is a very dynamic player with size, speed, skill, and grit," said Blackhawks General Manager Dale Tallon. "He has the makings of a strong power forward in the National Hockey League. He has a great attitude and is a character kid."
Skille was the Blackhawks' first-round pick and seventh overall in the 2005 NHL Entry Draft.
Skille, 19, skated in 26 games this past season, tallying eight goals and 18 points. The sophomore tallied one power-play goal, short-handed goal and game-winning goal to go along with 12 penalty minutes and a plus-3 rating for the Badgers. In two seasons and 67 career games at Wisconsin, Skille collected 21 goals and 39 points, to go along with 49 penalty minutes, a plus-12 rating, four power-play goals and three game-winning scores.
Skille played for the United States in the under-20 World Junior Championships for the past two years. In the 2005 World Juniors, Skille appeared in seven games and scored two goals with four penalty minutes. In the 2006 World Junior Tournament, Skille played in 7 games and scored one goal while adding five assists for six points with 14 penalty minutes.
In the 2005-06 midwest regional finals, Skille scored the game-winning goal in triple overtime to give Wisconsin a 1-0 win over Cornell. In his two years at the Wisconsin, Skille appeared in 67 games scoring 21 goals and adding 18 assists for 39 points with 49 penalty minutes and won a national championship in 2006.
Skille is the second Badger underclassman to leave the team this week. On Tuesday, junior defenseman Joe Piskula signed a multi-year entry-level contract with the Los Angeles Kings.