Three of the four teams in St. Louis this week played in last year's Frozen Four. The exception? Michigan State, making its first appearance in the national semifinals since 2001.
"We're thrilled to be here, obviously," said MSU head coach Rick Comley, who then cautioned, "I think our goal is not just to be here, but to make something happen."
Sophomore netminder Jeff Lerg concurred, offering up a variant on the old chestnut that no one remembers who came in second place.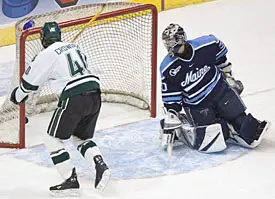 "People don't remember who was there, they remember the champions," Lerg said.
That may not be entirely true in this case, since plenty of folks remember with great clarity that Boston College, North Dakota and Maine were all on this same stage a year ago, even though none won the title.
Moreover, Michigan State is the first CCHA team to reach the Frozen Four since 2003, when Michigan made the field. To what extent are the Spartans here for themselves, for their school, and for their league?
"To gain a little bit of respect for the conference would be nice," said senior forward Chris Lawrence. "The WCHA and Hockey East have been predominant [recently]. … But we can't let too much get into our heads."
"You know, that's such a hard question," said Comley on the topic of conference strength, and what it means for the Spartans to be playing this week. "I just read a thing with [St. Lawrence coach] Joe Marsh defending the ECAC, and it's a great league.
Added Comley, "Last year, we thought we were good enough to get here, and ended up falling a goal short."
The MSU bench boss noted the role of good old-fashioned puck luck in deciding teams' fates, and named CCHA teams like Michigan, Notre Dame and Miami as worthy contenders who could have filled the role in which the Spartans find themselves.
"What's the difference between Michigan State and Notre Dame?" he asked rhetorically, referring to MSU's one-goal win over Notre Dame in the Midwest Regional final
In the end, a couple of games this weekend can't definitively answer questions about which league is the best. But it will answer a question of more immediate importance to the teams at the Scottrade Center.
"There's nothing wrong with the CCHA, and are we representing them? Sure," added Comley. "But we're also one of four teams here to win a national championship."
Wait 'Till This Year
In case you hadn't heard, Michigan State and Maine played in last year's NCAA tournament. The Spartans, unsurprisingly, remember it quite well.
"We haven't forgotten about that game, and I'm sure they haven't either," said Lerg. "The main goal for us is to make sure we play all 60 minutes against them."
In that game, the Black Bears blitzed the Spartans early, then hung on for a 5-4 win in the East Regional final to move Maine into the Frozen Four. That, of course, puts the revenge factor in play for MSU.
"We don't need any extra motivation as a team," Lawrence demurred. "In big games, Maine shows up. They lost four straight against UMass, and then when there's a berth in the Frozen Four on the line, they come through."
Odd Couple
The starting netminders in Thursday's early semifinal aren't exactly two of a kind, in style or anatomy. Ben Bishop of Maine stands 6-foot-7, a rarity for any hockey player, let alone a goaltender. Lerg, meanwhile, is 5-foot-6.
Asked about the difference between shooting on Lerg in practice and firing at a goaltender 13 inches taller, Lawrence quipped, "I don't know, because we don't have a goaltender 13 inches taller."
Size differences aside, both have been instrumental to their teams' success, a fact that does not surprise Comley.
"I think hockey today, it's all about goaltending," he said. "No one expects to score easy."
As for the Lerg-Bishop matchup — the two know one another from select camps in their pre-college years — Lerg sounded ready to go.
"I go into every matchup thinking that if I outplay the other goalie, we're going to come out on top," he said.