It's no doubt that draft week is a fun time for any of the top prospects. But for Ryan McDonagh, who was named Mr. Hockey in Minnesota as the state's top player this season, his draft week was extra special.
Last Friday, McDonagh's Cretin-Derham Hall high school varsity baseball team captured the Minnesota Class 3A baseball championship. Playing designated hitter, McDonagh knocked in two runs in a 4-3 victory over in-state rival (and hockey rival) Eden Prairie.
"It was pretty sweet to end my high school career like that there," said McDonagh, who was ranked 11th among North American skaters by the NHL's Central Scouting Bureau (CSB), though he finished 58th in the International Scouting Service's (ISS) final rankings.
Asked if there was ever a question whether McDonagh would play hockey or baseball, his answer was clear.
"Hockey was always my dream, what I pursued," McDonagh said. "Baseball I played all the way growing up and this was a nice way to end a career."
Badger Buddies
Long before they share the stage at the NHL Draft, McDonagh and top CSB prospect Kyle Turris have already shared something else: friendship.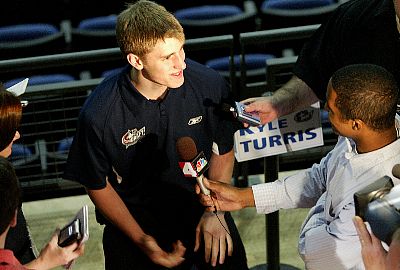 The pair met last summer at the Under-18 Championships. With both planning to attend the University of Wisconsin, a decision was made after that to become roommates.
It obvious by talking to the two that they already share one thing in common: respect for one another.
"He's an unbelievable player. He's real humble for how talented he is," said McDonagh. "He's definitely going to be a great player."
"We're really good buddies," said Turris. "We're going to have a really fun year, living together and sharing all those great experiences. It'll be fun playing with another great player and all the great freshmen we have coming in."
Possibly the happiest about the situation may be Wisconsin head coach Mike Eaves. The only question he'll likely have on his mind is just how long this pair can last in Madison.
Well Then, How Long Can They Last?
As mentioned above, Eaves may not be the only head coach wondering how long his blue-chip recruits will stay in college. In addition to Turris and McDonagh at Wisconsin, New Hampshire coach Dick Umile also has to be concerned about how long his top prospect, James vanRiemsdyk, will last in Durham .
"It's more of a case-by-case basis," said vanRiemsdyk of when he'll be ready to turn pro. "Some guys might take a year, some guys might take four or five years to be ready to play in the NHL.
"I'm just looking to take it year by year and see what happens."
McDonagh had similar feelings.
"I'll definitely be at Wisconsin next year. And for myself I can only judge how good I am after my freshman year," said McDonagh. "I'll have to judge for myself when I'm mentally and physically ready to make the jump to the NHL. I'm not going to jump into a situation that's not solid. I'm just going to try to get better every day and see what happens."
VanRiemsdyk, who played last season with the U.S. National Team Development Program and finished third among North American skaters in the final CSB rankings, said he feels his personal development has gone extremely well over the past 12 months.
"I felt like I started to progress a lot faster going to the U.S. team," said vanRiemsdyk, who turned 18 only six weeks ago but already stands at 6-foot-3 and 200 pounds. "There's a big emphasis on off-ice training there and I think that's helped me enormously. I've gotten bigger and stronger and more confident up and down the ice. That's helped push my development along a little faster than the average guy."
Sleepless Nights
As much fun as the prospects may have at the Draft, running from autograph signings to hockey clinics to media lunches, the one thing seemingly absent from a lot of these players' lives is sleep.
The ability to get a good night's rest — at least for top prospect Turris — is overshadowed by butterflies in the stomach.
"I'm able to sleep hardly at all," said Turris. "I go to bed and end up staying awake for two or three hours rolling around thinking of all of the possibilities."
Back to the 'Bus
Bringing the Draft to Columbus marks just the third time that the NHL Entry Draft has been held in a city that also had previously hosted the NCAA Frozen Four. Columbus, of course, hosted the 2005 Frozen Four, won by Denver .
In 1999, Boston and the FleetCenter (now TD Banknorth Garden) hosted the Entry Draft a year after Michigan captured the 1998 NCAA Championship in that very same building. Detroit and the Joe Louis Arena played host to the 1987 Draft, just months after North Dakota took home the 1987 NCAA title.
Conversely, two cities have hosted NCAA Frozen Fours after the NHL Entry Draft had paid a visit — St. Louis (2007 NCAA Frozen Four and 1996 NHL Entry Draft and Buffalo (2003 NCAA Frozen Four and 1998 NHL Entry Draft).
E.J. Says
This year's media luncheon featured a new wrinkle that certainly entertained the media. CSB director E.J. Maguire, one of the game's better personalities, gave his bureau's thoughts on each of the 17 prospects who were brought to the luncheon. Here's what he had to say about some with college ties:
Tommy Cross (i-Boston College)
"You're struck by his long, strong stride. He loves to carry the puck up the ice for a defenseman."
Ryan McDonagh (i-Wisconsin)
"You'll see him up the ice as a defenseman but because he's such a good skater you'll also see he's the first man back."
James vanRiemsdyk (i-New Hampshire)
"Don't try to get the puck off him. He's your prototypical power forward who can be compared to the likes of Cam Neely and Todd Bertuzzi."
Kyle Turris (i-Wisconsin)
"Kyle comes in with a ton of pressure. This year he lived up to it. There was nothing but praise for him coming from his coach, (former Vancouver Canuck and Toronto Maple Leaf) Rick Lanz."