Quinnipiac announced Monday that head men's ice hockey coach Rand Pecknold has signed a two-year contract extension that will run through the 2011-12 season.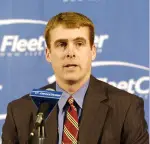 "I am very pleased that Rand Pecknold will continue to serve as our head men's ice hockey coach," director of athletics and recreation Jack McDonald said. "He continues to elevate our program within ECAC Hockey and the Division I ranks. I am very confident that our men's ice hockey program will maintain its continued success within the ECAC, at the TD Banknorth Sports Center and in the classroom in the coming years."
Pecknold will enter his 14th season behind the Quinnipiac bench in 2007-08. In his previous 13 seasons as head coach at Quinnipiac, he accumulated the most wins of any coach in program history and was a two-time finalist for the Spencer Penrose Award, given annually to the nation's top Division I college hockey coach. Pecknold guided Quinnipiac to two MAAC regular-season titles, one Atlantic Hockey regular-season title, one MAAC tournament title and the first-ever NCAA berth in program history in 2002.
To date, Pecknold has amassed a 243-149-37 career record. Included in that overall mark is a ledger of 141-58-26 in conference play at the Division I level.
"I've extremely appreciative of the commitment displayed once again by Quinnipiac University and its senior administrators to myself, my family and our men's ice hockey program," Pecknold said. "I am very proud of our accomplishments over the past 13 years, but I feel that the best is yet to come as we continue to move forward on a national level."
Terms of the contract were not disclosed.