Midway through the second period of a game with Minnesota-Duluth early in their season, the Denver Pioneers were tied 1-1. The Pioneers, who missed qualifying for the 2006-2007 NCAA tournament by one win, have approached this season knowing how important every game is, especially in the ultra-competitive WCHA.
Right after Peter Mannino made a big save on a partial breakaway, sophomore assistant captain Tyler Ruegsegger spied his linemate, Rhett Rakhshani, grabbing the puck along the left side boards. As Rakhshani started to backhand it out of the zone, Ruegsegger sped out of the zone, trying to get a step on Duluth defenseman Evan Oberg.
As the puck landed in front of them, Ruegsegger and Oberg fought for position, skating through the neutral zone. Just as Ruegsegger got his stick on the puck, Oberg, falling down, hauled him down at the Duluth blue line.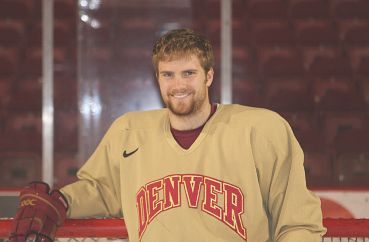 Ruegsegger quickly popped to his feet while Oberg lay on the ice, took two strides to the left side circle and backhanded the puck to Anthony Maiani in the slot. Maiani fired it into the open net, sparking the Pioneers to a 5-1 victory.
It is this kind of singular, gritty effort that led Pioneers' coach George Gwozdecky to name Ruegsegger an assistant captain in his sophomore season.
"I think how he plays, how he carries himself in the locker room, all scream of his tremendous leadership capabilities," said Gwozdecky. "He's an intelligent player who plays extremely hard, a difficult guy to play against. He's not a real vocal individual, he's not a guy that gets up and makes a lot of speeches, but just the way he lives his life, the importance that school and hockey have in his life, and how he carries himself, are a shining example for all of his teammates to follow."
Ruegsegger, who grew up nearby in Lakewood, Colo., started playing hockey at age five, inspired in part by a cousin who had taken up the game. He played in the Arvada Hockey Association at first, then started playing in Littleton.
Ruegsegger, like many hockey players, was a two-sport athlete initially, playing baseball over the summer. However, at age 12, he started to concentrate entirely on hockey.
"I loved playing baseball growing up and at one point kind of had to choose between hockey and baseball, and hockey obviously won that. I started doing some summer teams, stuff like that, and you really couldn't commit to both sports. [Hockey's] just my passion; hockey's the game I love. I love everything about it, the game, the speed, the quickness. Playing it's fun and that's probably why I chose it."
Shortly after he started playing, the Avalanche moved to town from Quebec, and like many kids his age that had a big impact.
"I think when I started there was the Grizzlies, the IHL team," said Ruegsegger. "They obviously had a big impact and then when the Avs came absolutely, no question, it made a big impact and increased hockey here. And obviously I grew up following Denver as well; we had season tickets for quite a while and I grew up wanting to play for them and then got the opportunity."
As Ruegsegger approached high school age, he and his family realized that Colorado had limited hockey opportunities for teenagers, and if he wanted to step up to the next level, he would have to play somewhere else. After considering the USHL, Ruegsegger finally chose to attend Shattuck-St. Mary's in Faribault, Minn.
"We were looking at prep schools, and academics have always been really important to me and Shattuck was a place that has great hockey, obviously, and great academics as well," said Ruegsegger. "What also made it easy to choose Shattuck is that my mom, my sister and I moved there and my dad stayed here with his business; he's got a business here, and he flew back and forth every weekend. So the fact that he could get back and forth every weekend was huge."
Ruegsegger's mother and sister Rebecca still live in Faribault; Rebecca is in 11th grade at Shattuck and plays goal for the girls' prep team.
While at Shattuck, Ruegsegger competed with future North Dakota players Jonathan Toews, Chay Genoway, and Taylor Chorney, winning a national championship with them. While they never really tried hard to get him to go to North Dakota, playing against them, he says, is interesting.
"They knew I was from Colorado, so they knew I was always going to probably go to Denver if I had the chance. It's always fun playing them though. It's crazy, because you go out and you're battling guys you won a national championship with. It (winning the national championship) was great, one of the best experiences of my life for sure. Not only the guys on the team that you get to play with and become friends with, they're now your lifetime friends, but my coaches there, Tom Ward and Jon Austin were phenomenal coaches and phenomenal people too. I learned a lot that year about life and hockey."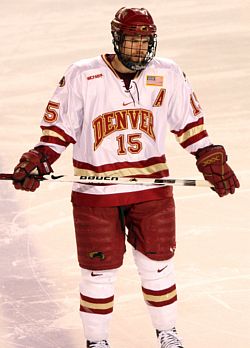 Ruegsegger had always wanted to play at Denver. However, according to Gwozdecky, it was the defection of Paul Stastny that brought him to Denver as a freshman last season.
"The original plan in recruiting him, when he decided to come to Denver, after he graduated from Shattuck he was going to play a year of Junior A hockey, with the River City Lancers in the United States Hockey League, and that was the plan right up until the spring of that year, when we realized that guys like Paul Stastny, there was a good chance of him moving.
"So, at that time, we changed our plan, and in a conversation with him and his father, we said, 'We'd like you to come here, if you feel you're ready,' because we felt he was ready based on the improvement we had seen over the year, and it's worked out extremely well."
For Ruegsegger, coming to Denver was a dream come true, and, as sentimental as it sounds, just putting on the jersey is what he remembers most fondly from his first year.
"You know, coming in here it really was living a dream; just to have the opportunity each game to go out there and do that was something special. With the teammates, and the guys, the way I was treated as a freshman, that's something I'll remember my whole life. When I came in here as a freshman I just wanted to work as hard as I could. You know, when you do that, hopefully you get opportunities, and Coach has really blessed me with opportunities in the last year."
During his first season, Gwozdecky came to rely on Ruegsegger's playmaking and offensive capabilities. Ruegsegger finished fourth on the team in scoring last year, and midway through the season Gwozdecky moved him to the point on the first power-play unit, a position Ruegsegger had never played. However, Gwozdecky felt Ruegsegger's skills made his move there an easy choice.
"Playing a position like that, especially right where he's at, requires real good on-ice vision, the ability to make decisions under pressure from the opposing team, you have to be an excellent passer, and you have to be able to shoot the puck hard, and your catch and release skill has to be excellent. Those are all things that Tyler has."
Asked about playing the point, Ruegsegger again stresses the team concept. "You know, I just came in one day to practice and that's how it was set up. I like it. I like being back there with 'Buts' (Chris Butler). Anywhere on the power play I feel fine, but I've had some success doing it that way and no matter what, sometimes you change things up and if you get some success you go with it so it's worked out well for us so far."
Of course, the season ended in disappointment for the Pioneers, as they failed to qualify for the NCAA tournament. That the West Regional was held in Denver added to the feeling. With the Frozen Four in Denver this year, the team has set a goal of returning to the tournament.
"Last year, you know, the regionals were here and we weren't able to make it and it was a terrible feeling, especially when it's in your backyard, so this year that's definitely one of our goals, to make the tournament and then if you get to the Frozen Four it's a great opportunity for us."
In his sophomore year, Ruegsegger has stepped up as a leader and a player. He currently centers the first line with Rakhshani and Maiani, and looks to help the freshmen, and his teammates, succeed in any way possible.
After any game, win or lose, Ruegsegger always talks about his teammates and the skills of the other team. It would seem like a cliché if he weren't so sincere about his belief in team play, something Gwozdecky echoes when asked about how he decided to pair Ruegsegger with his current linemates.
"He makes everybody he plays with better; that might be the ultimate compliment you can pay any athlete, that no matter who you play them with, they make those people better, not only by how they play, but how hard they play, their skill level, their sincerity, and with Tyler, it's all about team. It's not about him, it's about the team, and he plays so hard to help his teammates have success."
Looking ahead to the rest of the season, Ruegsegger is excited about helping the large freshman class adjust to college hockey, and do anything possible to help his team reach the Frozen Four.
"I love the role I have this year, and I'm thankful for that role I have, and I want to use it to help the team out as best I can. Whether that's getting goals or creating turnovers on the forecheck or making great defensive plays, it all plays a part. You can't focus on one area or the other; you have to be a complete player to help the team win."