The U.S. National Junior Team fired 49 shots on goal in helping it to a 3-2 win over Russia in its third preliminary-round game at the 2008 International Ice Hockey Federation World Junior Championship here tonight.
"Our guys played with deep belief in themselves," said U.S. Head Coach John Hynes. "Our commitment to team play was evident and I thought as the game wore on, we showed good survival skills when we needed to. We definitely took another step forward."
Team USA forced five straight Russia penalties to start the game and eventually capitalized on a five-on-three power play at 11:31 when Tyler Ruegsegger (Denver) put home the rebound of a shot from the center point by Jordan Schroeder (U.S. National Under-18 Team). Kyle Okposo (St. Paul, Minn.) also drew an assist on the play. The United States, which outshot Russia 18-7 in the period, had several other golden opportunities in the stanza, but was held at bay by Russian netminder Sergei Bobrovsky.
The only goal of the second period came at 8:36 when Alexei Cherepanov put the puck past a helpless Jeremy Smith (Plymouth (OHL)) off the rebound of Nikita Filatov's initial shot from near the bottom of the left circle. Rhett Rakhshani (Denver) nearly put the United States back in the lead with under eight minutes to go in the period, but his shot from the low slot rang off the post. Two minutes later, Mike Carman (Minnesota), who was foiled at least twice in the first period, had a good chance from point blank range but was stopped by Bobrovsky.
Team USA recorded a pair of goals in the first half of the third period to open up a two-goal lead. James vanRiemsdyk (New Hampshire) recorded the first on the power play at 3:01 when he sent an innocent-looking shot toward the net that Bobrovsky got a piece of, but then had deflect off his pad and into the net. Then at 7:44 Carman grabbed a loose puck at the side of the net, came out in front, and found the back of the net. Blake Geoffrion (Wisconsin) and Chris Summers (Michigan) also gained assists on the play. Russia made it interesting when Viktor Tikhonov beat Smith at 14:36, but Team USA played strong down the stretch and gained the victory.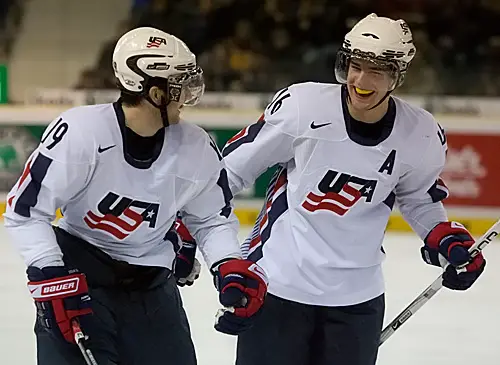 Smith made 28 saves to pick up the win, while Bobrovskky had 46 stops in a losing effort.
Team USA will finish preliminary-round play Monday (Dec. 31) against Finland at 12 p.m. EST in Liberec. Regardless of the outcome, Team USA has earned a bye into the semifinals of the tournament and will play a yet to-be-determined opponent on Friday (Jan. 4).