In 22 games this year, Harvard had scored more than three goals only twice and not once since Nov. 10. Boston College had done it in 11 of its last 15 games. In fact, BC averaged better than that mark: 3.67 goals a game.
And when the Eagles scored, they took care of business. Dating back to October, 2003, they were 79-0-1 in games in which they scored at least four goals.
So what was Harvard doing rallying from a 5-3 third-period deficit against BC to force overtime in the Beanpot championship game?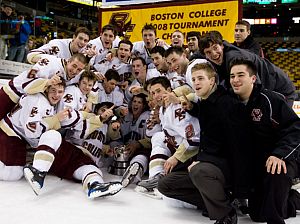 Two plus two was adding up to five. Three plus three totaled seven.
In was only fitting, then, that in a statistically bizarre Beanpot championship, BC's top goalscorers — Nathan Gerbe, Benn Ferriero and Ben Smith — would be held without a singleton while defenseman Nick Petrecki scored not only his first collegiate goal midway through the second period but added the game-winner.
"It's every Boston kid's dream to get the OT-winner in the Beanpot and I've been coming since I was five," Petrecki said. "It's a dream come true.
"It was just about being in the right place at the right time. I took a swing at it, closed my eyes and luckily it went in."
Ironically, Petrecki was very much in the wrong place at the wrong time on Harvard's pivotal fourth goal. Jon Pelle carried the puck up ice, Petrecki had him lined up, and then … Petrecki was on ice, picked off by a curiously positioned lineman. Pelle ripped a shot into the top of the net and when Mike Taylor added the equalizer minutes later, the linesman began gaining support for tournament MVP.
"It was one-in-a-million that it would happen," Petrecki said. "I was very frustrated at that point, very upset, but Coach [Jerry] York talks about the hockey gods being with us and everything happens for a reason. I believe that happened tonight."
If the Eagles are just a little more battled tested for the postseason thanks to those hockey gods, the adversity weathered may serve them well in the postseason.
"I really feel good about the club," York said. "We are playing better as the year goes on. I feel really good about what is happening to the Eagles."