Boston College freshman goalie John Muse is similar to a baseball pitcher who has the option of starting or relieving.
Some pitchers prefer to relieve because they can work multiple times during a week whereas starters are off four days between outings.
Muse, admittedly, can't get enough action, but even he was surprised at the amount of time he spent between the pipes this season, especially because last year at this time he was wrapping his senior season at Noble and Greenough School (where he earned Goaltender of the Year honors from U.S. Hockey Report).
"Coming into the season I had big expectations," said Muse, who went into preseason practice battling sophomore Alex Kremer and freshman Andrew Margolin for the starting job. "I'm a competitive kid. I wanted to win that starting job and play in every game.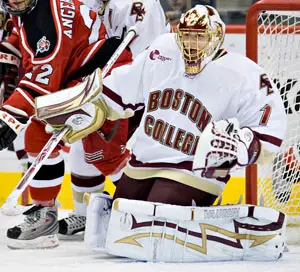 "Realistically, I felt I could win the starting job but I didn't expect to play every minute of every game. That was a pleasant surprise for me."
Indeed.
Then again, Muse's craving for minutes didn't develop overnight. It was the reason why he changed positions during his youth hockey days.
"Like any other kid when you start playing hockey, everyone gets a shot at goalie," said Muse. "For a while I played goal and forward, probably through Squirts. I actually ended up liking playing goalie and had more fun than playing forward.
"When I was a kid everyone wanted to play forward and score all the goals. I saw where I would play a couple of minutes and sit on the bench. Being a goalie you're on the ice all the time and are always part of the game."
Entering this weekend's Northeast Regional at Worcester, Mass., Muse has played 2,472 minutes and 55 seconds, which leads all Division I goalies. The only time he wasn't in goal amounted to 8 minutes and 32 seconds when coach Jerry York pulled him late in games for an extra skater.
"All" Muse has done as a rookie is post a 21-11-8 record, 13th in the nation in winning percentage; a 2.26 goals-against average; and a .919 save percentage (the latter two stats each rank 20th in the nation, which isn't too shabby considering Muse is still a teenager).
Oh, and in the Hockey East tournament, he blanked Vermont, 4-0 — only the second shutout in tournament finals history.
Other than that …
Yes, there is something else. Muse replaced one of the best goalies in Boston College history in Cory Schneider (who turned pro after last season and signed with Vancouver).
That's the same Cory Schneider who holds BC's all-time shutout record and the single-season saves record (he broke it two years ago and emulated that feat last year) and who was in goal for each of the last two NCAA championship games.
"Even before I got here I got the 'You're going to replace Cory Schneider' even from my friends," admitted Muse. "I listened to it and thought about it. I knew I wasn't going to come in and be Cory Schneider right away. The last two years he led the team to the NCAA title game. That alone says how good he is.
"I knew if I worked hard I would do well. I worked as hard as I can and think I've done well."
How true. Otherwise, why would York have given such a callow goalie so much playing time? Because Muse worked on both the physical and mental aspects of his position.
"I think I've had to work on rebound control," he said. "But every new goalie coming into a faster league has to work on that. I didn't see shots as fast as the ones I'm seeing now
"My coaches also stress mental toughness. Obviously, there are going to be ups and downs for any goalie. But I don't forget it entirely. There's a part of it you have to remember so you don't make the same mistake again. I'm pretty good at remembering what not to do and not remembering the entire thing."
Otherwise Muse might be a basket case.
Muse and the Eagles also possess another quality that can't be purchased at your neighborhood hockey equipment shop — a quality that's a major reason why they not only won the Hockey East tournament but also earned the No. 2 seed for the Northeast Regional.
"Every team has its bumps in the road," said Muse. "The thing we've stressed this year has been optimism. Everybody's been optimistic this season even when we've had rough patches. Without that we'd still be struggling.
"Our team chaplain (Father Tony Penna) stressed it a lot. We take what he tells us pretty seriously. As soon as he brought up the optimism thing, we jumped on it and have taken it with us throughout the year."
Who knows? Maybe it'll even take Muse and the Eagles to a third consecutive Frozen Four.