Midway through the first period of the first semifinal game Thursday night in Denver, Boston College held a one-goal lead over North Dakota, but the Sioux were going on a power play. For an offensively-explosive team like North Dakota, it presented a perfect opportunity to get back into the game.
Boston College's Nathan Gerbe had other ideas.
Gerbe intercepted a pass and broke up the left side, using his incredible speed to get a step behind the Sioux defense. Gerbe skated in alone on Sioux goalie Jean-Philippe Lamoureux and beat him five-hole with a quick wrist shot for an unassisted shorthanded goal at 13:14.
Just two minutes later, Gerbe made it 3-0 with a shot that dribbled past Lamoureux, and the rout was on.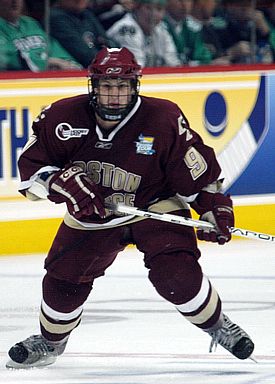 Gerbe got the hat trick with a beautiful power-play goal at 6:37 of the second, stepping out from behind the net and using some quick steps to get Lamoureux to commit low, then lifting a backhand top shelf.
He added an assist later in the period, finishing with four points in the Eagles' 6-1 win, as the Eagles advanced to their third consecutive National Championship game.
In March, Eagles' coach Jerry York had talked about how important Gerbe's play would be to the success of his team in the post-season, calling Gerbe "one of our real important cogs."
Considering that Gerbe struggled offensively down the stretch, he has certainly lifted his game in the post-season, scoring nine goals in the Eagles' seven post-season games so far.
"Our team went through a tough stretch, and myself I went through a tough stretch, and that's when you have to look in the mirror and see if you're being an honest player," said Gerbe. "The coaches did a great job with keeping me from not trying not to cheat the game and just play hard and smart and it will come to you. That's what's happening right now. I've got great linemates, Ben Smith and Brian Gibbons, so that definitely helps out."
For the Sioux, seeing Gerbe play well against them has become a familiar pattern. Gerbe had two goals and two assists in last year's 6-4 semifinal win over the Sioux.
"He played well," said Sioux coach Dave Hakstol. "Certainly we had some matchups in mind and tonight Nate Gerbe did a great job. Certainly he was the difference-maker in the hockey game."
Lamoureux agreed that Gerbe's speed and offensive skill are important weapons for the Eagles.
"Gerbe's an explosive player, and you certainly can't give him opportunities like that. He proved why he's a Hobey Baker finalist. He just made a lot of good plays. He's probably one of the fastest guys in the country. As defensemen, you've got to respect that and as a goaltender you know he's going to be coming in with lots of speed. Obviously, he's got a good release and he finds openings and finds ways to score goals. He showed that tonight. He had a few goals in different types of situations. You've really got to respect a player like that."
York agreed that Gerbe has definitely lifted his game.
"You need top marquee players to get to the final game and win championships, and he's certainly one of ours," said York. "I think right now he's playing perhaps his finest hockey, but he's played a lot of good hockey for us."
For whoever plays the Eagles in Saturday's final, stopping Gerbe will obviously be critical to their success.