Before this season's start, North Dakota coach Dave Hakstol drew up a multiplicity of line combinations and defensive pairings. None of the scenarios he envisioned included senior forward Brad Miller on defense.
All that changed when senior defenseman and assistant captain Joe Finley suffered a concussion just two games into the season, an injury that kept him off the ice for more than two months. On Nov. 7, in the first game of a series with then top-ranked Colorado College, Miller, who'd played forward his entire life, started on the blue line for the Fighting Sioux.
"It was kind of a scary, weird feeling for me being thrown in against their offense at a time when they were playing really well," said the Alpharetta, Ga., native.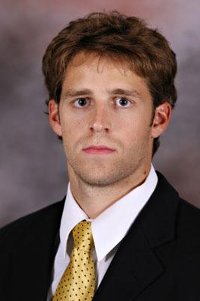 Miller's successful transition to defense and Finley's return to action on Dec. 27 are two of the reasons the Sioux have gone 11-3-2 after a 5-8-1 start. With eight games remaining in the regular season, Miller has become a fixture in the UND defensive corps and will likely remain there until season's end.
"He's really excelled with the opportunity," Hakstol said. "He's making plays with the puck, doing a good job of containing defensively and he's throwing some big hits."
With four goals and 19 assists, Miller is tied for second in scoring on the team. He's also the 11th-highest scoring defenseman in WCHA play (2G, 10A).
Miller's offensive production didn't come as a surprise to the UND coach.
"On the blue line you have a little more time and space; you have more time to read things," Hakstol explained. "He makes plays everywhere, and that's what we're seeing from him back there."
What's been surprising is that Miller has shown a physical side to his game not displayed during his three seasons at forward.
"He's probably had our biggest hit of the night for four or five nights," Hakstol said.
While Miller doesn't go out of his way to deliver bone-jarring checks, he won't pass up an opportunity to make one.
"I've been on the other end of that too many times to not go get somebody with their head down," he said. "That's one of the benefits to moving back to defense from forward. You take a lot of punishment playing forward."
When Finley went down, Miller might have been considered one of the least likely players on the Sioux roster to replace the 6-7, 245-pound, first-round draft choice of the Washington Capitals. At 5-10, 174 pounds, Miller wasn't known for his defensive play or physical presence.
"I don't know that Brad was the most obvious choice," Hakstol said. "He wasn't the most rugged forward. He does have great skating ability and good vision on the ice. The big question was whether he could survive defensively."
As a freshman, Miller played in 15 games and didn't have a point. His sophomore year, he played 41 games, recording 10 goals and 14 assists. He saw action in 31 games his junior year when his production fell to 10 points (5G, 5A).
"It was a lot different; it's still a lot different," Miller said of his switch this season from forward to defenseman. "There are situations out there that I'm obviously not used to still. I'm just trying to do the best I can and see where it takes me."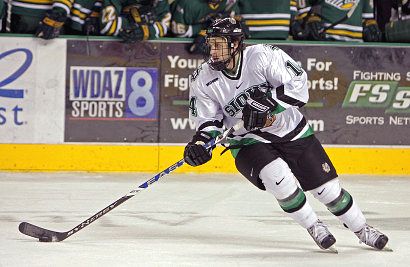 Hakstol moved Miller back to his traditional position of right wing for UND's Jan. 2-3 series against Bemidji State.
"That weekend solidified for us that the spot where he could have the biggest impact on our team was back on the blue line," Hakstol said. "His challenge is to continue to improve and prove how much of an impact he can have over the next two months."
Born in Canada, Miller moved to Georgia with his family when he was eight years old. Getting ice time for hockey was difficult until the father of his friend Tom Bardis, who now plays for Wisconsin, built a rink nearby. He played ice hockey in the winter and roller hockey in the summer.
After his bantam year, he attended Shattuck-St. Mary's prep school in Faribault, Minn., where he played with future UND players Jonathan Toews, Taylor Chorney, Ryan Duncan and Chay Genoway. Having familiar faces on the team influenced his decision to attend UND.
Miller, who plays the piano to relax and sometimes entertain his teammates, couldn't have scripted his senior season if he'd tried. Not only did he make the unexpected switch from forward to defenseman, he's also become host of his own weekly YouTube video show, "Brad Miller Time" (see sidebar).
Hakstol noted that Miller was selected to replace Finley because he was a veteran, a good skater and a playmaker. What made the switch work and the move to defense permanent was Miller's attitude and confidence.
"The key reason it was successful was not just Brad's willingness to give it a try, but also him buying into it," Hakstol said. "He's done a good job working hard on it.
"We really felt that because of his high level of confidence, he wouldn't be rattled by this kind of a move," he continued. "He expects to be successful. He's not intimidated by anything. That was one of the key things we saw that gave this a chance."
If the Sioux continue the late-season success that's become a hallmark of Hakstol's teams, Miller's readiness to switch roles could be a significant part of it.