Miami's coaching staff apparently made the right choice in goaltenders.
It was no foregone conclusion that Cody Reichard was going to be in net to earn all-regional honors and help the RedHawks claim their first trip to the Frozen Four this weekend at Mariucci Arena.
In fact, after a week of competition in practice between Reichard and fellow freshman Conner Knapp, it came down to a gut feeling for Miami coach Enrico Blasi and his staff.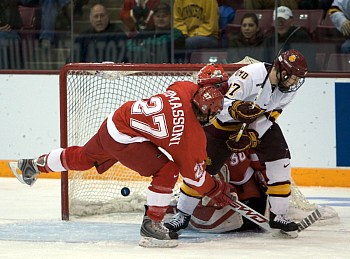 "I rely on my staff, and obviously, what Cody and Conner are doing in practice," Blasi said. "With a week off, we really challenged them. I can tell you it was a really tough decision because both of them gave us really little to go on. They've been playing great all year.
"For two freshman goalies to do what they have done, nobody, and I mean nobody gave us a chance to even be close to being in the national tournament with four freshman defensemen and two freshman goalies. It was a gut feeling on our staff's part to go with Cody, and I think it worked."
Reichard allowed one goal on 26 shots in a 2-1 victory over Minnesota-Duluth on Saturday after giving up two goals on 18 shots in a 4-2 victory over Denver a day earlier.
Familiar Face
Minnesota athletic director Joel Maturi was in the back of the room as Blasi addressed the media late Saturday night, and it may have brought back some memories for the coach.
As AD at Miami, Maturi hired Blasi in 1999, when he was just 27 years old.
"(He) was the — I call him a genius — but the man who took a chance on a young coach when everybody else thought he was crazy," Blasi said.
Last Call
Asked to talk about the last game for seven seniors, Minnesota-Duluth coach Scott Sandelin didn't hold back.
"Do I have to say it in a polite way?" he said. "It sucks to see them playing their last game, quite frankly."
MacGregor Sharp ended his senior season by scoring his 50th career goal, but that was hardly the only way the seniors contributed, Sandelin said.
"They instilled a great team philosophy with that room," he said. "We just fell a little short."
Hold The Line
Blasi's phone kept ringing after the game, and one number in particular kept showing up on the caller ID: that belonging to former RedHawks player Ryan Jones.
"I finally picked up and he's yelling on the other line," Blasi said.
One-timers
• The WCHA will not have a team in the Frozen Four for the first time since 1999.
• Miami was 0-2 against WCHA teams in the NCAA tournament before knocking off Denver and Minnesota-Duluth this weekend.
• The RedHawks won for only the second time in 10 tries this season when being outshot.
• Miami had only one shot on goal in the first period, a long shot by Justin Vaive with 3:40 remaining.
All-Regional Team
Forwards: Justin Mercier, Miami; Mike Connolly, Minnesota-Duluth; Brett Wilson, Princeton.
Defensemen: Evan Oberg, Minnesota-Duluth; Cameron Schilling, Miami.
Goaltenders: Cody Reichard, Miami.
MVP: Mercier.